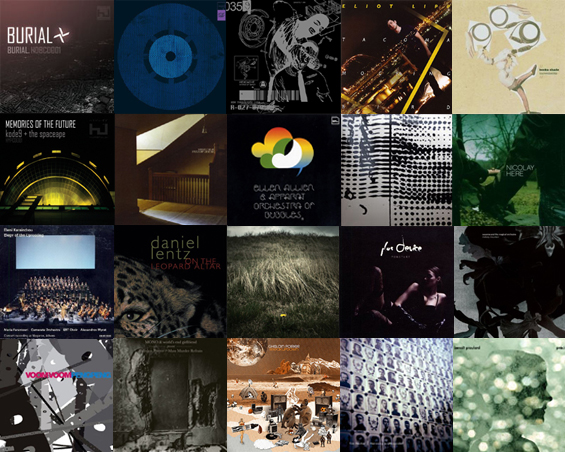 2006 TOP 10S AND 20S
20 full-lengths that cast an irresistible spell during 2006, followed by 20 Honourable Mentions, 10 Compilations, 10 Mixes, 10 EPs, and 10 Singular Moments.
Top 20 Albums • 20 Honourable Mentions • Top 10 Compilations • Top 10 Mixes •
Top 10 EPs (3", 7", 12") • 10 Singular Moments




01. Burial: Burial (Hyperdub)
An avalanche of praise was heaped on Burial during 2006 but in this case the hype was justified: it's literally a fifty-one minute triumph, and the care with which its seductively malevolent material has been assembled is evident at every moment. Stealthily slithering like an eel through a murky swamp, Burial oozes the grime and grit of the city's back streets yet, being so hypnotic, is perfect for the opium den too. If Burial's debut album isn't as sui generis as Pole's, it's fantastic nonetheless.
02. The Knife: Silent Shout (Mute)
For all its unifying characteristics—crystalline synth intricacy, epic electro-goth ambiance, glass-shattering vocals— The Knife's Silent Shout encompasses a panoply of styles, defying attempts to slot it into a single category. Swedish siblings Olof Dreijer and Karin Dreijer Andersson conflate goth, electro, punk, pop, and techno into a terror-stricken hybrid that somehow finds room for an occasional moment of warmth too. Ominous, bewildering, enigmatic, idiosyncratic, foreboding, grotesque—all such labels offer some hint of Silent Shout's alluring electro-pop.
03. Dabrye: Two/Three (Ghostly)
Five years on from a remarkably auspicious debut, the all-instrumental One/Three, Dabrye's Two/Three is about as great as one might have hoped. Tadd Mullinix's twenty-track collection—a veritable manifesto for experimental hip-hop—mixes MC cuts with instrumental tracks to vertiginous effect. While much of the disc is brain-addling, the zenith is reached with "That's What's Up," a jaw-dropping collab with Thomas Fehlmann and Vast Aire whose labyrinthine swirls infest your brain like a viral maggot, the song's repeated refrain "Rip the mic" a cranial itch desperately aching to be scratched.
04. Eliot Lipp: Tacoma Mockingbird (Hefty)
Though Tacoma Mockingbird is a considerably more evocative title, Eliot Lipp might just as easily have named his album Beats and Synths, given the degree to which the two dominate the disc's electrified hip-hop funk. If the extent of Lipp's love affair with synths on his second full-length initially surprises, it ultimately distinguishes Tacoma Mockingbird as a strongly individualized take on instrumental hip-hop.



05. Booka Shade: Movements (Get Physical)
"Take a ride with me," a vocodered voice intones amidst pulsating Detroit electro, a seductive invitation one readily accepts given the high caliber of Movements, Booka Shade's (German duo Walter Merziger and Arno Kammermeier) Memento follow-up. How could one possibly resist a collection filled with fabulous cuts like "Night Falls," "Mandarine Girl," and "Body Language"?
06. Kode9 + Spaceape: Memories Of The Future (Hyperdub)
Memories of the Future rewards listening on multiple levels: savour the lurching dubstep settings Hyperdub head Kode9 entwines throughout, or lock in on dub-poet vocalist Spaceape's dread-zone lyrics (cryptic lines like "It's the beginning, not the end, that we have to reach last"), which mesmerize even more when delivered in his merciless drawl.
07. Grizzly Bear: Yellow House (Warp)
Is Yellow House Grizzly Bear's Pet Sounds? In a certain way it is, but more in the way Brian Wilson looked upon his own masterwork—as a collection of personal 'pet sounds.' If anything, Yellow House is closer in spirit to Smile, as both teem with baroque arrangements and intricately plotted, even maze-like structures. Regardless, Yellow House finds singer/songwriter Edward Droste, drummer Christopher Bear, bassist Chris Taylor, and guitarist Daniel Rossen crafting an album full of magical melodies and magnificent songs.
08. Ellen Allien/Apparat: Orchestra Of Bubbles (Bpitch Control)
The whole isn't always greater than the sum of the parts where artist collaborations are concerned but Orchestra of Bubbles, a splendid eleven-song production by Bpitch Controller Ellen Allien and Shitkatapult co-head Sascha Ring (aka Apparat), builds on its contributors' considerable strengths instead of diluting them. Orchestra of Bubbles is as sleek as a Mercedes cruising the late-night Berlin metropolis.




09. Roger O'Donnell: The Truth In Me (Great Society)
The Truth in Me is distinguished immediately by its sole reliance on a single instrument: the Moog Voyager synthesizer. Inspired by Björk's voice-generated Medulla, one-time Cure keyboardist O'Donnell also chose to create an entire album using a single instrument. The lovely The Truth in Me transcends any seeming limitations that restricted instrumental approach might have created.
10. Nicolay: Here (BBE)
Here is a superb album of melodic hip-hop soul from Netherlands producer Nicolay, an album so solid and its hooks so potent, virtually every song feels too short. Wiz Khalifa assumes the lead on the anthemic "What It Used To Be," "Give Her Everything" oozes voodoo soul, and even a mere song sketch like the loping piano groove "Let It Shine For Me" entrances.
11. Eleni Karaindrou: Elegy Of The Uprooting (ECM)
Elegy of the Uprooting is not Eleni Karaindrou's Symphony of a Thousand, regardless of the impression left by the massive orchestral and choir forces adorning the two-disc set's cover photograph. Seated at her piano, Karaindrou seems almost dwarfed by the 110 musicians but long-time aficionados of the Greek composer needn't worry: Elegy of the Uprooting is wholly free of bombast. Words like poignant, introspective, ponderous, ravishing, and elegiac spring to mind while listening to this music.
12. Daniel Lentz: On The Leopard Altar (Cold Blue)
One doesn't listen but rather surrenders to the seductive pull of Lentz's magnificent On the Leopard Altar. The languorous adagio of crystalline tones that he conjures in "Lascaux" from sixteen rubbed and struck wineglasses is remarkable, while the album's most affecting work is its central title piece, a rapturous lullaby featuring a glorious vocal performance by Jessica Karraker.




13. North Sea And Rameses III: Night Of The Ankou (Type)
Night of the Ankou, an epic 'postal' collaboration between London-based trio Rameses III (keyboardist Daniel Freeman and guitarists Spencer Grady and Steve Lewis) and The North Sea (Tulsa's Brad Rose), extends the haunted ambient style of Deaf Center into a phantasmagorical zone of peyote-fueled dreamscaping, with the album's three pieces as out-of-time as the soundtracks Popol Vuh composed for Werner Herzog.
14. Plus Device: Puncture (Hefty)
Coyly evasive about the artists constituting Plus Device, Hefty only concedes that the group is "a secret side project of two well-known electronic producers" and one with apparent Detroit connections. No matter whose hands are twirling the knobs, Puncture's fresh fusion of classic and contemporary electronic sounds will strongly appeal to fans of classic (Mantronix, Drexciya, Model 500, Kraftwerk) and current acts (2 AM/FM, James T. Cotton, Eliot Lipp).
15. Susanna and the Magical Orchestra: Melody Mountain (Rune Grammofon)
The standout song on Susanna and the Magical Orchestra's List of Lights and Buoys remains the deeply emotive rendering of Dolly Parton's "Jolene." It doesn't altogether surprise, then, that Susanna Karolina Wallumrød and keyboard player Morten Qvenild chose to revisit the concept on Melody Mountain and its ten covers of songs by artists like Sandy Denny, Bob Dylan, Scott Walker, and Leonard Cohen.
16. Voomvoom: Peng Peng (!K7)
Voom Voom (Peter Kruder, Christian Prommer, and Roland Appel) distills techno, house, electro, soul, and disco into a buoyantly sweeping mix that finds its perfect hedonistic home in the club. The name's no accident either as the trio's sleek cuts are as insistent as they are undeniable.




17. MONO & world's end girlfriend: Palmless Prayer / Mass Murder Refrain (Temporary Residence)
Japanese quartet MONO follows its masterful You Are There with a collaboration involving fellow Tokyo native and modern electronic composer world's end girlfriend (Katsuhiko Maeda). Palmless Prayer / Mass Murder Refrain is a remarkable, graceful, and often beautiful work.
18. Ghislain Poirier: Breakupdown (Chocolate Industries)
Words like polished, refined, and finessed come to mind when listening to Ghislain Poirier's Breakupdown. Crunked-up, pimped-out—whatever the label, Breakupdown is an innovative addition to the experimental hip-hop genre and fine sequel to Poirier's 2003 Chocolate Industries joint Beats as Politics.
19. Tim Hecker: Harmony In Ultraviolet (kranky)
Harmony in Ultraviolet won't disappoint devotees enraptured by Tim Hecker's previous full-lengths. If anything, the latest 15-piece collection finds the Montreal-based artist perfecting his style even more and, if anything, downplaying cranium-shattering extremes for an oft-accessible and noticeably melodic warmth. The collection shows Hecker once again demonstrating a masterful ability to weave abstract sounds into mesmerizing monoliths.
20. Benoît Pioulard: Précis (kranky)
Transfixing is one way to describe Précis, the provocative debut album by Thomas Meluch under the alias Benoît Pioulard. Extending the captivating style of his Enge EP to a full-length format, the Michigan-based producer weds deeply textured psychedelia with folk instrumentation and hushed vocals to hypnotic effect.
21. Sufjan Stevens: The Avalanche (Asthmatic Kitty)
22. Christ.: Blue Shift Emissions (Benbecula)
23. Boduf Songs: Lion Devours The Sun (kranky)
24. Caroline: Murmurs (Temporary Residence)
25. Larvae: Dead Weight (Ad Noiseam)
26. Stephan Mathieu & Janek Schaefer: Hidden Name (Cronica)
27. James Figurine: Mistake Mistake Mistake Mistake (Plug Research)
28. The Art Ensemble of Chicago : Non-Cognitive Aspects of the City (Pi Recordings)
29. Ezekiel Honig: Scattered Practices (Microcosm)
30. Bodycode: Conservation of Electric Charge (Spectral)
31. Janek Schaefer: In the Last Hour (ROOM40)
32. Skream: Skream! (Tempa)
33. Kaito: Hundred Million Light Years (Kompakt)
34. Rekid: Made in Menorca (Soul Jazz)
35. Ingram Marshall: Savage Altars (New Albion)
36. Encre: Plexus II (Miasmah)
37. Greg Haines: Slumber Tides (Miasmah)
38. Matinée Orchestra: Matinée Orchestra (Arable)
39. Another Electronic Musician: Patience (n5MD)
40. Takagi Masakatsu: Journal for People (Carpark)




01. VA: Idol Tryouts Vol. 2 (Ghostly)
The seeming effortlessness with which Ghostly achieves excellence throughout the double-disc Idol Tryouts Two prompts one to ponder why other labels' compilations fail to reach equal heights. A veritable embarrassment of riches, the collection is split into 'Avant-Pop' (leftfield electronic songs) and 'SMM' (multi-textured, ambient pieces) halves, though the lines of demarcation are more fluid than the split might suggest.
02. VA: Domestic Blend Vol. 1 (Inner Current)
03. VA: Tectonic Plates (Tectonic)
04. VA: Analog For Architecture (Highpoint Lowlife)
05. VA: Ad Noiseam 2001-06 (Ad Noiseam)
06. VA: Until Human Voices Wake Us And We Drown (Rune Grammofon)
07. VA: Silva (Miasmah)
08. VA: min2MAX (Minus)
09. VA: Total 7 (Kompakt)
10. VA: The Rorschach Suite (Moodgadget)
01. VA: Buzzin' Fly III (Buzzin Fly)
Everything But The Girl's Benn Watt further solidifies his reincarnation as a house DJ, dance label head, and creative midwife on this fabulous third volume in his label's Buzzin' Fly mix series. Watt's crew presents a thoroughly stoked set of sunlit jubilation, with three-quarters of the disc devoted to roster artists. Peaks? Darkmountaingroup's irresistibly sexy "Lose Control" tops the list, though it's almost matched by the darkly hypnotic electro-rush of Fairmont's panther-sleek "Gazebo."
02. VA: Dubstep Allstars Vol. 4: Mixed by Youngtsa & Hatcha (Tempa)
03. VA: Monza Club Ibiza Compilation Vol. 1 (Get Physical)
04. Michael Mayer: Immer 2 (Kompakt)
05. King Unique/Nubreed: Electric 02 (EQ Recordings)
06. Four Tet: DJ-Kicks (!K7)
07. Mark Farina: Sessions (Ministry of Sound)
08. M.A.N.D.Y.: Get Physical Vol. 2 (Get Physical)
09. Paolo Mojo: Balance 009 (EQ Recordings)
10. Magda: She's A Dancing Machine (Minus)
01. The Blow: The Love That I Crave (Audraglint)
Merge The Blow's hook-filled "The Love That I Crave" with Strategy's disco pulse and house piano vibe and what do you have? Infectious magic, that's what, as Paul Dickow surrounds Khaela Maricich's vocodered vocal line with all manner of Strategy invention in his "Strata Club Remix." On the flip side, Caro pairs her exhalations with an acidy strut in "The Puddles of Love Remix" before gently cooling the pace in "The Sea of Love Remix."
02. Terrence Dixon: Minimalism III (Background)
03. Matthead: Dirty Deeds (Terminal Dusk)
04. Strategy: Fields Of May (Orac)
05. Someone Else + Miskate: Gullah Go-Go EP (Foundsound)
06. The Timeout Drawer: Alone (Consumer's Research & Development)
07. E.moss: Beatboxes At Dawn (Consumer's Research & Development)
08. Colleen: Colleen Et Les Boites a Musique (Leaf)
09. James T Cotton: Oochie Coo (Spectral)
10. 2 AM/FM: Pt. 2 (Spectral)
01. Hannes Teichmann's 'Romantica Mix' of "They Don't Care" (Andi Teichmann: Refaded, Festplatten)
02. "Disown, delete," Ensemble (featuring Cat Power) (Disown, delete, FatCat)
03. "So Much Time To Call My Own," Barzin (My Life in Rooms, Monotreme)
04. "Raptors Delight," Narcotic Syntax (Superlongevity 4, Perlon)
05. "Like You (Supermayer Mix)," Gui Boratto (Like You, Kompakt)
06. The Kronos Quartet (Théâtre de la Ville, May 15) and Sonny Rollins (Olympia, May 18) in Paris
07. Modeselektor and Pierre Bastien at MUTEK, Montreal, May 31-June 4
08. Charles Burns: Black Hole (Pantheon)
09. Michael Haneke: Caché (Sony Pictures Classics)
10. Videos: The Knife's "Silent Shout," Gnarls Barkley's "Crazy," Boards of Canada's "Dayvan Cowboy"
January 2007