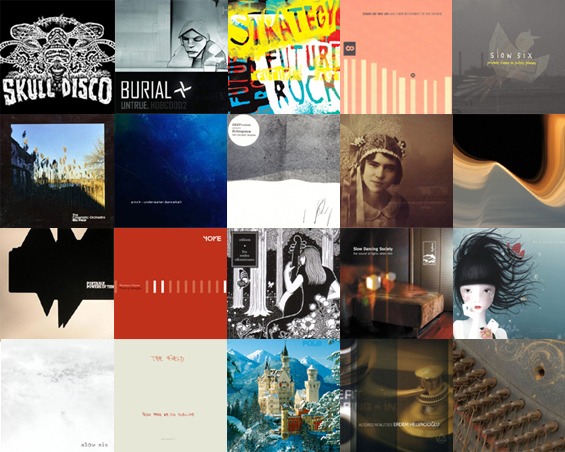 2007 TOP 10s AND 20s
20 full-lengths that cast an irresistible spell during 2007, followed by 30 Honourable Mentions, 20 Compilations and Mixes, 20 EPs and Singles, and 10 Re-issues / Anomalies / Disappointments / Farewells.




01. Skull Disco: Soundboy Punishments (Skull Disco)
In truth, it was very much a photo finish between Soundboy Punishments and Untrue when the moment came to select textura's number one pick. What ultimately tipped the balance in Skull Disco's favour? Shackleton's mesmerizing "Blood on Our Hands" and Villalobos's spellbinding, eighteen-minute "Apocalypso Now" mix, of course. That haunting twosome could very well be dubstep's finest moment to date.
02. Burial: Untrue (Hyperdub)
Untrue may not be as sui generis as Burial's 2006 self-titled debut—how unfair it would be to expect an artist's every album to usher in a new musical form—but it's remarkable nonetheless. More a refinement of the debut's aesthetic than a quantum leap forward, Untrue finds Burial extending his ghostly sound into a more soulful and heavily vocal-oriented zone. Untrue is only dubstep by way of association, label or otherwise; call it for what it is: 21st-century electronic soul.
03. Strategy: Future Rock (kranky)
Three years on from Paul Dickow's last Strategy full-length, Future Rock is not only stylistically encompassing but a deft time-traveler too, drawing into its orbit everything from Fela and the Ohio Players to mid-'90s Chain Reaction. Throughout the disc, Dickow weaves phantasmagoric sonic masses into nine multi-faceted settings that singly and cumulatively mesmerize. "World House" indeed.
04. Stars Of The Lid: And Their Refinement of the Decline (kranky)
Uninterrupted engagement with Stars of the Lid's (Austin-based duo Adam Wiltzie and Brian McBride) And Their Refinement of the Decline proves immersive, with time seeming to suspend itself altogether the more one surrenders to its pull. Words like majestic, peaceful, hymnal, and glacial spring to mind as the music's ghostly tones stretch across the sky and dusty piano chords echo down abandoned corridors.




05. Slow Six: Private Time in Public Places (Western Vinyl)
Led by composer Christopher Tignor, Brooklyn-based electroacoustic outfit Slow Six has been creating stately electronic chamber music since 1998. Throughout Private Times In Public Places, Maxim Moston's violin glides gracefully over placid atmospheres generated by Jeffrey Guimond's Rhodes, Peter Cressy's guitar, and Christopher Tignor's gossamer electronic textures.
06. Cinematic Orchestra: Ma Fleur (Ninja Tune)
With Patrick Watson and the legendary Fontella bass lending their vocal presences to Jason Swincoe and company's magnificently arranged and composed material, how could Ma Fleur not appear in this year's list?
07. Pinch: Underwater Dancehall (Tectonic)
The top ten's third "dubstep" album, Pinch's Underwater Dancehall, like Soundboy Punishments and Untrue, ventures far beyond the genre's conventions and revitalizes it in the process. Pinch's stroke of genius was to issue the recording as instrumental and vocal companion albums, enabling the listener to savour the rawness of the former and the stunning vocal acrobatics of New York MC Juakali and Yolanda on "Brighter Day" and "Get Up," respectively.
08. Deepchord Presents Echospace: The Coldest Season (Modern Love)
Words like galaxial and oceanic hardly do justice to the immense expanses traversed by Detroit's Rod Modell (aka Deepchord) and Chicago's Stephen Hitchell (aka Soultek) on The Coldest Season. Though the Echospace material is pitched as a Berlin-Detroit-Chicago stylistic meeting ground, it's clearly most indebted to the ultra-textured, dub-techno style associated with artists like Maurizio (Moritz Von Oswald), Fluxion, and Substance, among others.




09. The Balustrade Ensemble: Capsules (Dynamophone)
Capsules' ten ethereal settings conjure Victorian-styled universes where music boxes, rickety keyboards (mellotron, orchestron, claviola, celeste), and strings re-animate the nightmarish current burbling below the surface of the Grimm brothers' folk-tales. Add elements of Jules Verne, H.G. Wells, and The Brothers Quay to the mix and you've entered The Balustrade Ensemble's curiosity shop and its cluttered shelves of weathered timepieces.
10. KILN: Dusker (Ghostly)
The term "meticulous" finds its most perfect application in describing the music of KILN. Every element and moment of the group's full-length Ghostly debut, Dusker, is painstakingly considered, resulting in one of the most purely satisfying listening experiences in recent memory.
11. Portable: Powers Of Ten (Süd)
Recently, Alan Abrahams established the Bodycode guise as a way of differentiating his more club-oriented dance music from the distinctive Africa-meets-Chicago micro-house he issues as Portable. With the release of Powers of Ten, the divergent paths associated with the two personae now come clearly into focus, as the album retains connections to the established Portable style but audaciously extends it into new areas.
12. Terrence Dixon: Train of Thought (Yore)
Detroit legend Terrence Dixon's Train of Thought ranges from '80s-sounding Cybotron-like excursions to raw, stripped-down techno and warm, chord-driven house. Though his music may invite comparison to Drexicya and Juan Atkins, Dixon's music ultimately stands alone.



13. Colleen: Les Ondes Silencieuses (Leaf)
At first, one is taken aback by how sparsely arranged Les ondes silencieuses is compared to The Golden Morning Breaks. Whereas the material on Cécile Schott's second full-length often swells into multi-layered form, the nine settings on Les ondes silencieuses are often pared to a minimal essence with a piece sometimes dedicated to a single instrument. In doing so, Colleen strips the material to a timeless essence that defies easy categorizing.
14. Slow Dancing Society: The Sound Of Lights When Dim (Hidden Shoal)
The Slow Dancing Society name and album title perfectly capture Drew Sullivan's tranquil, late-night music. Throughout this ravishing, often spine-tingling work, gentle streams of piano, organ, and guitars float in rapturous slow motion.
15. RF & Lili De La Mora: Eleven Continents (Rowing At Sea / Time Release)
Though the inclusion of Joanna Newsom's gleaming harp may be a key drawing card, Eleven Continents, a stunning collection of swooning lullabies by multi-instrumentalist Ryan Francesconi and vocalist Lili De La Mora, impresses very much on its own terms. Wafting like the gentlest of breezes, Eleven Continents is an absolute delight, a perfectly-realized collection that can't be recommended too highly.
16. Slow Six: Nor'easter (New Albion)
Nor'easter finds Slow Six ambitiously extending its sound into darker and more emotionally charged territory during the album's six compositions, and the music's aggressive attack is at times light years removed from the serenading approach of Private Times In Public Places.




17. The Field: From Here We Go Sublime (Kompakt)
The trance-techno Swedish artist Axel Willner issues under his The Field alias is so blinding and its repetitions so relentless, its effect is dizzying. Rather than merely looping a fragment, Willner morphs a micro-sample over the course of a song until the loops generated from them also transform and shift. Best of all, "A Paw in My Face" surreptitiously makes the prospect of hearing Lionel Ritchie's "Hello" a tolerable notion.
18. Pole: Steingarten (~scape)
At first listen, the deceptive Steingarten seems low-key and dramatically restrained; closer listening reveals that beneath the surface lies a wealth of intricate and multifarious detail. Tension between rhythmic stability and radically disorienting sound design pervades every seeming moment of this solidly crafted album.
19. Erdem Helvacioglu: Altered Realities (New Albion)
What most distinguishes Altered Realities is that Turkey-based Erdem Helvacioglu puts composition firmly at the forefront and designs his Ovation guitar playing and electronic treatments in accordance with and in service to that primary concern.
20. Do Make Say Think: You, You're a History in Rust (Constellation)
Do Make Say Think—guitarists Ohad Benchetrit and Justin Small, bassist Charles Spearin, and drummers Dave Mitchell and James Payment—is that rare "instrumental rock" band that can make an 11/4 time signature not only sound natural but swing too.
21. Glen Porter: Something Glue (Inner Current)
22. Take: Earthtones & Concrete (Inner Current)
23. R/R Coseboom: Beneath Trembling Lanterns (Dynamophone)
24. Marissa Nadler: Songs III: Bird On The Water (Kemado)
25. Cokiyu: Mirror Flake (Flau)
26. Sawako: Madoromi (Anticipate)
27. People Press Play: People Press Play (Morr Music)
28. Slow Dancing Society: The Slow and Steady Winter (Hidden Shoal)
29. Quosp: Soundscapes 1 (U-Cover)
30. Robin Guthrie / Harold Budd: Before The Day Breaks / After The Night Falls (Darla)
31. Pornopop: And The Slow Songs About the Dead Calm in Your Arms (Dynamophone)
32. Morgan Packard: Airships Fill The Sky (Anticipate)
33. Dartriix: Dartriix (Op.disc)
34. Dominik Eulberg: Bionic (Cocoon)
35. Charlemagne Palestine: A Sweet Quasimodo Between Black Vampire Butterflies… (Cold Blue)
36. K. Leimer: Useless Lesson (Palace of Lights)
37. Formication: Untitled Wasdale Recordings (Harmful Records)
38. edIT: Certified Air Raid Material (Alpha Pup)
39. Mole Harness: Out of the Walled Pathway (Stray Dog Army)
40. Prefuse 73: Preparations (Warp)
41. Trentemøller: Chronicles (Audiomatique)
42. The Postmarks: The Postmarks (Unfiltered)
43. Akira Kosemura: It's On Everything (Someone Good)
44. Manual: Lost Days, Open Skies and Streaming Tides (Darla)
45. A Sunny Day In Glasgow: Scribble Mural Comic Journal (Notenuf)
46. Morning Recordings: Welcome Kinetic (Loose Thread)
47. Pluramon: The Monstrous Surplus (Karaoke Kalk)
48. Geoff Mullen: Armory Radio (Barge)
49. Klimek: Dedications (Anticipate)
50. OK Ikumi: Spirits (Blue Bell)




01. VA: Buzzin' Fly 4 (Buzzin' Fly)
Though initially I was slightly less impressed with Buzzin' Fly 4 than I was last year's third volume (incidentally, textura's 2006 number one mix selection), the more I listened to this year's model the more I found myself won over by its seductive charm. No other 2007 mix exemplifies a more perfectly modulated flow and slow build than Buzzin' Fly 4.
02. Luke Fair: Balance 011 (Balance)
03. Justin Martin: Chaos Restored (Buzzin' Fly)
04. Lee Burridge: Balance 12 (EQ Recordings)
05. VA: Echod (Flau)
06. Satoshi Tomiie: The Masters Series Part 9 (Renaissance)
07. Dinky: Get Lost 3 (Crosstown Rebels)
08. VA: Get Lost 2 (Crosstown Rebels)
09. Ewan Pearson: Piece Work (!K7)
10. Herman Cataneo: Sequential Vol. 2 (Renaissance)
11. Sander Kleinenberg: This is… (Renaissance)
12. Pole: Steingarten Remixes (~scape)
13. VA: Monza : Club Ibiza Vol. 2 (Get Physical)
14. VA: Add to Friends (Someone Good)
15. VA: The Silence was Warm (Symbolic Interaction)
16. VA: Box of Dub (Soul Jazz)
17. VA: Devil in the Detail (Interchill)
18. VA: Deep Sea Shipping (Lagunamuch Community)
19. Telefon Tel Aviv: Remixes Compiled (Hefty)
20. VA: Signal Path (Content/Styge)




01. Cortney Tidwell / Ewan Pearson: Don't Let The Stars Keep Us Tangled Up (Ever)
Producer du jour Pearson's aptly-titled "Objects In Space Remix" elevates Tidwell's song with a dance-based propulsiveness that doesn't sacrifice any of the original's dreaminess in the process. Pearson boosts the song with handclaps, synths, and an urgent forward thrust that grows ever more euphoric as the song moves towards its climax.
02. Gui Boratto: Chromophobia (Remixe Part 2) (Kompakt)
03. Bodycode: A Document of an American Past (Yore)
04. Apparat: Holdon (Shitkatapult)
05. Rusuden: Fe IX/X 171 A (Soho Six)
06. Rick Wade: Night of the Living Deep (Yore)
07. Rick Wade: Night Tactics (Yore)
08. Lullaby League: Cantus (Dynamophone)
09. Colour Kane: A Taste Of (Hidden Shoal)
10. Strategy: Pacific Agenda (Dreck)
11. School Of Seven Bells: Face To Face On High Places (Radium / Table of the Elements)
12. Andy Vaz: Humanization (Yore)
13. Basic Unit: Fedass (Fine Art)
14. Taylor Deupree: Landing (ROOM 40)
15. DJ C: Body Work (Community Library)
16. Ghislain Poirier: La Ronde EP (Musique Large)
17. Ateleia: Nightly (Radium / Table of the Elements)
18. Tim Hecker: Norberg (ROOM 40)
19. Andy Stott: The Massacre EP (Modern Love)
20. Claro Intelecto: Warehouse Sessions Volume 4 (Modern Love)
TOP 10 RE-ISSUES / ANOMALIES / DISAPPOINTMENTS / FAREWELLS




01. Miles Davis: The Complete 'On The Corner' Sessions (Sony): Perhaps as fascinating as the music itself is witnessing the shift in critical reception that transpired between On The Corner's original release and this deluxe re-issue.
02. Lou Reed: Metal Machine Music (Asphodel): Bravos to Ulrich Krieger, for tackling the Herculean task of transcribing Reed's score for the zeitkratzer ensemble, and to Asphodel, for issuing the results in a definitive CD-DVD package.
03. John Watermann: Calcutta Gas Chamber (Die Stadt): The now-deceased Watermann conjured the idea of aurally conveying the horror of a gas chamber after visiting Calcutta in 1990, and the recording's realization came about through the electronic manipulation of field recordings Watermann collected at an abandoned electrical power station in Brisbane in 1992.
04. Disappointment 1: Amazingly, Twine's long-completed Violets remains unreleased.
05. Disappointment 2: Marumari: Missing in action since The Remixes appeared on Carpark in 2002.

06. RIP: Alice Coltrane (August 27, 1937 – January 12, 2007).
07. RIP: Andrew Hill (June 30, 1931 – April 20, 2007).
08. RIP: Max Roach (January 10, 1924 – August 16, 2007).
09. RIP: Karlheinz Stockhausen (August 22, 1928 – December 5, 2007).
10. RIP: Joe Zawinul (July 7, 1932 – September 11, 2007).
January 2008