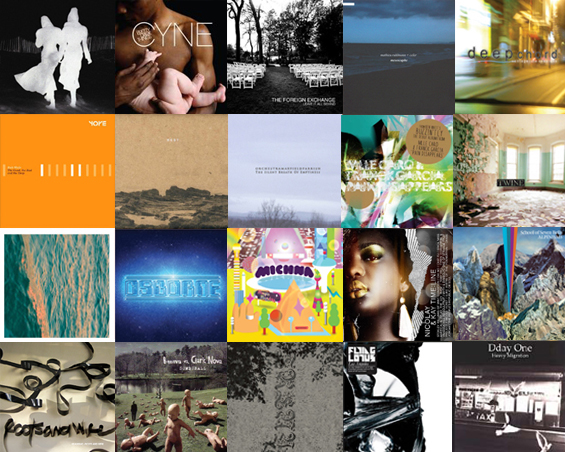 2008 TOP 10s AND 20s
All year long, we waited in vain for some incredible genre-advancing release on the order of The Knife's Silent Shout and Burial's Unture to appear. Though that didn't quite happen (a few came close), a careful review of the year's releases revealed that an inordinate number of exceptional releases did appear, in fact so many that a number of well-deserving titles weren't able to elbow their way into the top fifty. Without further ado, then, here are our picks for the top 20 full-lengths, followed by 30 Honourable Mentions, 20 Compilations and Mixes, 20 EPs / Singles / 12-inch Discs, additional highlights, and thank yous.
TOP 20 ALBUMS • 30 HONOURABLE MENTIONS • 20 COMPILATIONS AND MIXES • 20 EPS / SINGLES / 12-INCH DISCS • ADDITIONAL HIGHLIGHTS • THANK YOUS




01. Rudi Arapahoe: Echoes From One To Another (Symbolic Interaction)
We were floored by the beauty of this ravishing fusion of classical and electronic musics when it appeared in mid-2008. Created by a "sound artist working from Helix Branch studios" and augmented by a small but critical assortment of guests credited with keyboards, vocals, guitar, harp, and strings, Echoes From One To Another sounds like what might result if Akira Rabelais, Arvo Pärt, and The Balustrade Ensemble spent a month collaborating at a studio in some ancient, haunted castle.
02. Cyne: Starship Utopia (Project Mooncircle) / Pretty Dark Things (Hometapes)
Yes, they're two separate releases, but CYNE's 2008 discs appeared almost simultaneously and so should be heard together in order for the full impact of the Florida-based quartet's hip-hop to take effect. The group once again strikes a marvelous balance between the biting and topical words of Akin (Akin Yai) and Cise Star (Clyde Graham) and the sparkling tracks sonic alchemists Enoch (David Newell) and Speck (Michael Gersten) roll out behind.
03. The Foreign Exchange: Leave It All Behind (Hard Boiled)
On this splendidly soulful follow-up to 2004's Connected, producer Nicolay and and vocalist Phonte create lush, multi-tiered arrangements using horns, keyboards, beats, bass, and, most of all, layer upon layer of lead and harmony vocals (with Phonte's supplemented by Darien Brockington, Yahzarah, and Muhsinah).
04. Mathieu Ruhlmann + Celer: Mesoscaphe (Spekk)
A collaboration between Vancouver-based Mathieu Ruhlmann and Celer (Danielle Baquet-Long and Will Long), the fifty-three-minute sound work Mesoscaphe is programmatically-grounded in the story of the thirty-day 1969 voyage of the Ben Franklin, a naturally-propelled submarine designed to explore the currents of the Gulf Stream. The merging of Ruhlmann's field recordings and actual Contact Mic Recordings of the Mesoscaphe with Celer's fluid, slow-motion tones (generated using piano, electronics, Theremin, and tape loops) creates a mix so layered it can't help but be labeled oceanic.




05. Deepchord: Vantage Isle Sessions (Echospace [Detroit])
Mixed by Steven Hitchell and produced and composed by Rod Modell, Deepchord's Vantage Isle Sessions serves up eighty glorious minutes of ultra-deep dub-techno. The release consists of thirteen variations of "Vantage Isle," with Modell and Hitchell twisting the tune into consistently captivating shapes under multiple guises (cv313, Deepchord, Echospace, Spacecho).
06. Rick Wade: The Good, The Bad, And The Deep (Yore)
Rick Wade has issued his own deep strain of late-night House music since 1991 so it shouldn't surprise that his tracks draw upon additional styles such as classic disco, smooth jazz, funk, and Philly soul. In this superb set for Yore, one detects traces of Barry White, Gamble and Huff, and The Crusaders: White in the soulful strings that sometimes course through Wade's steaming tracks, Gamble and Huff in the arrangements, and The Crusaders' Joe Sample in the Rhodes flourishes that caress the tunes' grooves.
07. Gregor Samsa: Rest (Own Records)
The multi-limbed Gregor Samsa (whose dozen instrumentalists and vocalists reside in NY, Chicago, Boston, and Richmond) lulls the listener into a state of peaceful slumber on its third full-length album, with the group's lyrical odes tailor-made for lovers of Rachel's and Sigur Rós. Think gorgeous, often funereal compositions featuring hushed vocals, graceful piano melodies, and arrangements adorned with dashes of violin, cello, celesta, clarinet, and vibraphone.
08. orchestramaxfieldparrish: The Silent Breath Of Emptiness (Faith Strange)
On this fifty-minute set of guitar-generated soundscapes, Mike Fazio uses various effects to transform his solo guitar playing into an hypnotic polyphony of rolling waves, supplicant peals, and hazy drones; conventional guitar sounds are all but absent as Fazio generates industrial sheets and metallic washes throughout the album's five explorations.



09. Mlle Caro & Franck Garcia: Pain Disappears (Buzzin' Fly)
Buzzin' Fly's premiere artist album, Pain Disappears, showcases Mlle Caro (Mademoiselle Caroline Laher) and her Perpignan-based collaborator Franck Garcia's deft command of multiple styles, including dance-pop, minimal house, New Wave, electro, disco, and even romantic ballads. Ewan Pearson brings his Midas touch to a remix of "Always You" and stretches the material out for a glorious eleven minutes, elevating the song into a club anthem without sacrificing the original's essence.
10. Twine: Violets (Ghostly)
In 2008, Greg Malcolm and Chad Mossholder issued their fourth Twine full-length, Violets, the soundtrack for a dying civilization whose members and nations seem to be at perpetual war with one another and hell-bent on contaminating whatever collective resources still remain. The release reveals a marked shift in style from the group's third, self-titled album: whereas it retains some degree of kinship with Autechre-styled IDM, Violets has more in common sonically with the psychedelic, guitar-centric doomscaping of Set Fire To Flames and bands of similar ilk.
11. Willits + Sakamoto: Ocean Fire (12k)
Ryuichi Sakamoto joins forces with innovative guitarist-sound sculptor Christopher Willits for this beautiful seven-track suite dedicated to the healing and restoration of our fragile oceans. Another in an ongoing stream of superb 12k releases, Ocean Fire is a must-listen for devotees of deeply-textured ambient dronescaping.
12. Osborne: Osborne (Spectral Sound)
Todd Osborn's simply-titled release is a totally refreshing collection of uplifting and highly melodic house tracks brimming with lush arrangements and buoyed by an unabashed spirit of joyous uplift. Given the album's stylistic breadth, it hardly surprises that its original title was Multitasking.




13. Michna: Magic Monday (Ghostly)
The music on Adrian Michna's Magic Monday is as multi-hued and saturated as its candy-coloured cover. The debut album by the young producer (also known as a DJ under the Egg Foo Young alias) blends hip-hop, funk, and soul into a succulent instrumental mix that often comes across like an affectionate homage to his NY home.
14. Nicolay & Kay: Time:Line (Nicolay Music)
Nicolay makes his second appearance in this year's list with Time:Line, a marvelous hip-hop collaboration with MC Kay Jackson (The Foundation) that lyrically traces the trajectory of one person's life from birth and childhood into adulthood, death, and even the afterlife, and stylistically distills multiple decades into a single, effervescent hybrid.
15. School Of Seven Bells: Alpinisms (Ghostly)
On their album debut, School of Seven Bells members Ben Curtis and Alejandra and Claudia Deheza strike dream-pop paydirt with Alpinisms' impossibly catchy transmutation of Slowdive, My Bloody Valentine, and Cocteau Twins. On this remarkably assured collection, School of Seven Bells repeatedly blends the psychedelic, futuristic, and tribal into a delicious whole.
16. Deadbeat: Roots And Wire (Wagon Repair)
Scott Monteith's Roots and Wire is so forceful a statement, one could construe it as the now-Berlin-based artist's defiant response to dubstep's upsurge. Though the new release largely dispenses with the overarching narrative structures that coloured his ~scape albums, Roots and Wire's material is so unfailingly solid and fully-realized it may be Deadbeat's strongest release to date.




17. Beneva Vs Clark Nova: Sombunall (Fenêtre)
That Beneva vs. Clark Nova names one of Sombunall's songs "Institute Benjamenta" is certainly telling, as Frank Benjamin Finger (Beneva) and Rudi Simmons (Clark Nova) share with film-makers The Brothers Quay and composer Lech Jankowski an affinity for wildly imaginative and off-the-wall eccentricity. Instrumentally Beneva vs. Clark Nova perpetuates the open-ended tradition of groups such as Múm where every imaginable sound—natural and artificial—is fodder for the group's idiosyncratic music-making. Shape-shifting and mercurial, Sombunall features a dozen constantly flickering snapshots that rarely settle into any one place for longer than a moment or two.
18. Jacaszek: Treny (Miasmah)
One of the key reasons why Michal Jacaszek's Treny impresses as so hauntingly beautiful is that the Polish producer eschewed samples entirely in the creation of the album's material and instead exploited to the fullest degree the artistic gifts of three guests—violinist Stefan Wesolowski, cellist Ania Smiszek-Wesolowska, and singer Maja Sieminska—all of whom make pivotal contributions to Jacaszek's work. Listening to his chamber-electronic lamentations, obvious names from the electronic and classical fields spring to mind—Max Richter, Murcof, Giya Kancheli, et al.—yet Jacaszek nevertheless manages to create music that's unique and fresh.
19. Flying Lotus: Los Angeles (Warp)
Hip-hop's heart will keep beating so long as "next-level" producers such as Flying Lotus keep arriving on the scene with forward-thinking projects like Los Angeles, Steven Ellison's full-length follow-up to 2007's Rest EP. Also known as Juno Leed, the California-based producer and one-time film student brings a J Dilla-like gift for audacious invention to the material, with eroded samples and rough-edged beats woven into woozy, crackle-drenched set-pieces of incredible density and range.
20. Dday One: Heavy Migration (Content)
Heavy Migration is sample-based instrumental hip-hop the way we like it: fifty minutes of material that oozes serious boom-bap but refrains from the kind of construction overkill that ends in claustrophobia and cacophony—using no more gear than a turntable and sampler, Dday never loses touch with musicality, in other words.
21. Celer: The Everything And The Nothing / Discourse Of The Withered (Infraction)
22. Goldfrapp: Seventh Tree (Mute)
23. Benga: Diary Of An Afro Warrior (Tempa)
24. Susanna: Flower Of Evil (Rune Grammofon)
25. 2tall: The Softer Diagram (Content)
26. Masaoka: For Birds, Planes, And Cello; While I Was Walking, I Heard A Sound (Solitary B)
27. Aloof Proof: Piano Text (Infraction)
28. Kiln: Thermals (Infraction)
29. Dreamsploitation: Soft Focus Sound Of Today (From Here To There)
30. Peter Broderick: Docile (Kning Disk)
31. Autistici: Volume Objects (12k)
32. Mico Nonet: The Marmalade Balloon (Mico Nonet)
33. Yair Etziony: Flawed (Spekk)
34. Stephan Mathieu: Radioland (Die Schachtel)
35. Library Tapes: A Summer Beneath The Trees (Make Mine Music)
36. The Retail Sectors: Starlight Silent Night (Symbolic Interaction)
37. Sawako: Bitter Sweet (12k)
38. Motorcitysoul: Technique (Simple Records)
39. Rae Davis: Positive Thinking (Exponential)
40. Hatchback: Color Of The Sun (Backspin)
41. Windy & Carl: Songs For The Broken Hearted (kranky)
42. Slow Dancing Society: Priest Lake Circa '88 (Hidden Shoal)
43. Lisa Nordström: 7 States Of Passion (Kning Disk)
44. Ezekiel Honig: Surfaces of a Broken Marching Band (Anticipate)
45. Sleepingdog: Polar Life (Gizeh)
46. Harold Budd-Clive Wright: A Song For Lost Blossoms (Darla)
47. Stray Ghost: Losthilde (Highpoint Lowlife)
48. Sans Serif: Tones For Lamonte (Hypnos)
49. Spectral Lore-Underjordiska: Split (Stellar Auditorium)
50. Derek Carr: Digital Space Race (Psychonavigation)




01. VA: Buzzin Fly 5 Golden Years in the Wilderness (Buzzin Fly)
Buzzin Fly' holds the number one spot hostage for the third year in a row, with the label's previous mixes (Buzzin' Fly 4 and Buzzin' Fly III) the 2007 and 2006 top picks. Try as we might to convince ourselves that another release was more deserving, no other could dislodge the label's fifth anniversary collection when so many fabulous tracks ( "Musica Feliz," "A Stronger Man," "Do You Feel?") are spread across its three CDs. It's a marvelous label overview in a single, definitive package.
02. VA: Nothing Works As Planned (Interval)
03. VA: The Garden Of Forking Paths (Important)
04. Model 500: Starlight (Echospace [Detroit])
05. Prins Thomas: The Greatest Tits Vol. 1 (Full Pupp)
06. VA: Magnetism, That Electricity (Highpoint Lowlife)
07. VA: Saturdays I'm In Love (Diynamic)
08. VA: Favourite Places (Audiobulb)
09. VA: The Silence Was Warm 2 (Symbolic Interaction)
10. VA: Messages From A Subatomic World (Hypnos)
11. VA: Cleansing Ascension (Elevator Bath)
12. VA: Muzya Voln (Zhelezobeton)
13. VA: Little Things (Flau)
14. VA: Grand Cru (Grand Cru)
15. VA: Emerging Organisms (Tympanik Audio)
16. Matthew Dear: Body Language 7 (Get Physical)
17. VA: Cosmic Balearic Beats 1 (Eskimo)
18. Justin Martin: Chaos Restored 2 (Buzzin' Fly)
19. Diaspora: Cottage Industries 5 (Neo Ouija)
20. VA: Underscan Now (Underscan)
TOP 20 EPS / SINGLES /12-INCH DISCS




01. Model 500: Starlight (Mike Kuckaby S Y N T H Mix / Intrusion Dub) (Echospace [Detroit])
Pressed on a smoky grey-violet vinyl, the Model 500 12-inch pairs a "Starlight" remix by Detroit's Mike Huckaby with an Intrusion Dub makeover. Huckaby's nine-minute "S Y N T H" treatment opens in uptempo mode with swinging hi-hats and metallic chords leading the charge but the bomb really drops one minute in when a thunderous kick drum appears with an equally huge bass falling into formation soon after. The material plunges even deeper on the flip with Intrusion charting an immersive eighteen-minute excursion in signature Deepchord-Echospace mode. The journey's peaceful, gaseous, and beat-free as aqueous chords shimmer within the slowly-mutating fog, with faint echoes of children's voices rising to the surface as the piece nears its destination.
02. Intrusion: Tswana Dub (Brendon Moeller & Phase90 Remixes) (Echospace [Detroit])
03. Ateleia / Benjamin Curtis: Baghdad Batterie (Table Of The Elements)
04. Alton Miller: Full Circle (Yore)
05. Alton Miller: Late Night Fantasy (Yore)
06. Andy Vaz: Different Times (Yore) / Andy Vaz (feat. Alton Miller): Different Hours Revisited (Yore [Japan])
07. Collections Of Colonies Of Bees: Six Guitars (Table Of The Elements)
08. Fovea Hex: Allure (Die Stadt)
09. Library Tapes: Fragment (Library Tapes)
10. Steve Peters: Webster Cycles (Cold Blue)
11. Duncan O'Ceallaigh: Distant Voices, Still Lives (U-Cover)
12. Funckarma: Dubstoned Ep (Highpoint Lowlife)
13. Tonight: Modern Romance (Moodgadget)
14. Outputmessage: Resurface (Melodic)
15. Dublee & Den: Dublee & Den (Opdisc)
16. Rick Reed: Dreamz / Blue Polz (Elevator Bath )
17. Jim Haynes: Eraldus / Eravaldus (Elevator Bath )
18. Take: The Dirty Decibels Of Thomas Two Thousand (Eat Concrete)
19. Agnes Szelag: No Summer Or Winter (Szelag)
20. Andrew Liles / Fovea Hex: Gone Every Evening (Die Stadt)




01. The re-issue of Dennis Wilson's Pacific Ocean Blue (Caribou): Having Pacific Ocean Blue back in circulation is wonderful enough, but having it re-issued with the unreleased Bambu tracks makes this release essential. Understandably overshadowed by Brian's genius, Dennis was nevertheless a gifted composer in his own right, and songs like "River Song" and "Thoughts of You" have as powerful an impact today as they did thirty years ago.
02. Shelby Lynne's Just A Little Lovin' (Lost Highway): Bolstered by Phil Ramone's tasteful production, Lynne brings ample artistry to her Dusty Springfield tribute, with everything from the breezy "I Only Want To Be With You" and the heart-breaking "Anyone Who Had A Heart" benefiting from her emotionally direct interpretations.
03. Nick Drake's Five Leaves Left, Bryter Layter, and Pink Moon (Island ): Drake's timeless music never goes out of style and if anything songs such as "Northern Sky" and "From The Morning" grow ever more beautiful with each passing year.
04. Igor Stravinsky: Works of Igor Stravinsky (Sony Classical): All praise to Sony Classical for re-issuing at a ridicuously low price this definitive, 22-CD collection of the Russian master's work, with almost all of it conducted by Stravinsky himself.
05. Establishing the textura label and issuing the premiere release Kubla Khan, something that wouldn't have happened without the generous involvement of Mike Fazio, Alexander Turnquist, Kentaro Togawa, Ryan Francesconi, and Lili De La Mora; many thanks as well to Alex Durlak of Standard Form for his production contributions, to Melissa F. Clarke for the splendid video treatment of "Green To Red," to Bruno Lasier (The Milk Factory) and Tobias Fischer (Tokafi) for giving the release such careful review consideration, and to everyone else who supported the release.
Many individuals generously supported textura during the past year in different ways and we would be remiss in not expressing our sincere appreciation for their contributions: Gamall Awad, Eric Benoit, Jeremy Bible, James Blackshaw, Booka Shade, Jason Bryant, Mike Cadoo, Duncan Ó Ceallaigh, Mlle Caro, Celer, Sylvain Chauveau, CYNE, Deadbeat, Taylor Deupree, Paul Dickow, Lawrence English, Yair Etziony, Mike Fazio, Brian Foote, Lizzi Ford, The Fun Years, Gregor Samsa, Mike Griffin, Hatchback, Joseph Holmes, Ezekiel Honig, KILN, Akira Kosemura, Lullatone, Koen Lybaert, Adam Makarenko, Cam Merton, Michna, Nicolay, Mico Nonet, Christopher Murphy, David Newman, Mattias Nilsson, Osborne, Max Richter, Thorsten Sideboard, Kate Simko, Erik K. Skodvin, Slow Dancing Society, Solvent, Evan Sornstein, Nao Sugimoto, Melissa Taylor, Christopher Tignor, Kentaro Togawa, Alexander Turnquist, John Twells, Twine, Alessandro Vaccaro, Andy Vaz, Rick Wade, and Ben Watt. Thank you to all.
December 2008