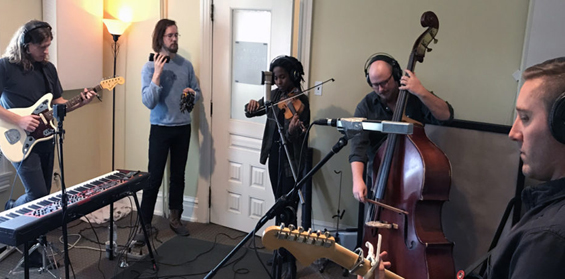 2017 ARTIST PICKS
For this year's article, artists whose works appeared in the "2017 Top 10s & 20s" lists were asked to share their own favourite picks of the year, regardless of whether the material was issued during 2017 or earlier. We're deeply indebted to those who contributed to the article (especially when the call for contributions was sent out at an exceptionally busy time of year), and thank them not only for their generosity and support but also for the many hours of pleasure their music brought us in 2017.
36 • Chantal Acda • Balmorhea • Gregg Belisle-Chi • Between Interval • Heather Woods Broderick • Cam Butler • Brad Cheeseman • Randy Gibson • Toby Hay • Rebecca Hennessy • The Knells • Akira Kosemura • James Murray • Northumbria • Scott Perkins • Keiron Phelan • Michael Robinson • Jeffrey Roden • Itoko Toma • Arne Torvik • Dale Trumbore • Wako

36 (#3 Ambient: Tomorrow's Explorers, 3six Recordings)
Black Swan's Travesty Waves: I'm hopelessly biased with this as Black Swan is a friend and I collaborated with him in the past, but I don't care. He makes wonderfully surreal music that's both terrifying and utterly beautiful in equal measure. I feel Travesty Waves is his best work yet and the culmination of nearly a decade of refining his sound. He's clearly inspired by David Lynch's industrial-style sound design, and he paints similarly vivid images of industrial dystopia in my ears, where the birds sing you a pretty song and then proceed to gouge out your eyeballs and feast on your soul. It's a completely unique album that is criminally underappreciated, and I urge you all to give it a listen.

Chantal Acda (#11 Electronic / Experimental: Bounce Back, Glitterhouse)
I loved the Nick Cave record Skeleton Tree. The sound of this record is amazing and makes it impossible for me to breathe freely; it touches pieces of my soul that never really seem to be able to find a safe place in this world. For me the way Nick Cave sings on this record is real singing, a storytelling, heartfelt way of singing that's very rare.
I also listened a lot to the Siv Jakobson record The Nordic Mellow. I went through some rough times, and this record gave me the space to deal with it. There are some things about it that, rationally, give me reasons to maybe not like it, but emotionally it came at the right time and place.

Balmorhea (#1 Electronic / Experimental: Clear Language, Western Vinyl)
(Rob Lowe) Juliette Armanet's Petite Amie: Fantastic pop music from France. She plays the piano and sings, and I love the updated classic nature of the record.
Dungen's Häxan: I love how Dungen occupies so many different territories. They can do so many things on a record, say so many things, but it all swirls around a central feeling. I really respect this band and want to see them live.
King Krule's The OOZ: This music is incredible; it inhabits its own landscape.
Kendrick Lamar's DAMN: Love this record so much. I went on my first tour with my new project RG Lowe this year, and we listened to this record a lot while driving.
Yo-Yo Ma, The Knights & Eric Jacobson Golijov's Azul: Beautiful music.
The Necks' Unfold: They just played at Funkhaus in Berlin—a dream concert.
Frank Ocean's "Chanel": This was my favourite song of 2017. It's so insanely catchy and completely original. I listened to it so, so many times.
(Michael Muller) Drab Majesty's The Demonstration: As a true child of the mid-to-late '80s, there's a unique soft spot in my music-appreciation library for darkwave pop. After seeing this act live this past summer, I was filled with a nostalgic energy for those melodic hooks that stayed in my head for weeks.
Rafael Anton Irisarri's The Shameless Years: Irisarri somehow achieves some of the widest stereo fields perceptible to human hearing in his works. In this, his latest release, he builds some truly epic layers of drone and atmosphere that would appear to almost have a physical matter about them. The album's artwork and packaging design are also superb.
Chuck Johnson's Balsams: I experienced an overwhelming amount of emotion the first time I heard this record. With the totality of the record feeling like a single song, it's a lushly arranged palette of affected pedal steel guitar playing that seemingly could swirl and arc in infinite shuffle. Recommended track: "Riga Black."
Otto Totland's The Lost: This was perhaps my most-listened to record of the year, yet it only was released in December. Otto is one-half of the Norwegian dark-ambient project Deaf Center, and this is his second solo piano record from the amazing Sonic Pieces label in Berlin. Highly recommended.
Wiegedood's De Doden Hebben Het Goed II: This is a post-metal act from Belgium that's a side-project of Oathbreaker. Drumming for both is Wim Coppers, who is a friend and actually lent some drums from the session of this album to our song "Slow Stone" on Clear Language. The relentless pace and hungry force of this music transcends its genre into an almost ambient field when one allows full immersion.

Gregg Belisle-Chi (#5 Jazz: I Sang to You and to the Moon, Gregg Belisle-Chi)
Incidentals by Tim Berne's Snakeoil: Tim has been one of my favourite composers/improvisers for some time now. His writing is so unique and personal, and his improvising is fearless and without reserve. This band, to me, really represents what jazz and improvised music should sound like in 2017. I also love David Torn's production on this record, though I'm especially fond of the record Science Friction, also recorded by Torn, featuring Berne, Craig Taborn, Marc Ducret, and Tom Rainey. What incredible musicians.

Between Interval (#8 Ambient: Legacy, Spotted Peccary)
(Stefan Strand) Alphaxone & ProtoU's Stardust: Representing the ambient category, this album has exactly what I'm looking for in the darker realms of ambient space music. Emptiness and desolation quickly come to mind, unexplored territory and abandoned space stations. An atmospheric and beautiful album.
Brock Berrigan's Point Pleasant: This album puts a smile on my face every time I hear it. Heavily sample-based instrumental jazzy beats, melodic stuff with a hint of nostalgia. Brock Berrigan is a new find to me and definitely one I'll keep my eyes on in the future.

Heather Woods Broderick (#1 EPs / Cassettes / Mini-albums: Home Winds, Planthouse)
My favourite new recording of the year is a single called "Sister, I" by Jesse Marchant. This is just a single-track release ahead of the record scheduled to come out on January 26th, 2018. It's one of the most beautiful lyrical tracks I heard all year. It has all of the things I look for in a song: a beautiful melody, interesting arrangement, a perfectly captured performance, lyrics that draw you in and take you to another place, the list goes on. Its release was also accompanied by a unique and breathtaking video. A perfect track to find at the end of the year, and a teaser of something to look forward to at the start of 2018.
Another favourite of the year is "Unsung Heroes" by my brother Peter Broderick from his record All Together Again. It may seem a bit presumptuous, but relation aside, this song hits me hard every time I hear it. I think it's a very beautiful and pure representation of honest observation. Given the current state of things, I find few things more important than for people to look in and around themselves and really listen to what's going on and what rings true to them.

Cam Butler (#12 Electronic / Experimental: Find Your Love, Cam Butler)
Like many musicians my listening is always all over the place. I've been working on so much of my own music this year that I haven't really got a handle on much that was released in 2017. I think the only thing that I listened to in great depth that was released in 2017 was Cruel Optimism by Brisbane-based sound artist Lawrence English. He creates such a grand atmosphere in his work, and this album and his Wilderness of Mirrors I particularly like. I have no idea how he comes up with what he does; it's not really an area of music I work in personally, although I have done a few experiments and would like to follow this path a bit more in the future; I find the results really compelling. Modern melodic 'scapes for the 'dystopian' future ... All right!
Some other things I listened to in 2017: I rediscovered Shayne Carter's great band Dimmer from the 2000s—superb New Zealand music; wild and groovy with that romantic NZ atmosphere that I love and a glorious open feeling. Also: The Necks' Open and Vertigo; Max Richter's The Leftovers Season 2 soundtrack (I like his simple melodies and great, clear orchestrations); and Jed Kurzel's soundtracks to Snowtown and Macbeth. The latter, which has a dark visceral sound, is superb: wild, avant strings for a film set in the early middle ages. He's a great artist.

Brad Cheeseman (#12 Jazz: The Tide Turns, Brad Cheeseman)
I spent much of 2017 digging into and discovering recordings from the last year but still managed to catch some great new releases. If I had to pick three, I'd probably pick these:
Diaspora by Christian Scott aTunde Adjuah: My favourite of the three Centennial Trilogy records he released this year, Diaspora has a really great overall aesthetic with deep grooves, big melodies, and some killer musical performances.
Chris Thile & Brad Mehldau: This one highlights some of my favourite aspects of both musicians: the musicianship is playful and melodic without ever feeling self-indulgent, the tunes are strong, and there's an earnestness to these performances that makes for really enjoyable listening.
Universal Favorite by Noam Pikelny: I'll admit that I don't really know anything about bluegrass, but I've been pretty smitten with this since I first heard his cover of "Folk Bloodbath." There's a really personal feeling to this album that isn't overshadowed by all the fantastic playing on display.
I also really enjoyed new releases by Julian Lage & Chris Eldridge, Nate Smith, and Brian Blade. In general, my listening gravitated towards albums that were either smaller intimate affairs or just had undeniable groove.

Randy Gibson (#1 Classical: The Four Pillars Appearing from The Equal D under Resonating Apparitions of The Eternal Process in The Midwinter Starfield 16 VIII 10 (Kansas City), Irritable Hedgehog)
In 2017 I want to highlight a few of my colleagues' releases. Mariel Roberts, a truly remarkable and dedicated cellist, released her second solo album this year, Cartography, which features a remarkable piece by David Brynjar Franzson that stood out when I heard Mariel perform this album at National Sawdust. The bassoonist Dana Jessen also released a solo bassoon album this year. Carve coalesces into a wonderful story about what the bassoon is capable of. The album features a work by Paula Matthusen called of an implacable subtraction that I got to hear Dana perform with Mantra a few years back. The plaintive bird calls with just the bassoon reed that close the piece still resonate powerfully in my memory.
Ellen Arkbro released a truly beautiful drone record, For Organ and Brass, that is elegant, mysterious, and joyously static. The track "Three" feels especially hopeful and patient, qualities that Ellen herself fully embodies. My good friend David Lackner continues to release varied and vital work on his Galtta label, this year including The Royal Scotsman by Synthetic Love Dream and Eulogy by Family In Mourning with Lydia Lunch, both excellent deep dives.
Finally, there were two very important reissues out this year of work by Pandit Pran Nath: Ragas of Morning and Night on Just Dreams, a rerelease overseen by La Monte Young, Marian Zazeela, and Jung Hee Choi of a stunning early Pran Nath recording that includes his truly masterful "Raga Darbari," and the second volume of recordings released by Sri Moonshine from Guruji's Palace Theatre performances in 1972. These releases continue to add to the conversation around Pandit Pran Nath's work and further show his incredible mastery of tone and feeling, and his unparalleled performances.

Toby Hay (#6 Electronic / Experimental: The Gathering, Cambrian Records)
It was hard to pick my favourite record of 2017. In truth, I probably didn't listen to as much music as I would have liked—too self-absorbed in my own projects. But one album jumped out for me: the brilliant The Following Mountain by Sam Amidon. It's inspiring, it feels fresh and free, and out on its own. Highly recommended.

Rebecca Hennessy's Fog Brass Band (#16 Jazz: Two Calls, Rebecca Hennessy)
Indigo by Nadje Noordhuis: I can't stop listening to this recording since I learned about it through drummer Ernesto Cervini's newsletter. The thoughtful and beautifully constructed compositions soar with their instrumentation. This record has a unique and unforgettable sound. I can't get enough.
Thank You For Coming to Life by Kenny Warren Quartet: This record is really exciting and playful. I love the compositions and the interplay between a tight ensemble sound and the looseness that comes from explorations within each tune.

The Knells (#13 Electronic / Experimental: II, Still Sound Records)
(Andrew McKenna Lee) Brandon Seabrook's Needle Driver: I first encountered Seabrook and his music in 2013 at a New York-based guitar festival called the "Alternative Guitar Summit." Hearing him perform with his trio was something akin to having my head ripped off in the most glorious, pleasurable way imaginable. It's challenging to make the worlds of extreme technical virtuosity meld with the seemingly spontaneous, expressionistic sound explosions inherent in a lot of noise-based avant-garde rock. Virtuosity—in its most conventional sense—frequently finds an outlet via focused physical control and intention, while unchecked expressionistic bombast requires abandonment of these disciplines. But on Needle Driver, Seabrook pulls off this combination with an exceptional ease that seems both natural and wildly, soulfully emotive. As somebody who is largely suspicious of music I perceive as putting form over function (i.e., technical showiness over emotive content), I'm awestruck by this music's razor-sharp balance of performative skill and impassioned urgency. Amidst the lightning-fast riffs, jagged edges, haunting textures, and virtuosically synchronized interplay between the members of the trio, there is also blood, sweat, and emotional immediacy.
Empyrean Atlas's Poly Rush: I've been a friend of Empyrean Atlas bandleader, composer, and multi-instrumentalist David Crowell for several years now, so perhaps my fondness for his band's latest release, Poly Rush, shouldn't come as a surprise. As someone who maintains a low-grade obsession with pre-'90s Steve Reich and the early '80s lineup of King Crimson, Empyrean Atlas's music is like extracting the best parts of both and distilling them into some kind of new, highly synthesized super-concentrate. Tightly interlocking kaleidoscopic textures composed of chiming guitars make up the bulk of this music, frequently accompanied by drum grooves that skip along with the music's inherent textures in a way that feels elegantly light, airy, and hypnotic. Among the usual polyrhythmic preoccupations that define the band's sound on Poly Rush (especially on tunes like "Echolocation" and the title track), there is also a newer element of ambience and space. The song "Nethermead," for example, features intermittent background electric guitar calls bathed in reverb pitted against the song's churning steel-string guitar foreground texture. When the drums finally come in and settle on the elusive groove, a chasm of space unfolds between the various layers of the song which is both intoxicating and thrilling. Likewise, the soft, sustained, organ-like drones that appear on the final track, "Murmuring," provide an additional element of contrasting counterpoint to the previous tracks. It's in this space that the finely tuned, synchronous gears comprising Empyrean Atlas's musical machine become most individually identifiable. This has the effect, in turn, of making the complexity and nuance of their whole that much more remarkable.

Akira Kosemura (#7 Electronic / Experimental: In the Dark Woods, Schole)
My favourite albums of 2017 are Prehension by Joep Beving and Three Worlds: Music From Woolf Works by Max Richter. Unexpectedly, both releases were released on Deutsche Grammophon. Beving's album is all solo piano music, but it makes complex emotions rise in my heart. Richter's music is always brilliant; every album of his provides a wonderful listening experience and is inspiring.

James Murray (#19 Electronic / Experimental: Heavenly Waters, Slowcraft Records)
Hannu Karjalainen's A Handful of Dust is a Desert: I wasn't aware of Hannu previously, so this came out of nowhere for me. There's a disarming sense of colour and playfulness at work here, even in the more melancholy pieces. Precise, bright, warm-hearted electronic music, and highly recommended.
Sylvain Chauveau's Post Everything: Sharing a stage and a little time with Sylvain this year gave me some insight into the man and his music. Post Everything reconsiders structure and medium but never loses sight of its emotional target; there are some genuine heart-stopping moments on this record.
Snow Palms' Origin and Echo: David John Sheppard for the most part allows the multi-layered mallet strikes of his second Snow Palms album to stand alone without too much textural support or interference, making for a bold, hypnotic set of polyrhythmic percussive excursions.
Hampshire & Foat's Galaxies Like Grains of Sand: This fine album would I guess be best filed under modern jazz/fusion, but it has a surprisingly folky, acoustic, chamber quality to it. Lush and inventive, it's consistently provided me with luxurious evening listening since its release in May on Athens of the North.
Ian Hawgood + Wil Bolton's Transparencies: I wonder if this was a bit overlooked; released early in the year, rather quietly perhaps, these tonally low-key acoustic-electronics are nevertheless a real treasure for the patient listener. Two of my favourite artists weaving together a restrained, understated magic.

Northumbria (#2 Ambient: Markland, Cryo Chamber)
(Dorian Williamson) Demen's Nektyr: I discovered Nektyr, the stunning debut offering from the mysterious Swedish artist Demen, during a particularly tragic period in my life. My mother was suffering on a path that would eventually lead to her passing this past October. The melancholic and ethereal "Anthems" created by sole member Irma Orm really resonated with me, providing a kind of hypnotic catharsis that flowed with the ebb and tide of my emotions. Everything about this release appealed to me in so many ways: the gorgeously crafted songs, Irma's haunting vocalizations, and the massively expansive production. There are superficial elements similar to early darkwave, ethereal wave, and such, but she manages to tap that vein without ever appearing nostalgic. The ghosts of This Mortal Coil and Dead Can Dance may be present, but they're just happy someone new is drinking from the same wellspring of inspiration and channeling that energy into something as stunning and original as Nektyr.
Apocryphos, Kammarheit, & Atrium Carceri's Echo: For me the bar was set very high early in 2017: three masters of dark ambient once again joining forces for a follow-up to 2015's Onyx. Robert Kozletsky, Pär Boström, and Simon Heath linked their studios and created one of the year's most impressive releases in the genre, with each artist bringing their unique perspective and vision to form Echo. The overall theme is tragic and apocalyptic... and very emotional, something often deprioritized in Dark Ambient. If there was a soundtrack this year that reflected the potential doom that hangs over this world, Echo would be a top candidate. A deep and unsettling soundscape that's at once inviting and terrifying. As a producer and musician, I stand in awe of this record. The attention to detail in the production, as well as the composition and musicality, is truly mesmerizing.

Scott Perkins (#3 Classical: The Stolen Child: Choral Works of Scott Perkins, Navona Records)
At the top of my list of favourite albums this year is Jasper String Quartet's Unbound. It's a fantastic collection of tracks by an A-list team of composers brilliantly, sensitively, and impeccably performed. I'm especially impressed by the balance the ensemble achieves while weaving intricate textures—all of the lines are perfectly voiced in Missy Mazzoli's DeathValley Junction, for example. There's a depth that makes the four players add up to much more than a quartet.

Keiron Phelan (co-producer/curator of The Last Sense To Leave Us) (#3 Compilation / Reissue, VA: The Last Sense To Leave Us– A Tribute To Pauline Oliveros, Rural Colours)
Oliver Cherer's The Myth of Violet Meek: UK-based musical polymath Oliver Cherer has, this year, released not one but two albums of considerable note: the largely instrumental and psycho-geographical The Green Line under his Gilroy Mere incarnation, released by the brilliantly aesthetically informed (check out the sleeve art) cottage industry that is Clay Pipe records, and The Myth Of Violet Meek, courtesy of the ever intriguing Wayside and Woodland imprint. A suitably large number of critical plaudits have been presented to both opuses, The Green Line somewhat shading things in the attention-stakes.
I would contend, however, that Cherer's true long suit is his ability as a storyteller, and consequently my best love is given to The Myth of Violet Meek. Located in England's Forest of Dean and taking a bizarre nineteenth-century true-crime story for its narrative framework, Violet Meek is a work of serious musical and lyrical ambition. To my ears Cherer has succeeded in creating what is virtually a folk-rock rival to Lou Reed's classic Berlin. Meek's historically set tales of hard lives, hardly lived, misogyny, and abuse rivals Reed's bleak account of mid-'70s ill-starred romantic decadence, equally matching its conceit of setting sharply jagged lyrical gems within beautifully evocative music. It's a work that best rewards deep delving, but The Myth Of Violet Meek is a truly big album and vital listening. And should you ever visit the rural town of Ruardean, do not ask "Who killed the bears?" All may be revealed.

Michael Robinson (#8 Electronic / Experimental: Lilac Dawn, Azure Miles Records)
I'm utterly astonished by the greatness of alto saxophonist Art Pepper. To begin with, he has, arguably, the most perfect instrumental sound ever spawned by the musical art form known as jazz.
Truth be told, jazz alto saxophone is likely the musical subject I am most well-versed in. Of the alto artists who have engaged me most, Charlie Parker came first, followed primarily by Lee Konitz and Jackie McLean, and also Paul Desmond, Cannonball Adderley, Ornette Coleman, Sonny Stitt, and Phil Woods. The instrument itself is jazz's most dynamic timbre, floating in between dimensions, refusing to be tied down. At once sharp and dangerous as a rapier while simultaneously mystically dreamy and vibrant foreshadowing rainbow cloudbursts.
Right away, I would argue that Pepper's emotional impact is the closest to Parker's exquisite flavour, while remaining distinctive, than anyone else who followed. This remarkable quality results from having internalized Parker's and Lester Young's rasas (expressive essence), rhythmic resonances, and phrasing in soul-searing fashion, as if fortifying himself for the ultimate musical journey within.
As indicated, in terms of woodwind influences upon Pepper's art, Charlie Parker and Lester Young are equally titanic catalysts, along with Benny Goodman, Artie Shaw, and Stan Getz. Amazingly, Art demonstrates that he would have been equally brilliant and substantive on tenor saxophone and clarinet if he'd chosen to focus on either of those horns rather than alto. If that sounds hard to believe, perhaps you'll agree with me after checking out the tenor saxophone and clarinet recordings left to us.
Additionally, I perceive more of a trumpet influence in Art's playing than any other altoist. It would appear to have resulted from his intimate exposure to Benny Carter, who, most unusually, doubled on alto saxophone and trumpet, and whose band Pepper played in at a formative age. It might also be argued that Pepper's relatively unusual use of a Martin alto saxophone early in his career elicited slightly more of a brass (than is common) as opposed to woodwind slant, the saxophone having been conceived by Adolph Sax as combining the power of the brass with the flexibility of the woodwinds. Last, but perhaps not least, I discern an enthusiasm for trumpeter Fats Navarro's cathartic explorations in Pepper's playing.
How incredibly horrific that something like one-third of Art's artistic life was spent in prison. It's terrible to contemplate how some of America's greatest musicians, Gene Ammons too, were severely compromised by the debacle of targeting and punishing jazz musicians rather than assisting them related to illegal narcotics. In the case of Pepper, these incarcerations make it especially difficult to comprehend the totality of his musical output because his playing seems to change significantly every time he want away and came back.
Bill Evans once said that feeling comes first in jazz, if not all music, and the Pepper tracks that speak most deeply to myself, at these admittedly early stages of my experience with his body of music, are found among his later work, being "Blue Bossa," composed by Kenny Dorham, and "Somewhere Over the Rainbow," by Harold Arlen and Nip Harburg. In fact, Joe Henderson was the king of "Blue Bossa" for me until I heard Pepper's rendition from the With Friends album. Moving swiftly like a horseman through a tattered battlefield filled with his comrades because to pause would be to lose all, Pepper's alto glints and shimmers with the fires of passionate fervor steeped in survival. His phrase at 1:39, reminiscent of Laura Nyro, is a stunning and shattering glimpse into the human heart. The ballad performance I've selected, "Somewhere Over the Rainbow," from the Ballads for Four album, is another colossal achievement. Pepper's instrumental palette of tone colors, dynamic graduations, intonational sublimations—even when they're 'technically' off, they're expressively perfect—and registerial contrasts, all illuminating a rarified naked distillation of rasa, are enough to populate a new world.
Mention must be made of the magnificent bassist Bob Magnusson who spurs Pepper to such spectacular aesthetic heights along with Frank Butler on drums and Russ Freeman on piano for "Blue Bossa." Similarly, special attention must be given to Cecil McBee on bass for "Somewhere Over the Rainbow," along with Roy Haynes on drums and Stanley Cowell on piano.
Fortunately, there are troves of musical treasures Art Pepper has left us in recordings both released and unreleased and still to be discovered, no doubt. Knowing that Art Pepper was, coincidentally, born in Los Angeles and made his adult home here, too, I'm especially glad during the holiday season to shine some light on his bewitching oeuvre, the importance of which will continue to rise.

Jeffrey Roden (#15 Classical: Threads of a Prayer Volume 2, Solaire)
This year I really enjoyed Giacomo Puccini: Complete Piano Works and Selected Opera Transcriptions by Sandro Ivo Bartoli on Solaire. There is a quality in both the work and the performer that touches something human and sincere from the very beginning of the disc. There is a sense of familiarity in the pieces that brings the past into the present without the feeling of the work being old-fashioned or out of its element. It's quite a nice break from the rigours of modern music without being dull. You can really hear in Sandro Ivo Bartoli's playing how much the music means to him, and he is able to create that same feeling in the listener. Highly recommended.

Itoko Toma (#5 Electronic / Experimental: When the World Will Mix Well, Schole)
Umitaro ABE's Cahier de musique: He's a composer and pianist who has a background in classical music. His music evokes the air of places, for example places like kitchens, hotels, stations, and museums. When I listen to his music, I'm reminded of those places at once and feel nostalgic. I like his imaginative and emotional music very much.
Akira Kosemura's In The Dark Woods: I like his sensitivity and elegance so much. Each time I listen to his works, they heighten my own sensitivity. The title song knocks me out over and over with its sensitive melody and beautiful images.

Arne Torvik (#3 Jazz: Northwestern Sounds, Øra Fonogram)
One record that really made an impression on me this year is guitarist Kurt Rosenwinkel's latest release Caipi. In some ways it reminds me of some of the older albums of his, such as Heartcore (2003) and Deep Song (2005), but it's not that much of a jazz record. Rosenwinkel adds into the mix a blend of personal songwriting and singing, as well as playing most of the instruments himself. At the core of the album is Kurt's very special and emotional way of writing music. It's an album that sounds like jazz, pop, Brazilian music, and singer/songwriting at the same time.
A big inspiration in 2017 was Tigran Hamasyan's An Ancient Observer. It's fantastic to hear Tigran mostly just playing piano and displaying fantastic compositions in this mostly live-in-the-studio album. He added vocals, keyboards, and percussion, but mostly it displays Tigran's unique way of coming up with music that seems like no one else. His way of playing piano is flawless and his really nice touch never fails to impress me.

Dale Trumbore (#7 Classical: Choral Arts Initiative: How to Go On: The Choral Works of Dale Trumbore, Choral Arts Initiative)
I'd pick Hundred Water's album Communicating as my favourite of the year, though it's not classical. The album's variety and pacing is spot-on, and the way they manipulate acoustic and electronic sound is so satisfyingly well-done.
Wako & Oslo Strings (#2 Jazz: Modes for All Eternity, AMP Music & Records)
Christian Wallumrød Ensemble's Kurzsam and Fulger: Because they combine textures and melodic/harmonic play in a really inspiring way, and they sound amazing both soloistically and as an ensemble.
January 2018