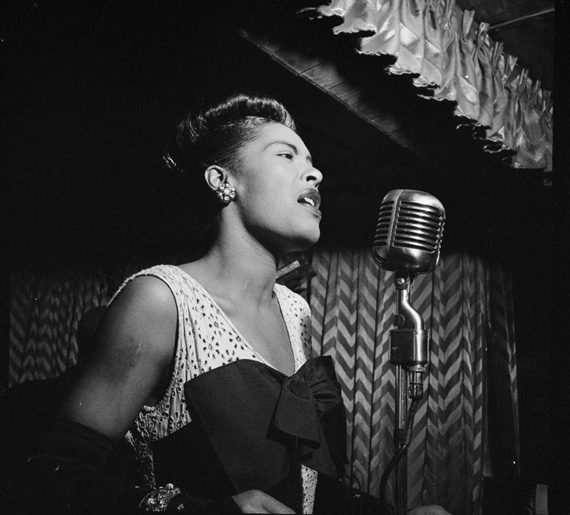 BILLIE HOLIDAY
Both of my parents were jazz fans, my father's record collection leaning more towards Errol Garner, my mother's towards Ella Fitzgerald. Our home resounded daily with the towering pianisms of Art Tatum and the smooth stylings of Frank Sinatra. As a child, I recall gazing upon the album covers in their collection, having no clue as to the nature of the musical contents but mesmerized nonetheless by the colourful cover images. My mother's favourite was Ella Fitzgerald Sings the Rodgers and Hart Songbook and I too was captivated, but in my case by its glorious photographic portrait of the beatific songstress. Years later, when Ella's superb series of songbook recordings—Harold Arlen, Cole Porter, Irving Berlin, the Gershwins, Duke Ellington—provided me with a nonpareil exposure to the tradition of great American songwriting, I became convinced that no other interpreter of these songs could possibly match Ella for finesse, style, and depth of feeling.
Not long after reaching this determination, a friend gave me for Christmas a record titled Billie Holiday's Greatest Hits. As avid readers of Downbeat, we had become aware of a critical contention that held Billie to be a greater artist than Ella, and so my friend was just as eager to hear her as was I. So we settled in and listened for the first time to "God Bless the Child" and "Good Morning Heartache," oblivious to the songs' histories. At recording's end, we puzzled briefly over the critical pronouncement in light of the obvious technical superiority that Ella possessed, and committed ourselves anew to our belief in Ella's sovereignty.
Yet repeated listenings to that Christmas present gradually engendered a different impression. Issues of technical facility no longer seemed to be as pertinent and we began to notice the unique sense of rhythm in Billie's delivery, the way she boldly trailed the beat with nary a hint of concern. And, most of all, we started to glimpse that indelible pain in her voice that seemed to seep to the surface of every word she sang. Over the years, I added numerous recordings by Billie to my collection, and like most became familiar with the sad story of her decline. While media reports of drug problems and performance fiascos were there to document her demise, no research of any formal sort was needed so long as one had her recordings. Near the end, her collaboration with Ray Ellis and his orchestra, Lady in Satin, appeared and the contrast between the lush orchestral backing and Billie's ravaged voice couldn't have been greater. And yet the recording is rendered unforgettable, not only because of the sympathetic backing and the ballad-heavy song selection but because of the almost unbearable heartbreak in that voice.
Sadly, this is the image of Billie that dominates all others, the portrait of a helpless junkie, her talents eroded due to decades of abuse who, in the cruelest stroke, would be arrested for drug possession literally on her death bed. But an entirely different persona emerges when one listens to her earlier recordings. In 1992, Verve released a 10-cd box set that included all of the label's Holiday material from 1945 to 1959. Regrettably, the set includes two rambling rehearsal sessions at which she is clearly not sober; while Verve contends that the sessions are included for the sake of completeness and historical importance, their inclusion also represents a callous exploitation of Billie's woeful condition. Regardless, the set includes more than its share of astonishing moments, one of which appears on the first cd which features performances from 1945 to 1952. On May 24, 1947 , Billie appears, accompanied solely by Bobby Tucker on piano, at Carnegie Hall in one of Norman Granz's Jazz at the Philharmonic concerts. In fact, Billie's life was in turmoil at that time too. She was working at the Club 18 on 52 nd street, in between a Philadelphia arrest for drug possession and a subsequent sentencing to 366 days at the Federal Prison for Women at Alderson , West Virginia . Apparently, she and Bobby rushed over to Carnegie Hall between sets at Club 18 to make an unadvertised appearance at the JATP show. She sang but four songs—"You Better Go Now," "You're Driving Me Crazy," "There is No Greater Love," and "I Cover the Waterfront"—yet no greater argument for her artistry need be cited than the mastery on display here. "You Better Go Now," written by Irvin Graham and Bickley S. Reichmer, is 2 minutes and 56 seconds of the most sublime Billie on record. Following Granz's introduction, the crowd's delight at her unexpected appearance is audible, the excitement in the hall palpable. Tucker's gentle intro lasts 17 seconds, just long enough for the crowd to settle down in anticipation of Billie's entry. Her delivery is cooing, her vocal elegantly floating above Tucker's supple support. She sings with the sweetest vibrato imaginable, "You better go now because I like you much too much," upon which one listener in particular can't contain himself and emits a rapturous howl that suggests only too clearly his recognition of a magical musical moment to which he, through some incredible stroke of good fortune, finds himself privy. Throughout the song, the effortlessness of her singing bespeaks a command that would sadly desert her in her later years. In spite of the presence of distracting surface noise, Billie's laconic pacing, charm, and tranquil demeanor sound forth as potently today, more than five decades later, as they did that night in New York . Would that this would be the Billie we remember today in place of the tragic icon.
July 2003