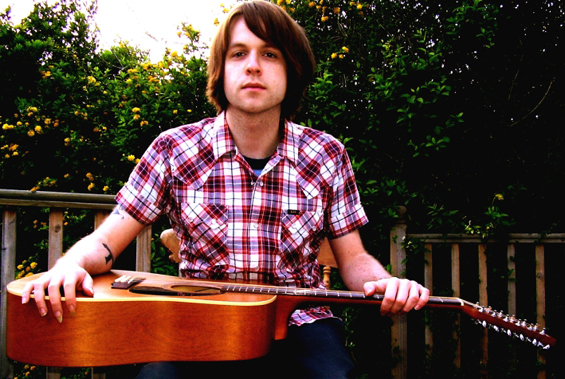 JAMES BLACKSHAW'S TOP 10 RECENT FAVOURITE RECORDS
Though he's only been performing and recording since 2003, James Blackshaw has acquired a wholly deserved reputation as a modern pioneer of solo acoustic guitar music. The UK native's music and intricate, 12-string finger-picking technique elicits a fervent degree of admiration that's wholly justified. Still in his mid-twenties, the musician (untrained it turns out) transcends any singular folk-oriented genre by incorporating into his playing elements of Indian music (his dazzling raga-like passages can be as hypnotic as a mantra) and taking inspiration from composers such as Steve Reich and Charlemagne Palestine (Blackshaw's appreciation for a broad range of music is exemplified by The Garden of Forking Paths, a wonderful collection he recently curated that includes pieces by him, Chieko Mori, Jozef van Wissem, and Helena Espvall). The long-form music that results is minimal (in its instrumental approach) and pure yet simultaneously full-bodied and rich. Listeners enchanted by Blackshaw's acclaimed 2007 recording The Cloud of Unknowing will no doubt be equally mesmerized by its follow-up Litany of Echoes.
1. Margo Guryan: Take A Picture (Oglio)
Quite simply one of my favourite pop (for lack of a better word) albums of all time. Margo Guryan is a classically-trained American singer-songwriter who wrote some hit songs for other performers including Astrud Gilberto, Mama Cass, and Glen Campbell, among others. She recorded this lone album in 1968, but it failed to do well commercially. The arrangements are lovely—that perfect, breezy, summer sound, and her breathy, double-tracked vocals and the simple-but-smart observations in her lyrics make this a total pleasure to listen to. Think of The Zombies, The Beach Boys, The Millenium, The Left Banke, Harry Nilsson, and Judee Sill, as well as some of the better French chansons of the '60s and you'd be on the right track.
2. Sibylle Baier: Colour Green (Orange Twin)
It seems like every new day some label reissues or rediscovers an album from the '60s or '70s, hailing it as a lost classic. I'm not quite sure how you define a "classic" exactly, but I'm pretty sure 99% of the time, it's not the case at all. But like Take A Picture, this is an album truly deserving of a much wider audience. Colour Green was, in fact, never released at all: recorded at her home in Germany during 1975, Sibylle Baier's songs were apparently not intended to see the light of day at all. Soft, plaintive vocals, an intimate and often melancholic atmosphere, and beautiful songs.
3. Angels of Light: We Are Him (Young God)
This is perhaps my favourite Angels of Light album to date. Swaggering rock songs, twisted hillbilly stomps, dark Americana, lush psychedelic arrangements: this is a real mix of styles, by turns forceful, introspective, and just plain beautiful, yet it gels together so well, and the sheer power of Michael Gira's lyrics and delivery make it unmistakably his own.
4. Lubomyr Melnyk: KMH (Unseen Worlds)
Born in 1948 and allegedly the fastest pianist alive, Lubomyr Melnyk's music consists mostly of extremely fast arpeggios with the sustain-pedal held down, which creates huge overtones and sympathetic resonances that are not entirely unlike Charlemagne Palestine's Strumming Music, for example. Melynk's work seems a lot less improvised and somewhat more rhythmical, however, and comparisons to composers such as Steve Reich or even early Glass seem apt too. Ultimately, this is just totally mesmerizing and gorgeous, and it's a crying shame not many people seem to know about him.
5. Michael Harrison: Revelation (Cantaloupe)
More solo piano, this time from American composer Michael Harrison. Taking its cues from La Monte Young's Well-Tuned Piano, this is performed entirely on a piano tuned in just intonation, an ancient system for harmony constructed from notes in intervals of perfect mathematical proportions to each other. All complex theory aside, this is certainly not purely for music academics and avant-snobs; it's flat-out stunning, hypnotic, and otherworldly.
6. Tenniscoats: Tan-Tan Therapy (Hapna)
Simple, child-like pop bliss, with some neat little understated experiment leanings from the Japanese duo of Saya and Ueno, also sometimes members of Maher Shalal Hash Baz. This might be their finest yet, with the group expanding their sound and pushing in some interesting new directions. I dare you to listen to "Baibaba Bimba" and not be absolutely enchanted.
7. Spires That In The Sunset Rise: Curse The Traced Bird (Secret Eye Records)
The all female, Chicago-based ensemble Spires That In The Sunset Rise blew my girlfriend and me away when we saw them at the State-X new Forms Festival in Holland where I also performed late last year. Capable of dealing with a rowdy and talkative crowd while creating a mixture of music inspired by chamber and early music, drone, folk, and various ethnic styles, this group is one of the few out there who can achieve such an ambitious undertaking successfully and with such raw feeling it leaves you light-headed.
8. Richard Youngs: Sapphie (Jagjaguwar)
I learned about the circumstances surrounding the recording of this album long before I actually heard it. A tribute to Young's deceased pet dog, Sapphie, this is music that's pure, simple, fragile, and totally heartbreaking. Just guitar and voice, these three long songs prove that when the basic elements of a song are so good, there's no need to embellish it with unnecessary instrumentation or production values.
9. CooperJones: Never Dirty (Blackest Rainbow Records)
Dig deep into the depths of the short-run CD-R and cassette underground and you will occasionally come across some real gems, and this is one of them. The then-Manchester-based duo of Sophie Cooper and Kelly Jones both played finger-picked acoustic guitar and showed a perfect knack for delicately balancing some great original compositions with an occasionally spur-of-the-moment, improvisatory approach and sounding totally fresh and original in the process.
10. Rhys Chatham: An Angel Moves Too Fast To See (Table of the Elements)
My favourite piece of Chatham's 100 electric-guitars in unison: a teenage dream come true and a wonderful piece of modern composition realized as a huge, transcendental, rock'n'roll blow-out.
July 2008