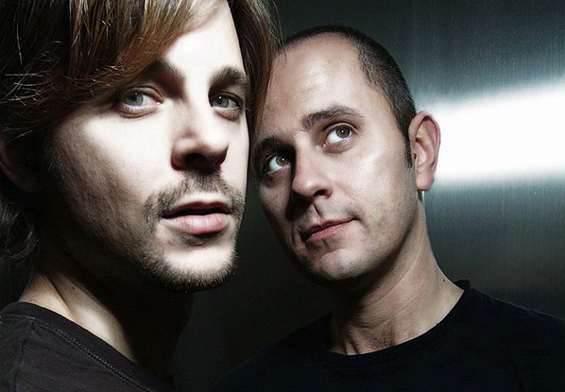 BOOKA SHADE'S TOP 10 SONGS THAT CHANGED OUR LIVES
German producers, in-demand remixers (for the likes of Depeche Mode, Roxy Music, and The Knife), and Get Physical masterminds Walter Merziger and Arno Kammermeier need no introduction—creating one of dance music's most beloved releases, 2006's Movements, will do that for you. An equally celebrated live act, the group is touring the globe in support of its just-released third album The Sun & The Neon Light so concert-goers can look forward to being dazzled by new tunes in addition to club anthems "Mandarine Girl," "In White Rooms," "Night Falls," and "Body Language." Needless to say, textura is honoured to be able to present a Top 10 list by one of dance music's most revered acts.
1. Laurent Garnier: "Acid Eiffel" (Early Works, Arcade)
Walter: A blueprint for trance music in its original sense and one of the reasons why we first fell in love with club music in the early '90s. We used to drive to Frankfurt every weekend to go to clubs like Omen where such music was played. Around this time we released our first ever club track on R&S, "Una musica senza ritmo" under the project name Degeneration. As you can probably hear in the music of Booka Shade, we like the original idea of trance, repetitive atmospheric music that takes you on a journey.
2. Metro Area: "Miura" (Metro Area 4, Environ)
Arno: We heard this song many, many times in DJ T.'s former Club Monza in Frankfurt. It's one of the reasons why we fell in love with club music for the second time in the year 2000. When we set up our label Get Physical, the track also influenced the sound of the first releases.
3. M.A.N.D.Y.: "Put Put Put" (Put Put Put, Get Physical)
Walter: The first release on our label Get Physical. Truely life-changing. We started the label as a playground for our musical ideas, and it became a major part of our lives.
4. Kraftwerk: "Die Roboter" ("The Robots") (The Man-Machine, EMI)
Arno: I clearly remember the day when my older brother came home and showed me a music magazine with a band on the front cover that looked like robots. I didn't understand at all what this was all about and I was convinced that it must be actual robots (if not aliens from outer space!) Who created this music? I find it very funny that bands tried to play their music with guitars and failed to create the same sound because they didn't understand that it was synthesizers!!
5. Depeche Mode: "Enjoy the Silence" (Violator, BMG)
Walter: I've been a DM junkie since 1982, and ever since I heard Speak & Spell, there's been no band able to compete with Depeche Mode. We had a great time remixing them (their latest single "Martyr") and opening for them on their last tour. "Enjoy the Silence" is an all-time personal hymn of mine.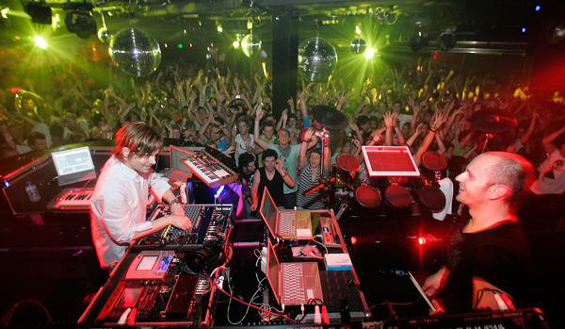 6. New Order: "Blue Monday" (Blue Monday, Factory)
Arno: Since its creation, I have the feeling that this song is now embedded in the DNA of all mankind, so I guess people will still be dancing to it in 500 years. And I can proudly say that I still have an original vinyl that I bought in the mid-'80s! I recently read that "Blue Monday" was pretty much an accident and was written while the band was checking out a new drum machine it had bought. If this is true, it's not a bad result of a sound check! It's the most successful 12-inch of all time but for a long time the guys didn't make any money with it because all the income was used by their record company factory to maintain the Hacienda Club. If you like this song, you can find a similar sounding but less known track on their 1983 album Power, Corruption & Lies called "5 8 6."
7. Prince: "When Doves Cry" (Purple Rain, Warner Brothers)
Walter: It's always amazing to hear how much you can express with just a few musical elements if you have a great song and a great singer. I have a lot of respect for Prince as a producer, songwriter, and musician; this song is one of my all-time favourites. Prince's productions at that time were always quite drastic and unique; I especially like those pitched-down drum machine grooves.
8. The Cure: "10.15 Saturday Night" (Boys Don't Cry, Polydor)
Arno: "My introduction to "New Wave." I was fascinated by the minimalistic sound of these three (imaginary) boys.
9. Jean Michel Jarre: Oxygene (Oxygene, Disques Motors)
Arno: I didn't realize how important this album was for my musical development until I saw Jean Michel Jarre live in Berlin a couple of weeks ago when, accompanied by three musicians, he performed the 1976 album. I must have heard the music a hundred times in the '70s when my older brother and my father listened to it.
10. Killing Joke: "Love Like Blood" (Night Time, E'G Records)
Walter: A song that was played a lot by DJs when we first started to go out to clubs. I remember how impressed I was by the big drum sound.
May 2008