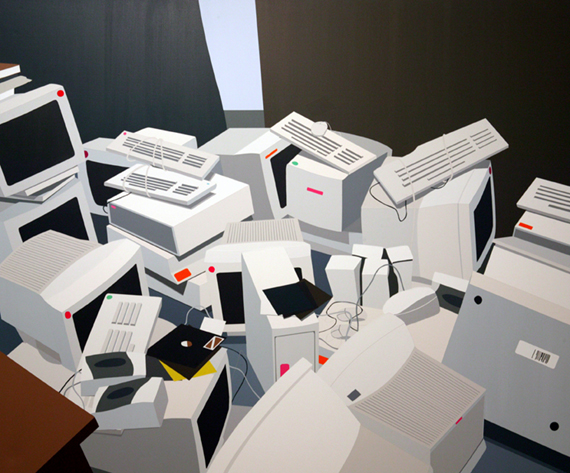 Upgrade
BRIAN ALFRED
Multi-talented Brian Alfred is as immersed in music-related projects as he is the gallery scene. Recent works include solo shows like the Overload exhibition at the Max Protetch gallery in New York City plus pieces for Wind-Up Bird, See Venus, and Echostar (ex-Bowery Electric's Martha Schwendener). Born in Pittsburgh in 1973, Alfred attended Penn State and Yale's Skowhegan School of Painting and Sculpture and, upon graduation, participated in exhibitions in LA and New York. Currently residing in Brooklyn , he's received numerous awards (including a 2003 Pollock-Krasner Foundation Grant) which have better enabled him to pursue his muse. His work is featured in the short film Artflick 001 that was shown at the 2004 Sundance and Tribeca Film Festivals.
Alfred's large-scale, flat paintings of modern urban landscapes depict technological progress alongside the fallout of decay and rot that comes with it. In place of tidy rows of computer stations, Upgrade shows a garbage mound of monitors and keyboards, whether awaiting installation or further dismantling is unclear. In Bio-Tech Ceiling Unit, an intricate, colourful web of ceiling pipes and wires appear to be on the verge of oppressively crushing the room's unseen inhabitants. When asked to explain how his flat-colour style developed and to identify those who influenced him, Alfred replies, "It was a combination of working with cut-out shapes of colour for collages, using Illustrator, and a desire to have the paintings be straightforward. I definitely respect and enjoy the work of Alex Katz and John Wesley and others who may seem to have a pretty direct visual influence on my work. I grew up in Pittsburgh , so Warhol was always in my eye, and I have always been drawn to his work. I love precisionist artists like Sheeler, Davis, and Demuth, and am blown away by Richard Estes' amazing prints. That said, design, video games, cartoons, and other media are just as strong an influence on my work as 'fine art.' Conceptually I look to many different sources for inspiration. The media exerts a large impact on the way I think about my subject matter." Alfred is asked about the 2004 Overload exhibition and the degree to which he deliberately juxtaposed the beautiful veneer of the images with the unsettling moods engendered by the subject matter. "The exhibition was targeted in so far as the subject matter was visually dense," he says. "I have always had an interest in drawing the viewer into the images via beauty, technique, subject matter, et cetera, and at the same time, much of the imagery has an ominous or threatening tone. I feel that balance often in life, and I'm drawn to those kinds of images."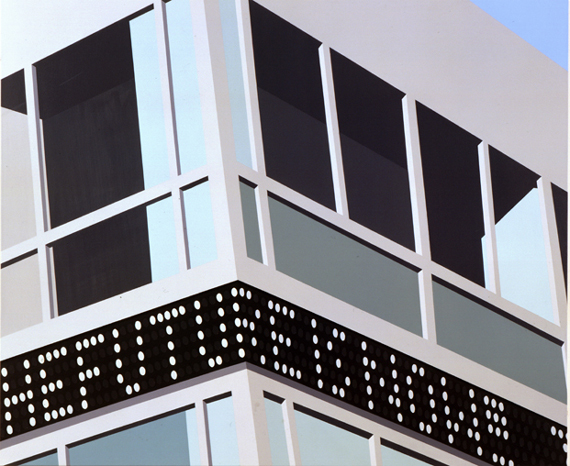 The Future is Now!!!
As noted, Alfred's work has strong musical connections. He produced 2002 and 2003 Multimedia CD-ROMs (featuring images and text and animations) with music provided by a choice coterie of electronic musicians (available from the Protetch Gallery at www.maxprotetch.com and the Nadiff store in Tokyo). He explains, "I feel that much of the music that I listen to has a connection to what I'm thinking about in the studio. I also use many images that are manipulated via technology, which is how many of these musicians work. I asked them to create something in response to viewing my work; it didn't have to be to a particular image, but maybe the overall feeling of the work." The 2002 catalog includes artists like Nobukazu Takemura, Lullatone, E*rock, Static, Pan American, Loscil, Pulseprogramming, E*vax, and Opiate, while 2003's installment features snd, Schneider TM, Kptmichgan, Nudge, I am Robot and Proud, and Greg Davis. Elaborating further upon how music affects his work, he says, "Music is definitely my fuel in the studio. I think it inspires me to work more than anything else. My friend Evan has an amazing new band with Mike Stroud called Ratatat who has a new record out on XL records. I'm also listening to Isan, Lullatone, Triosk with Jan Jelenik, Opiate, See Venus, Takagi Masakatsu, Takeo Toyama, and others. At the same time, I've been listening to the old 50's and 60's Blue Note catalog. I think the role that jazz had in the post war era really becomes an amazing historical diagram of avant-garde creative thinking. It's like seeing a Van Gogh retrospective; you can see the mind at work, piece by piece."
What's ahead for Alfred? "I recently created cover art for the pop band See Venus which has just been released on March Records. My first museum exhibition will be presented this fall at the Phoenix Museum of Art. I'm also working on ideas for my next animation project. Overload, my animation collaboration with Lullatone and animator Ben Radatz that was featured at Protetch, will be presented at the OneDotZero film fest. I really try to just keep working and try not to be too directive about it. I think branching into multiple territories not only makes you think differently about things but also invigorates the creative process. Collaborating with others is great for creating results you'd never come up with on your own. At the end of the day, though, I love that it's just me in the studio, grinding it out."
June 2004