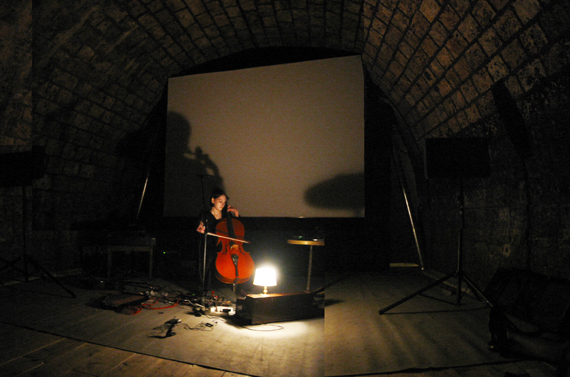 COLLEEN
When I asked Cécile Schott (aka Colleen) last December to select a favourite 2005 recording for a year-end article I was writing, the Paris-based recording artist politely begged off. Why? Simply because almost all of the music she had been listening to during the year had come from centuries or decades past. It's a small but significant detail and one wholly consistent with the distinctive character of her music, whether it be the lauded debut Everyone Alive Wants Answers, celebrated follow-up The Golden Morning Breaks (named after a work by 16th-century English composer John Dowland), her contribution to Staalplaat's Mort aux vaches series, or the upcoming EP Colleen et les boîtes à musique. I first met Colleen in May 2005 during a Paris trip, one that coincided with the imminent release of her second album, and then visited with her in Paris again, almost a year to the day later, where the conversation turned to recent developments and the EP. Though she lives in central Paris, you'll hardly find her relaxing at the Jardin des Tuileries when her daily schedule consists of practicing, composing, and recording, among other things (she's also a half-time English teacher). Her home is a veritable music sanctuary, with a viola de gamba and music stand occupying one corner and a piano, adorned with Satie and Bartok sheet music, crowding a hallway.
That Colleen is an artist of singular musical vision was evident the moment Everyone Alive Wants Answers appeared in 2003. Assembled from samples of largely acoustic material (some centuries-old), the recording brought the young composer (26 at the time) international attention. Though she had been making music since the age of 15 and had learned classical and electric guitar, acquiring a computer and working with samples became pivotal moments leading up to the debut. "The thing that should be stressed about my first album is that it was samples but they were always acoustic," she says. "In a way, I used samples because, at the time of the first album, I had no money whatsoever and I could only play the guitar, so samples were the perfect answer. And because I really transformed the sounds in 95% of the cases, I don't feel like I stole something from someone." Even so, her position on sampling began to change. "I started to think that maybe there is something intellectually dishonest about the fact that, okay, I borrowed these obscure records from Paris libraries and it's quite obvious that there's one chance out of 100,000 listeners are going to know this record. But just because they're not going to find out about it, does it justify me using it in a way that's perhaps not imaginative enough? I thought "How would I feel if someone took samples from my music and didn't transform them that much and claimed them to be their own?""
Consequently, the wish to become more "responsible for the sound" (her words) coupled with a serendipitous exposure to a Lou Harrison concerto for cello, piano, violin, and gamelan inspired her to start producing sounds herself. But there was another key contributor to the change in methodology. "Basically, the switch from using samples to instruments mostly happened because of doing concerts. I didn't want to do a laptop gig so I brought out my guitar, bought small instruments like the melodica, glockenspiel, and music boxes and then, two years ago, a cello." Though the Mort aux vaches set was issued in early 2006 and thus after The Golden Morning Breaks, the live recording, recorded at the VPRO studios in Amsterdam in September 2004, serves as a convenient document of this period in her development. Traces of the later release are sometimes audible (in the haunting "Petite Fleur," for example) but the recording can be appreciated on its own terms, and especially for its intimate and poetic qualities. Performing solo, Colleen generally restricts herself to a single acoustic instrument on each piece (music box, zither, ukulele, melodica) but also uses looping and delay pedals to generate a multi-layered sound, approximating a mini-orchestra of kalimbas and recorders in "The Thumb Piano Song," for instance.
Interestingly, while The Golden Morning Breaks signifies a radical change in production methods, the album's sound doesn't deviate wholly from its predecessor; if anything, it earmarks a maturing of vision. During its creation, she extended an already-eclectic listening appetite to include late-16th century lute songs by John Dowland and early compositions for viola da gamba, and then, for the recording itself, eschewed synthetic sounds for classical guitar, organ, cello, and even a 19th-century glass harmonicon, a glockenspiel from the early-19th century whose blades of glass give it a crystalline sound (heard on "The Heart Harmonicon"). Such natural sonorities add an historical dimension and, consequently, both albums share a timeless feel. The music itself is atmospheric, melancholy, and languorous, with song titles alone indicative of the lulling mood ("Floating in the Clearest Night," "Sweet Rolling"). The coup de grace is the magical closer "Everything Lay Still," an entrancing meditation of cello shudders and sparkling tinkles that's more allusive than direct and ultimately more poetic for being so. Asked to compare the two full-lengths, she says "Maybe The Golden Morning Breaks sounds less mechanical because it relies less on loops; it's more about echoes within the music. I don't know the exact word in English but in French it would be décalage. It doesn't mean 'delay' as in 'delay pedal'; it's more about things getting out of sync and then finding themselves again. While making the album, I listened to Baroque music quite a lot and there is something in that music about things overlapping too; that's something I really love and it's also something I hear in Gamelan and Indonesian music."
During my recent visit, Colleen described her upcoming release in detail. Inspired by a commission from a state radio station (France Culture) and a trip to Scotland where she visited a friend (and one-time music antique dealer) who owns numerous old music boxes, she realized that a music box recording might be a perfect choice. "We started to record the music boxes but things turned out differently from what I had expected; the melodies weren't that interesting and were actually quite cheesy. And then I happened to bend and stroke the comb (the music box is basically like a rolling pin, kind of like a big pin full of small staples or spikes and they're the ones that, when the pin turns or revolves, lift the blades from a metal comb) and, struck by what I heard, started to experiment with the comb itself. When played manually with my thumbnails or with the glass harmonicon's small mallets, a very rich sound is produced that's reminiscent of gamelan, marimba, and glockenspiel, and all sorts of sounds mixed into one. I recorded some really old and battered music boxes and some of my own which are either hand-cranked or mechanical; I also used a componium, a music box into which you feed strips of paper that you punch yourself, like a player piano." The resultant material will appear as a 39-minute EP in the fall under the title Colleen et les boîtes à musique (Colleen and the Music Boxes) and will also include the video for "I'll Read You A Story" created by Jon Nordstrom.
As far as the next full-length is concerned, she says, "I'm still doing the background work for the third album which I'm hoping to finish by Christmas and release by mid-2007. The EP is the end of a trilogy of sorts, as the first two albums were based on loops and a kind of 'tinkling' sound. The third album will be quite different because the viola de gamba and clarinet are taking me in other directions. I'll use the word 'jazz' to describe it which is going to sound strange because my records haven't been jazz at all, but the viola is actually a really versatile instrument—it's associated with baroque music because that's when it was used—but if you play it with your hands in a finger-picking kind of way or in a more experimental fashion, it starts to sound like lots of other things. The sound I'm developing is jazz in a very wide sense, more the spirit of jazz. Thus far there are three pieces I want to include: an orchestral-free jazz clarinet composition, one for classical guitar and clarinet that's already available (on a CD in the Italian art magazine Uovo) that I'm going to re-record, and a free-form viola piece that has a 'Baroque-African jazz' feeling, let's say."
Though Colleen was intensively focused on the cello when I met her in 2005, that interest has obviously been supplanted by the viola de gamba. "The instruments are usually associated because the cello derived from and took the place of the viola, yet they're so different. There are things you can do on a cello that you can't do on a viola but the viola is much richer and its range much wider. In addition, the cello has four strings while the viola has seven, and its strings are made of gut which is one of the things that makes it sound more like an African instrument; it's not metal, it's a totally different sound, and you have frets as well. The viola was made to provide melody and chord accompaniment, and that's why it has such a wide solo repertoire. I'm lucky; I'm using an instrument that not many people are using for today's music so I feel like I have a clearer path."
September 2006