CYNE'S TOP 10 BEATS WE WISH WE'D MADE OURSELVES
We all have our favourite beats and, like yours, mine is a lengthy list (Mike Clark's classic "Palm Grease" groove on Herbie Hancock's Thrust for starters) but there's probably no one better qualified to school us in beat artistry than David Newell (aka Enoch) and Michael Gersten (aka Speck), the hip-hop producers responsible for the ultra-rich CYNE backings over which Akin and Cise Star rhyme. From Time Being and Evolution Fight to the new double-shot Starship Utopia and Pretty Dark Things, the Florida-based outfit has dazzled listeners with a refreshing lyrical stance and artful production design that upholds the classic hip-hop tradition and boldly charts new territory. Amidst a whirlwind of album promotion-related tasks, the gentlemen found time to enlighten us about their favourite beats:
Speck and Enoch: There's any number of producers and beats that didn't make this list (Prince Paul, DJ Muggs, J Dilla, Dr. Dre, etc), but it's because a very thin line exists between a great beat and a great song. This list proved to be more difficult than we initially thought—it opens the door to discuss more specific eras, albums, geography, samples, etc. We had to really think about songs that made us envious or that fueled us to push our own work further. We've spent years hearing, studying, and trying to rip off the following (in no particular order):
1. Geto Boys: "Mind Playing Tricks On Me," from We Can't Be Stopped (1991), produced by the Geto Boys:
Speck: In my world, this is one of the greatest beats ever made. I've listened to the instrumental as many times as I've heard the vocal version, and, for me, that's a testament to its success: it's hypnotic to the point where I can't break away from it. In all its simplicity, it still has the right elements (specifically, the sampling). When I first stumbled upon the Tough Guys record (Isaac Hayes' soundtrack / score), I remember feeling jealous, like: "That's a perfect sample." The greatest details, tones, and rhythms of the source material rise to the surface with repetition. The drums have a lot of restraint, and work within the space of the melody, so it glides. It's a kind of chopped-break that's somehow sombre and "feel-good" without feeling really dated.
Enoch: Definitely one of the all-time greats. Throw this on at any place at any time and more than likely the vast majority of people will be nodding their heads, whether or not they're even hip-hop fans.
2. Devin The Dude: "I-HI," from Just Tryin' Ta Live (2002), produced by Domo:
Speck: This song is sparse, efficient, and pushes forward with a ton of momentum... it even sounds a bit like Philip Glass (though, I think I remember Dave telling me he might have stumbled across the source sample on a Jan Hammer record). It has these very basic fragments—the main woodwind loop, something that sounds like guitar hammer-ons, drums, cut-up bass, and some atmosphere—that somehow pull themselves together into a movement that feels infinite. It's futuristic (there were many personal attempts at ripping off the structure of this beat... and, rightfully so, I completely failed).
3. Nas: "NY State of Mind," from Illmatic (1994) and "Nas is Like," from I Am (1999), both produced by DJ Premier:
Enoch: You could pretty much pick any one of 75% of Primo's beats and there is a good chance it might be worthy of this list. These two are defining moments for the two different sounds which Primo mastered. "NY State of Mind" is a great example of his knack for finding perfect loops and the most complementary drums imaginable. Incredible way to kick off one of the best hip-hop albums ever. "Nas is Like" is choppy Primo at his pinnacle. While a lot of producers ran to their keyboards once sample laws were becoming more of an issue, Primo just fine-tuned his formula by chopping and this illustrates how good that can sound.
4. Mobb Deep: "Shook Ones Pt. 2," from The Infamous (1995), produced by Havoc:
Speck: Sometimes, there are sounds and samples that work without much effort. This song is built around one of those incredibly basic loops that gets better the more you hear it—you feel and miss it when it cuts out. I love the Mobb Deep-produced beats on "The Infamous," and although they seem to follow a similar formula (dark 8-bar loops, snares with heavy reverb, two-note bass lines, etc.), there's something so immediately gripping and classic about the warbled, detuned sample from "Shook Ones."
Enoch: This is everything I want out of a beat: grimy, hard-hitting drums, bass that makes your stomach hurt, and a couple of infectious samples. The hardest beat ever.
5. OutKast: "Aquemini," from Aquemini (1998), produced by OutKast:
Speck: I totally tried to rip off the flanger-on-the-hi-hat gimmick, but it always comes out sounding like "Aquemini." But that sells short all of the other thoughtful details in this song; there's all this weird shit happening in the background: rain sticks (?!), shakers, crashes, chimes, wood blocks, rubbing of guitar strings, water running, screaming, some subtle cuts... all drenched in reverb and delay. Then there's the horn stabs, and the reverse trumpet when Big Boi comes back in, and the reserved / subtle guitar work, the quadrupled-up vocals, the outer-space-ness of the whole mix... It might be because I love this song that makes me wish I'd made the beat.
6. LL Cool J: "Going Back to Cali," from Walking with a Panther (1989), produced by Rick Rubin:
Enoch: There are two things that I love more than anything when it comes to production. The first is the horn sample: horns always sound good (saxophones not so much). The second is an 808 kit. Mike and I try to slip 808 kicks into virtually everything no matter how unnecessary they may be. This beat is the best of both of those worlds. Rick Rubin was really the master of the minimalist production technique and this is probably one of the more complicated tracks he did during his early run.
7. Baby: "What Happened To That Boy?," from Birdman (2002), produced by The Neptunes:
Speck: Now, there are any number of interesting and innovative Neptunes tracks that almost made this list ("Got Your Money," "Light Your Ass On Fire," "Grindin'," etc.), but this beat won out in the end. Why? Maybe it's the '90s-cell-phone synth line, the reverse hiccup tabla (?) and Eastern percussion, the reverberated half-of-a-bass-note, or the gigantic 808 that explodes and echoes into forever... But, above all else, it's effective on so many levels: the sound is still new, accessible, and danceable. Complex in its simplicity.
8. The Beatnuts ft. Big Pun: "Off the Books," from Stone Crazy (1997), produced by The Beatnuts:
Enoch: The Beatnuts are one of the more underappreciated production teams of the '90s and '00s. Their first few albums are virtually flawless when it comes to beats, and they did quite a few amazing tracks for other artists ("The Nod Factor" by Mad Skillz comes to mind). The beat for "Off the Books" embodies everything I love about the Beatnuts, namely the ability to take an oddball sample and put it over some hard drums, blending everything together seamlessly. A sick verse from Pun and a hook about crooks make this one of the more bizarre pseudo-hits from that time frame.
9. Ice Cube: "It Was A Good Day," from The Predator (1992), produced by DJ Pooh:
Speck: This song is immediately recognizable, agreeably classic, and never ages. It's a textbook example of the basics: a perfect loop with drums. It never gets old. It exists in Ice Cube's world and evokes everything the song is trying to convey. A lot like "Mind Playing Tricks On Me," the song was born out of an era when sampling was a bit more relaxed—but it still boils down to selection, and any number of producers have failed at recreating such a lasting impression (Kanye, Cool & Dre, Madlib, etc.).
10. Three Six Mafia: "Stay Fly," from Most Known Unknown (2005), produced by DJ Paul and Juicy J:
Enoch: I could listen to this beat over and over for the rest of my life and never get sick of it. Three Six come through with the sick Willie Hutch sample chop, turning it into a timeless beat. I almost pissed myself the first time I heard this song. They also have two other incredible beats with Willie Hutch samples from the past couple years, "Poppin' My Collar" from the same album and "International Players Anthem" by UGK (which originally was used on Project Pat's album a few years back), but "Stay Fly" is hands-down the winner.
Two for the Road:
11. Almost anything by Timbaland: "Big Pimpin'," "Get Ur Freak On," "Cry Me A River," "Ugly," "Who Am I," to name a few. The man is everywhere at once. An innovator who never fails to impress.
12. GZA ft. Ghostface Killah, Killah Priest, and RZA: "4th Chamber," from Liquid Swords (1995), produced by RZA:
Enoch: If the apocalypse has a soundtrack, this definitely deserves a spot on it. The darkest moment of any of the Wu-Tang records and quite possibly the best. Those squealing synth lines give me chills every time. This track makes me want to go hide in a bomb shelter.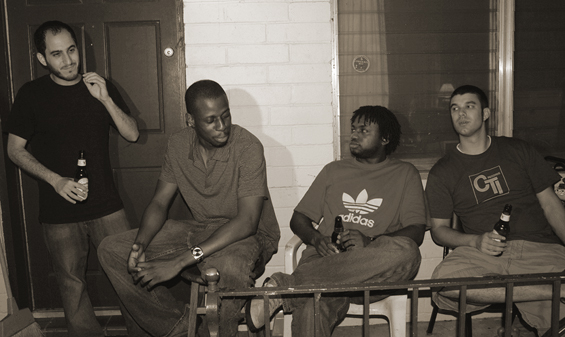 August 2008