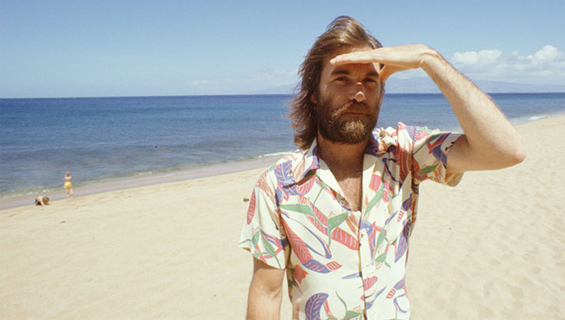 THOUGHTS OF YOU: DENNIS WILSON'S PACIFIC OCEAN BLUE
photos: Dean O. Torrence / Kittyhawk Graphics
Had he lived to see the day, Dennis Wilson would've turned sixty-four this December 4th and, though it goes without saying that we'd rather he still be alive than dead, there's some small comfort in knowing he'll always be remembered as the still-handsome thirty-nine-year-old who drowned in 1983 and not the grizzled and bloated old man he might have become. Dennis is etched in memory as The Beach Boys' only surfer, an impossibly charismatic lady-killer whose insatiable appetite for alcohol, drugs, and women became the stuff of legend. How sad it would be to have that image tarnished by the merciless toll three more decades of hard living would have taken.
Wilson was a man seemingly without ego, as sanguine about ceding the drummer's chair to a studio pro like Hal Blaine as he was acknowledging how far big brother Brian's genius surpassed his own. Dennis was wild, reckless, and volatile, someone who lived in and for the moment, happy to play the crowd-pleasing clown if it'd bring him attention, the kind of affable hell-raiser who could drive you to apoplexy with an outrageous act one moment and sweetly charm you into forgiving him the next. His romantic history exemplifies the tumult that permeated his life. After a first marriage to Carole Freedman ended, his second to Barbara Charren left a profound mark (the beautiful song he wrote for her remains one of his most affecting); he then wed Karen Lamm not once but twice (also the ex-wife of Chicago keyboardist Bobby Lamm, she died of heart failure in 2001 at forty-nine); developed a passionate, two-year union with Fleetwood Mac's Christine McVie that felt doomed from the start, given how wild the two were at the time; and finally married and then widowed Shawn Love. Dennis was also an immensely talented songwriter, something Beach Boys' fans slowly cottoned to when material like Friends' "Little Bird" and "Be Still" would sneak onto an album. Anyone questioning the caliber of Dennis's artistry need only hear Sunflower's beautiful "Forever" or the magnificent "Cuddle Up" from Carl & The Passions: "So Tough" to have such doubts laid permanently to rest.
In fact, the emotional dimension and the longing in Dennis's voice in "Cuddle Up" (co-written by Daryl Dragon) are almost too much to bear. Symphonic in design and prayer-like in spirit, the song mesmerizes on melodic grounds: the repetition of "The Night" and "has come" in the opening verse anticipates the beautiful melodic upturn that comes at "Cuddle up" and the descent that follows, plus there's the transcendent middle section featuring wordless vocals and strings, and gorgeous key changes that could make Brian envious. The song also captures so powerfully the tenderness and loneliness that's at the core of Dennis's ballads. The words "The night has come / Cuddle up to me / Keep warm / Mmm close to me" may read like an invitation to another to gain comfort from his embrace but they more likely express Dennis's desperate cry for the love and intimacy another might offer him. We're definitely a long way from "409."
Lyrically Dennis was the diametric opposite to Van Dyke Parks, Brian's Smile wordsmith. Masterfully evocative and baroque couplets like Parks' "Columnated ruins domino" ("Surf's Up") have no place in Dennis's universe. Instead, his lyrics are as direct and nakedly expressive as words can be, and probably no one got as much mileage out of the word "love" as he did. His chaotic life-story (the well-documented bullying to which he and Brian were subjected by father Murry left a crippling mark on both psyches) and lyrics reveal an open-hearted man desperately craving the love of others yet also incapable of ever satisfying that need. Dennis's occasional forays into straight-up rock'n'roll (e.g., Bambu's "Under the Moonlight") don't sound insincere yet they're nowhere near as affecting as the ballads. On a song like "Time," the pain and weariness in his voice, so hard-edged it sounds like sandpaper's been scraped across it, come through so powerfully, it renders the uptempo material secondary.
A bit of background's needed to flesh out my own connection to Dennis's music. I was too young to fall under The Beach Boys' spell during the '60s and so came upon the group's remarkable treasure trove all at once in the early '70s. Discovering the material not only retrospectively but circuitously, my first exposure came by way of Holland, a fascinating album that's still a favourite though hardly representative of the group as we generally think of it. From there the floodgates opened with the acquisition of Pet Sounds, the Capitol two-fers Friends / Smiley Smile and Wild Honey / 20/20, Sunflower, Carl & The Passions: "So Tough," Surf's Up, the Endless Summer and Spirit of America collections, and more. Having climbed aboard, I immersed myself in the group's mythology—the internal psychodramas, successes and failures, Brian's breakdown and retreat, Smile's collapse, Dennis's Manson association, etc.—and, having done so, wondered if Brian might ever regain some semblance of the artistic gifts that years earlier he'd drawn on so effortlessly. Though sometimes painful to listen to, 15 Big Ones at least suggested some degree of recovery was possible while The Beach Boys Love You split listeners into those mystified by its crude production style and arrangements and others who loved its unique sound and novel handling of synthesizers. And, of course, familiarity with those albums also brought about an appreciation for Brian's brothers' talents: Carl, not only for the heavenly voice that elevates "God Only Knows," "All This Is That," and so many others but for songs such as "Trader" and "Feel Flows"; and Dennis, whose songwriting gifts had begun to assert themselves incrementally prior to the full flowering that became his solo release.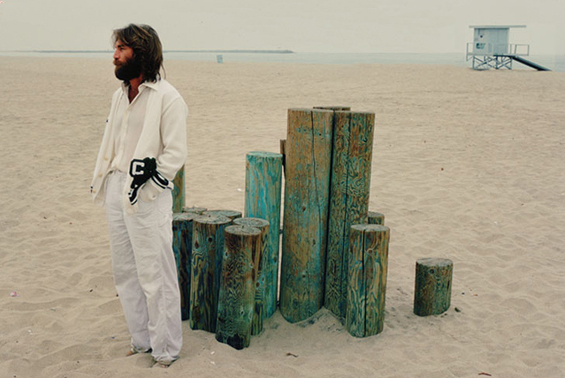 It was only natural that my interest in The Beach Boys would extend to Pacific Ocean Blue which I promptly acquired upon its release. I'd like to tell you that every one of its dozen songs branded itself on my memory and that the deluxe gatefold cover still rests on my record shelf alongside Aladdin Sane, The Slider, Armed Forces, Marquee Moon, London Calling, and others—but I'd be lying. As a teenager, I accumulated hundreds of albums, so many that, in order to make room for an ever-growing collection, occasional purges were made via trade-ins that not only rendered the collection more manageable but also put dollars back into my pocket that would, naturally, go right back into new purchases. Though I'd appreciated Pacific Ocean Blue at the time, my interest in it eventually waned and so, not surprisingly, it vanished in one of those purges. In the thirty years that followed, two songs stayed with me, the gospel epic "River Song" and the funky "Dreamer," but the others slowly faded into oblivion. You've no doubt guessed that I came to rue my decision once I realized what a classic album I'd surrendered and one I might never have a chance to hear again, given its out-of-print status. How thrilled I was to learn, then, that not only would Pacific Ocean Blue be re-released but that a second CD containing Bambu material would accompany it.
Re-acquainting myself with the re-issue, I discovered I'd forgotten entire songs and so heard some of it as if for the first time. How could the stark beauty of "Thoughts of You" not have stayed with me, not to mention the longing and regret in Dennis's voice and the soul-stirring strings that quietly lift the song heavenward near its end? Pacific Ocean Blue is full of many such marvelous moments. Bolstered by the oomph of The Double Rock Baptist Choir and piano playing that'd do Elton John proud (all keyboards on Pacific Ocean Blue played by Dennis), the "California gospel soul" of the majestic opener "River Song" is as powerful today as it was thirty years ago. The raspy honk of the sax is arguably the most ear-catching thing in "Dreamer" yet the soulful electric piano and backbeat are potent too. The original's dozen songs are supplemented by four others, one of which, the lovely ballad "Only With You," appears on Holland in an even more affecting version (Holland's version features Carl on lead while Pacific Ocean Blue has Dennis at the helm). There're also two instrumentals, "Holy Man" (revisited at disc two's end with Foo Fighter Taylor Hawkins completing the song with a surprisingly credible vocal) and the wistful "Mexico," as melodically rich as any of the formally-issued material.
So much talk about the previously unreleased Bambu (named after a brand of rolling papers) has focused on the ravaged quality of Dennis's singing and how much it had deteriorated due to hard living. Lacking the grace and clarity that came so naturally to Brian and Carl, Dennis's singing had always seemed raw and less agile by comparison. Having only read about Bambu, I steeled myself for the worst but was surprised to discover that his voice, though rougher than on Pacific Ocean Blue, was nowhere near the ruined croak some were suggesting it had become. In fact, it's less ragged than Tom Waits' and Dylan's and in "Cocktails" the singing even resembles Elvis Costello's. If anything, the strained soulfulness with which Dennis delivers a ballad like "Love Remember Me" only deepens its emotional impact. Though Bambu can't help but seem slightly unfinished when heard alongside the debut and though there's nothing on it to match "River Song," it still holds up better than expected, especially when its convoluted production history is taken into account. There are special moments here too, such as the shared leads by Dennis and Carl in "It's Not Too Late" and the lovely "Piano Variations On Thoughts Of You." Sorely missing from Bambu is "Baby Blue," which again paired Dennis's singing with Carl's and ended up being one of the brightest moments on The Beach Boys' L.A. (Light Album).
Another striking thing about the re-issue is how convincingly the two albums showcase Dennis's versatility, with songs ranging from synth-heavy funk ("Love Surrounds Me") to New Orleans boogie ("Time For Bed") and everything in between. The Beach Boys' influence appears (how could it not?) in the songs' oft-multi-layered vocal counterpoint, a Brian Wilson-like section in "Tug of Love" ("The world loves you / Yes they do"), the sleigh bells in "Love Remember Me," and the "Sail On Sailor"-like piano intro to "Time For Bed." The influence of other artists occasionally surfaces too: the opening vocal melody in "Friday Night" echoes, note-for-note, "Oooh, the storm is raging" from The Rolling Stones' "Gimme Shelter," and the piano playing in "Common" and "River Song" vividly recalls Chicago's "Colour My World" and Elton John's "Tiny Dancer" respectively.
Yes, it's tragic that the out-of-print Pacific Ocean Blue remained unavailable for years and that Bambu sat in limbo for decades. But how wonderful it is that Dennis's music is now being granted a second life so that new generations, not only Beach Boys devotees but all listeners, can discover how much talent Brian's little brother had. He was clearly so much more than an out-of-control free spirit whose recklessness brought about a sad and premature end.
October 2008