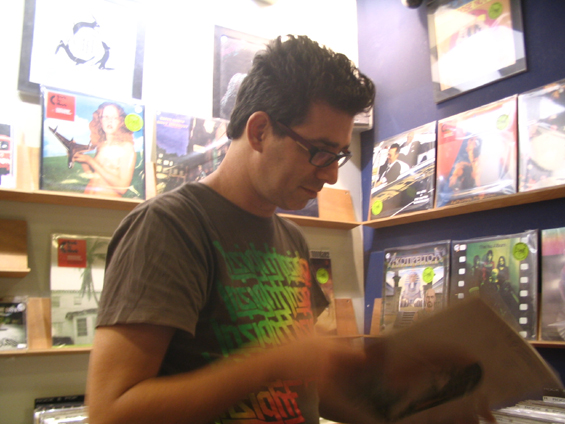 YAIR ETZIONY 'S TOP 10 ISRAELI HITS
Photos taken by Sivan Zeimer at the 3rd ear Tel Aviv
One of music's most enduring and valuable virtues is its indomitable ability to collapse whatever boundaries still unfortunately separate certain countries. All praise, then, to Yair Etziony for contributing to that goal by taking time away from his own electronic production endeavours to share his extensive knowledge of the Israeli music scene with textura's readers and prepare a podcast to showcase the producers' music. Many of the producers' names may be unfamiliar to Western listeners so Yair has done us a wonderful service in assembling the material. Born in 1975, Etziony's a familiar name within electronic music circles for his work as a one-time Faction member (2004's The End of Tel Aviv) and for the material he now issues under his own name such as the superb Flawed (whose title originates from the fact that all nine of its pieces deal with mistakes and errors) issued recently by SPEKK. Here, then, are Yair's top ten (eleven actually, as he desperately wanted to add one more) Israeli hits.
01. Rami Fortis: Tales from The Box (Sipurim Mehakufsa) (Nana Disc, 1988)
After the disbanding of Minimal Compact, Rami Fortis and Berry Sakharov returned to Israel and recorded their groundbreaking album Tales from The Box under Fortis's name. The songs that appeared in the album were merely preliminary sketches, but they sounded so good that Nitzan Zeira, owner of the Israeli indie label Nana Disc, decided to release the album as is. Almost every track on this album eventually became a classic and greatly influenced the Israeli rock scene in the years following. Other musicians who contributed to the album are Gil Smetana (bass), Yuval Shafrir (percussion), and Jean Jacques Goldberg (chair).
02. Gingiyot: Bip (Phonokol, 1994)
Tamir Albert and Amir Tzoref formed the band Gingiyot (Red Heads) in the early '90s, and in doing so created an innovative sound that had never before been heard on the Israeli pop scene. The combination of electronic arrangements and live guitar sounds which, along with Albert's unique lyrics, characterized the band comprised for me a snapshot of Tel-Aviv in the early '90s. The band did in fact receive some attention but was commercially unsuccessful and after a short while disbanded due to Albert's religious awakening.
03. Ishai Adar: Boufort (Ak-Duck, 2007)
Ishai Adar is a veteran electronic producer who has participated since the mid-90s in disparate musical projects ranging from rock (ex-nosey ha migbaat member) to acid house. He composed the soundtrack to Yosef Sider's Oscar-nominated film Boufort. The soundtrack creates a claustrophobic atmosphere suggestive of underground corridors in which the Israeli soldiers found themselves fighting during the occupation of south Lebanon. The music itself is minimalist and produced according to the highest standards. The album was released on the label Ak-Duck, which began as an electro label but during recent years has become much more musically versatile.
04. The High Windows: The High Windows (Hed Arzi, 1967)
Shmulik Kraus was already recognized as a known composer in his own right when he returned from the US , heavily influenced by the American psychedelic rock scene. Together with Arik Einstein, probably Israel 's most beloved singer, and Josie Katz, they created what to my opinion became the most perfect pop album in the history of Israeli music. Vocal harmonies à la the Mamas and Papas and spectacular arrangements and lyrics by the finest songwriters combined to create an album in which every track became a hit song. This album signaled the beginning of an era in which Israeli culture became more and more engrossed by international culture and music.
05. Minimal Compact: Raging Souls (Crammed Discs, 1985)
Minimal Compact, probably Israel's greatest rock band of all time, recorded its most mature and significant album. Abetted by the production of Wire's Colin Newman, Raging Souls successfully combined Eastern influences with post-punk rock. The song "When I Go" appeared in Wim Wenders' film Der Himmel über Berlin (Wings of Desire). Sami Birenbach (aka dj Morpheus) and Malka Spiegel wrote some of their best lyrics and the compositions are tight and flawless. Nothing but pure class.
06. Ehud Banai Ve Haplitim: Ehud Banai Ve Haplitim (Ehud Banai and the Refugees) (NMC, 1987)
At the relatively late age of 30, Ehud Banai recorded his debut album in which every track was a gem. Yossi Elephant's guitars and Banai's authentic voice and harsh lyrics created an album of protest that is still relevant today. New Wave and Eastern ethnic music influences combined successfully to create an album of unparalleled magnificence and beauty.
07. Jean Conflict: "One Day I Smile, One Day I Cry" (from Jean Conflict) (3rd ear, 1988)
Jean Conflict were a super group of the Tel Aviv underground scene of the mid-'80s. The group's members were Rami Fortis, Schultz the Terrible (a key figure in Tel Aviv club scene in those days), Ronen Ben Tal (who became an international producer), Jean Jaques Goldberg, and others. Although they did not record much music, they had a couple of really big hits in the Tel Aviv club scene in their time, their popular track "One Day I Smile, One Day I Cry" one of them.
08. Nigel Haadmor: Humous Makes You Stupid (Ben Mosh Productions, 1993)
Yeoshua Sofer, the self-named Haadmor (venerable rabbi), was the first to release an Israeli hip-hop album and actually rap in Hebrew. This groundbreaking album was misunderstood at the time but the combination of raggamuffin hip-hop and ethnic street culture foreshadowed Israeli pop for years to come. Yossi Fine's thin-but-to-the-point production and some really funky lyrics by the Admore makes for a really cool track and album.
09. Nose-ey Ha Migbaat (The Top Hat Carriers): "Who killed Agnetha Fältskog" (Hed Arzi, 1991)
This band was responsible for the biggest underground anthems of the early '90s. Ohad Pishof, the charismatic leader of the band, was especially prone to catchy lyrics and great song titles ("Live in Beit Shemesh" and "Who Killed Agnetha Fältskog," to name a few) that became big underground hits. They were one of the first alternative bands to get signed by a major label in Israel ; unfortunately, they disbanded after one album. Still, they played an important role in bringing the major labels' and media's attention to a young and kicking culture.
10. Tova Gertner: "Yesterday" (Etmol) (from Ka tom) (Eastronics, 1987)
In the '80s, Tova Gertner was a true indie artist who created some excellent music all by herself and without the support of major labels. She released a couple of intensely personal albums, and wrote, composed, and produced the music by herself. The track "Yesterday" gained some success in the Israeli media and scene and is still one of my all-time favourite songs.
11. Nissim Sarusi: "Ashlayot" (Illusions) (from his first album) (unknown label, 1973)
Nissim Sarusi released a couple of albums in the '70s all of which were very inspired by Mediterranean music. His song "Illusions" is one of my favorites; the lyrics are about a poor guy who dreams he is rich and will not have to work or serve under any other person again. In addition, the really cool San Remo-style arrangements and Sarusi's singing make this song much more than just a pop hit (at least for me).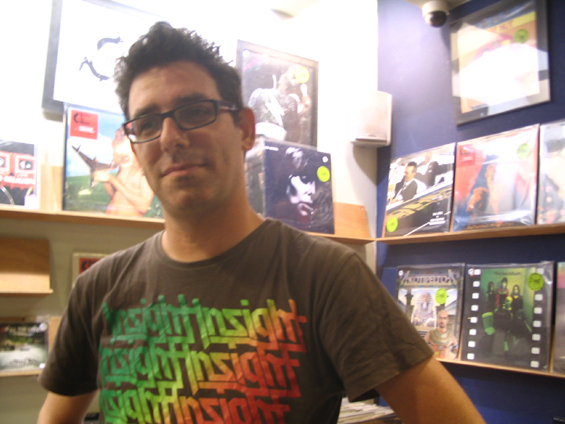 August 2008