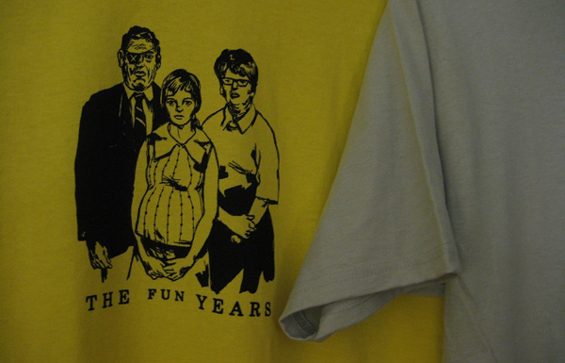 THE FUN YEARS: THE FINE ART OF AUDIO MAGMA, OR PUTTING WOMEN TO SLEEP SINCE 2003
Turntablist Isaac Sparks and baritone guitarist Ben Recht (aka The Fun Years) are anything but self-absorbed artistes with out-of-control egos. Asked, for example, whether the group's coagulant dronescaping underwent change from the first Barge recording, 2007's Life-Sized Psychoses, to the just-released Baby, It's Cold Inside, Sparks, speaking on behalf of his otherwise-engaged partner, opts not to spin some grandiose tale of radical transformation but instead says, "Honestly, we don't think the sound changed much from the last record." True enough: the group's ear-catching "audio magma" carries over consistently from the first album to the second, and the only significant change is one of approach: with Ben having moved from Cambridge to California and Sparks still in Cambridge, much of the group's editing is now done over the web.
Their approach in general is refreshingly irreverent, as album titles such as $3.99 Yourself To Death, The Crippling Paranoia of Fluorescent Quinine, and Now That's What I Call Droning, Volume 4 (self-released recordings the group issued between 2004-06) make clear. "This music genre (whatever that is) has plenty of über-serious folks," Sparks says. "Personally, it's just not our style to be super serious. Naming the tracks and the albums is part of the fun of making The Fun Years' records. I'm sure the music can come off as serious and melancholy, but a lot of the creation-editing process is comprised of talking shit, watching Buckethead videos online, listening to "(Don't Fear) The Reaper," and drinking."
Regardless, the two certainly bring distinctive backgrounds to their group project. Sparks is a one-time hip-hop DJ with a Journalism degree from the University of Wisconsin who also screen-prints The Fun Years' t-shirts when not making drone loops or beats; Recht has issued music on Unlockedgroove and Unfoundsound, exhibited sound art at the Barcelona Museum of Contemporary Art and NY's Cooper-Hewitt Museum, co-designed the award-winning performance tool Audiopad, and has a PhD from the MIT Media Lab.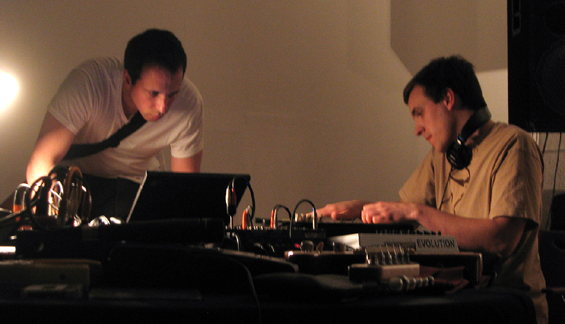 That humble persona extends to production methods too. The raw material for Baby, It's Cold Inside originated from thirty hours of improv material recorded at Sparks' "studio" (more like a big walk-in closet with a loft bed) and performance dates which subsequently were digitally edited and shaped into the album's five tracks. When I mention that the process sounds reminiscent of Teo Macero's assembly of Bitches Brew, Sparks replies, "We didn't really do anything too fancy. It was all about finding the best bits and working really hard at making it sound seamless. I can only imagine how insane Bitches Brew would sound had Macero used a digital work station."
Though the omni-presence of eroded sounds and gouged vinyl on both albums invites comparison to Philip Jeck, Sparks downplays the connection. "I'm not overly familiar with Jeck's music," he says. "I mean, I definitely know who he is, but have really only given a few listens to two of his records (7 and Vinyl Coda I-III). It seemed like a number of reviews of the last record drew a connection between our music and his, but I think that's more of a knee-jerk reaction to hearing vinyl crackle, fuzz, and hiss on a recording."
He does, however, acknowledge Wolfgang Voigt's GAS project (preparatory production stages for Baby, It's Cold Inside involved countless hours "listening to GAS records on a retrofitted Victrola") and the two seminal Fripp & Eno collaborations, No Pussyfooting and Evening Star, as influences. "GAS records rule," Sparks says, "That's pretty much the bottom line and, in the right mind state, they rule even more." The other reference is strongly felt too: guitars multiply into a Frippertronics-like mass in Life-Sized Psychoses' "Garbage Man, Poet" while the new album's eleven-minute opener "My Lowville" occasionally echoes No Pussyfooting. Asked whether the latter had an impact on the group, Sparks says, "Although I love the record, it didn't have much of an influence on me specifically, but I think it was really formative for Ben. The B-side "Swastika Girls" certainly sounds like a lot of The Fun Years material. We're not so much into those wanky Fripp solos," he continues, "but the endless soft loop of guitar chimes is definitely a sound we like to rip-off. There are definitely worse things to be influenced by."
Though The Fun Years regards its music as more perfectly suited to the in-studio process and headphones listening, Sparks doesn't dismiss the concert experience. "It gives us an excuse to play our music at an unreasonable volume," he says, "so for people truly interested in watching our process, a live show might be interesting. For folks who need a good nap, a concert might be a good idea too. It's like our friend Cameron said, "The Fun Years: Putting Women To Sleep Since 2003.""
July 2008