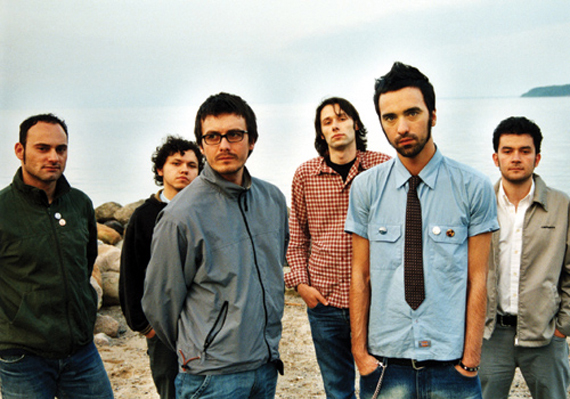 GIARDINI DI MIRÒ
While it might be tempting to label Giardini di Mirò's music 'post-rock,' you do so at your peril, at least if guitarist Jukka Reverberi has anything to say about it. When asked about the "Please note: This is not Italian prog rock" disclaimer that adorns the cover of its latest release Hits for broken Hearts and Asses, Jukka replies, "We don't like labels like post-rock or prog-rock. I know it helps the record stores and it's easier for the critic but I want the journalist to describe exactly what we are playing. Plus," he says jokingly, "I hate moog solos!" In fact, what complicates the writer's task is the mercurial nature of the band's music. While its personnel (Reverberi, fellow guitarist Corrado Nuccini, bassist Mirko Venturelli, drummer Francesco Donadello, keyboardist Luca Di Mira, and vocalist Alessandro Raina constitute the current live incarnation) has remained largely intact since 1999, its music has undergone periodic change over the course of its eight-year history, from the guitar-heavy instrumentals of its early days to the vocal-based and expansively arranged songs of 2003's superb Punk...not Diet!.
Based in Reggio Emilia, Italy, the band formed in 1996, with its unusual name translating as "Miro's garden," more specifically artist Joan Miro. An initial 1998 session of four songs was recorded live in the band's rehearsal room using only two microphones (all re-released on Hits for broken Hearts and Asses) and was followed in 1999 by the Iceberg EP which brought the group some international attention and the opportunity to tour with the likes of Godspeed You! Black Emperor. Jukka expresses a high regard for the Montreal group. "We had the pleasure to tour Italy twice with Godspeed and it was amazing. I was fascinated by the spiritual dimension in their compositions, and," he laughs, "they also taught me that you could play a guitar solo on without having to be Joe Satriani!"
Giardini's debut album Rise and Fall of Academic Drifting appeared in 2001 and, enhanced by Emmanuele Reverberi's violin and trumpet playing, evidenced a growing preoccupation with orchestral song structures. But a year later, the group made the unusual move of releasing a remix version titled The Academic Rise of Falling Drifters featuring an A-list of electronica artists, among them Isan, Opiate, Styrofoam, Nitrada, and Hermann & Kleine. This was followed by last year's Punk...not Diet!, an album of cinematic sweep that merges Godspeed dynamics with affecting melancholy, and finds the band augmenting its sound with vocalists Kaye and Christ Brewster, and Arne van Petegem (Styrofoam) and Thaddeus Herrmann on electronics. The question naturally arises as to how such key relationships with electronic artists developed, given the band's original guitar-based sound. Jukka explains, "During a London holiday years ago I bought a 7" by Pimmon and was captivated by his deconstruction of sound and digital effects. We contacted him through our label 2.nd rec and that led to the split release ("Penguin Serenade" and "Juicefuls," the latter Giardini's reworking of Pimmon material, appear on Hits for broken Hearts and Asses). It was a very important experience, as we not only worked for the first time with a computer to sequence and edit the song but became convinced that it could be a viable instrument for making and composing music. After the experience with Pimmon, we wanted to continue working with electronic elements but in a unique way so we hit upon the idea of doing another version of our first album. I had met Thomas Morr years ago when visiting Berlin and during the same trip met Thaddeus Herrmann. With connections to Morr Music and City Centre Offices in place, everything took off from there. Witnessing how these artists created new versions from the same elements that we worked with for our own album was a key lesson that we brought to Punk...not Diet! and its broader arrangements of electronic and traditional instrumentation." Jukka also acknowledges the strategy's pragmatic dimension. "The remix record helped our name move beyond the Italian border, and that was really important as we consider Giardini a European as opposed to Italian band."
Which brings us back to the latest release. Rather than following Punk...not Diet! with brand new material, Hits for broken Hearts and Asses finds the group digging into its archives to release a collection of older recordings, including the aforementioned 1998 tracks and Iceberg's five songs. While it may be surprising that the band is reissuing earlier material, Jukka says, "Giardini di Mirò used to be a very rough band and, as we just wanted to get our music on tape, we did it fast and simple. But I love those recordings because they're still so fresh and to the point, and it's a marvelous Polaroid of what we were like years ago. We were lost in guitar sound!" (Not surprisingly, he expresses love for bands like My Bloody Valentine, Slowdive, Velvet Underground, and Joy Division as well as current favorites Notwist, Sonic Youth, Blonde Redhead, and Unwound.) Furthermore, most of the collected material is no longer available in its original form and so gives new listeners the chance to trace the group's evolution. As befits a group so open to change, the band is working on new material but developing it using computers rather than generating material through jamming as it once did. Jukka mentions that the band's future plans include a new album that may appear in 2005, the possible release of a remix DVD (involving artists like Hood and The Remote Viewer), plus concerts in Italy and Europe.
August 2004