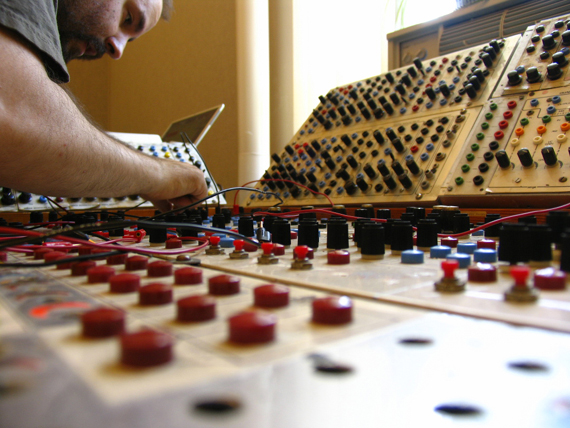 KEITH FULLERTON WHITMAN

Keith Fullerton Whitman contains multitudes, or at least (according to the folks at kranky) personae enough to embrace "hyper-programmed rhythms and concrète sounds, bleeding freak-out guitar, Beach-Boys style sweet harmony, eastern Euro-prog, vintage synth burbles, classic-era minimalism, early mainframe computer music, Fluxus-lineage borderline nonsense, complete and utter chaos, doomy chamber pop, and quiet melancholy." While such a stylistic hodgepodge may seem bewildering, the near-concurrent appearance of three new releases—Multiples, Yearlong (live improvs with Greg Davis), and the Hrvatski outing Irrevocably Overdriven Break Freakout Megamix—offers a microcosmic portrait that allows the man and his music to be grappled with more easily. Though only thirty-one, Whitman has issued a staggering amount of music, with countless releases and compilation appearances under the Hrvatski alias (the Croatian word for 'Croatian') alone. But there's considerably more to Whitman than a discography, as was revealed in discussions prior to his departure on a two-week, four-show tour through Scotland, Switzerland, and Hungary (a North American sojourn with Greg Davis and Bird Show (Ben Vida) is scheduled for April). Commenting on the current creative state of his life, he replies "It's been very good actually. The Mimaroglu shop is doing well, I've finished about ten remixes and the three albums, and have generally never felt better. I feel overwhelmed, but that's never anything to complain about! I'm not sure how much longer I'll be able to pull off the starving artist routine, but then again even the worst day for me now would be better than if I were holed up in a cubicle building MySQL databases of toothpaste brands. I count my lucky stars every day."
Though Whitman grew up in New Jersey, he's lived in Boston since 1991 and moved to his current Somerville residence (The Reckankomplex, located a few blocks from Harvard Square on the Cambridge/Somerville border) in 1997 to be close to then-employer Forced Exposure, at that time located just up the street. Joining him at home is his girlfriend, web designer and photographer Robyn Belair, a Korat cat (named Cleobold 'Gronis' Plornulax née Wilbur), as well as three roommates. Since graduating from the Berklee College of Music in 1995, much of Whitman's recorded material has originated from home, whether from the bedroom (the MathLab), basement (the Tracking Room), or on location with a portable DAW setup. Of the Boston scene itself, he says, "I wouldn't say I'm a big part of it, but I'm definitely a supporter. I play here maybe five to six times a year, and I occasionally do house-sound for concerts and help with some promotion. The best thing about living here is the amazingly small but very tight-knit scenes. There's a fantastic group of people doing very minimal, gestural free-improvisation, another putting on shows for more lo-fi, cassette-culture sound artists, another for psychedelic rock, noise rock, free folk, et cetera and, because they're so tiny, there's a lot of cross-pollination."
Hrvatski
While Hrvatski has become the most familiar alias, Whitman has used other monikers though most are now retired, names like DJ Hekla, Gai/Jin, Anonymous, ASCIII, The Liver Sadness, and The Finger Lakes. (Noting that Sonig, the Köln-based label run by Mouse on Mars, has recently re-iterated a four-year-old offer to release an album by Gai/Jin, Whitman says, "Perhaps I'll take them up on it after all these years. It might be fun to write and record a cathartic in-the-red guitar freak-out boogie record, but I won't know until I try.") In some ways, it appears that Whitman views Hrvatski in the past tense too. "I will keep Hrvatski alive but it's certainly not a priority. In the same way that I would never buy a latter-day Rolling Stones album, or see them in concert, I feel Hrvatski was more of an artifact of the time and place of my youth," he says. "The knowledge of how to make that music is still with me, but the desire to continually revisit that reckless abandon of my early twenty-something years diminishes each year as I grow awkwardly into 'adulthood.' I'd rather the occasional fits of rage and mania manifest themselves in other ways."
Such comments make the new release (and likely Hrvatski swan song) Irrevocably Overdriven Break Freakout Megamix an even more valuable document. Not only is it the debut outing on Entschuldigen, it's also the first ever live Hrvatski release, a 91-track, 41-minute meltdown recorded in July 2004 at San Francisco's RX gallery featuring familiar material, unreleased tracks, and reworkings of classic anthems. Inhabiting another universe altogether from the prototypical dance mix, Hrvatski mercilessly flays his oeuvre, coats it with death metal guitar and other insanity, and stitches it back together as a distorted, assaultive mess. For Whitman, "Irrevocably is very special, the first Hrvatski gig I'd played in some time. I was among friends, most of whom were intimately aware of the Hrvatski music, so there was this tendency to focus on 'the unknown,' not to mention that I was quite drunk, pushing buttons randomly on the control-box, and bringing the volume up as high as it would go. It's probably the loudest CD I've ever released. What's funny about Irrevocably is that it's really split the Hrvatski fan-base down the middle. On one side are the people that enjoy the writing, the melodies, the general 'feel' of the music—these are the people that followed me into the kranky-era. On the other hand, you've got the break-core folks who love the drum micro-editing and generally don't even notice a bit of grit around the edges. They're all over it."
Issued in a unique, limited-edition 'trigger-action' package with a custom metallic cardstock insert (each disc includes one of twenty cardstock variations, every one cut on his kitchen table using a Rodahle guillotine), packaging fetishists will be all over it too. "I actually stumbled across a site that wholesales the Ehlebracht AG Variopac cases," he says, "and placed an order for a box to make a small-run CDR edition of 'work in progress' pieces for my friends during that trip to San Francisco; I made exactly twenty copies, and gave them only to close friends. Within a few weeks, the CDR was all over #IT and a few other BitTorrent sites, and I started getting loads of e-mail from people about getting a 'legit' copy as they'd heard it came in a cool package!
"I actually assembled 1100 copies of Irrevocably in my living room and kitchen over about two weeks," he continues. "It's never wise to go cheap on packaging when designing a release. Factory-sealed, 4/1 colour jewel-case CD releases are about the most unappealing objects I can think of, especially when it's apparent the producers did everything in their power to both save money and effort. If you want to manufacture something that people will be proud to own rather than download, you have to make it very special."
His description of Irrevocably as "more Merzbow than Mezz Mezzrow" invariably prompts a question or two about the Japanese noise master. As it turns out, Whitman has been revisiting the entire Merzbow catalog (including the notorious fifty-disc behemoth), and says that the more he analyzes it, the more detail he hears amidst the overload. "I finally scraped up and bought the Merzbox, only to find it on BitTorrent (the entire thing) a week later! So I've populated one of these little mp3-player boxes with the entire set and I walk around listening to it, smiling. If anything, I'm exponentially more impressed with his music having gone through so much of it."
Entschuldigen et al.
Listeners intimate with Whitman's universe will know of his penchant for unusual name choices, his new label a case in point. "Entschuldigen is simply the German word for 'excuse' or 'apologize.' Because of the level of activity I attempt to keep up at any given time, coupled with my abysmal organizational skills, the phrase 'sorry for the delay' is unequivocally the one I type the most. I didn't want to continue using the name Reckankreuzungsklankewerkzeuge as I hadn't released anything under that imprint for almost three years when I decided to start physically making records again. (Whitman clarifies that Reckankreuzungsklankewerkzeuge "was a phrase Wagner uttered in defamation of a saxophone sonata written by Paul Hindemith. I picked it out of Slonimsky's fantastic Lexicon of Musical Invective: Critical Assaults on Composers since Beethoven's Time as an early example of 'The Establishment' vs. 'The New Idea,' as relevant now as it was then, especially in music.") Despite the fact that I started Entschuldigen out with a Hrvatski release, I plan to release a majority of music by other people."
Aside from being a residence, the Reckancomplex is also a site, though more a shell for Entschuldigen, Belair's photo gallery and artist pages, Whitman's own artist site, and the Mimaroglu Music Sales mail-order shop (named after composer Ilhan Mimaroglu). "I was and continue to be enamoured with Mimaroglu's music and his general sour-puss aura," he explains. "He's absolutely one of the most difficult people I've ever met, and he's very quick to dismiss his early works (which are in my mind the penultimate '60s tape pieces) and just about anything else you hold dear. My own repeated attempts to interview him for the liner notes to the Locust label reissue of his Folkways-era music made it clear he wasn't interested in a contemporary appraisal of his '60s work at all. That high level of curmudgeonry is exactly what makes him so appealing—unrelenting in his stubbornness. On top of that it just sounds good, the name just rolls of the tongue."
Yearlong
Completely different in character from Irrevocably, Yearlong finds Whitman traveling the globe for electronic improvs with Greg Davis. Recorded between 2001 and 2002 in Germany, Holland, France, and the US and edited down to album-length form from eighteen hours of material, some pieces are dense and aggressive while others are quieter and reflective. A long ten-minute setting (recorded at a WNYU radio station) unfurls slowly, the duo allowing the sparse and spacious sounds of steely clatter, tonal glimmers, and tolling bells to meditatively develop. Asked how he feels about his music appearing years after a recording date, he replies, "I'd like to think that the music on Yearlong, and in fact any successful music, is timeless. It's much less an artifact of its era than other music I've listened to recently that was made during the same time period. At the time both Greg and I felt we were ahead of the curve, as far as the kinds of processes and algorithms we were using to mutate sounds, and how many of them we could run simultaneously. Right around mid-2001, the Mac PowerBooks had gotten fast enough that one could built a master-patch in something like Max-MSP and run that for the entire set. Previously you would have had to run one program, then quit it or bypass the programs or modules you weren't using while focusing on another. The systems we put together for those shows were very powerful on their own. Couple two systems together, each with real-time capturing, attack-sensing, and processing power, and you've got the capacity to produce very deep, complex music.
"The selection process, once we had located copies of all of the sets we had intended to use, took about eighteen months. There were about six goings back and forth before we settled on the pieces we both liked, and the edits of those pieces that we both felt were the most musically appealing—a very democratic process, much like the sets themselves. I'm still amazed that there's enough of an audience for improvised electroacoustic music. What's great is that you can follow the progression of the duo from local places like the Berwick Research Institute and Tufts to the last show of that run, which was at a huge festival in Utrecht in front of eight hundred people! We were getting better with each show."
Asked to clarify how the two prepared, Whitman says, "We did talk about which instruments we were going to play before each duo set. I had these 'suggestion pads' printed up, and on most occasions I put them at the front of the stage and asked people to fill them out during the opening sets. Before we played our duo, we would take all of the forms out of the box, tally them up, and try to play a duo piece that was the closest to the consensus." As one piece was recorded at the Merce Cunningham Dance Studio, I wondered whether the two performed alongside a dance performance. "Yes, it was a dance recital by Chantal Yzermans," he says. "Kurt Ralske was performing live video and asked us to come by and improvise a very minimal piece. I thought it went very well, but the next week there was an article in The New York Times about how the music outshone the dance. That was the end of our involvement with the dance world!"
The two are hooking up again on the upcoming tour, suggesting a simpatico relationship between them. "I find it inspiring to communicate with someone who can be critical of a particular recording of Morton Feldman's Triadic Memories while still being excited to find tapes in the lazy Susan of a Texas gas station to listen to for the next leg of the trip! Neither of us rule any whole genres of music out, although there are certainly specific songs and artists that set both of us off."
Multiples
Following the release of the EP 21:30 For Acoustic Guitar on Apartment B, Whitman's association with Chicago's kranky began, a pairing that has to date yielded four remarkable works. Every piece on Playthroughs, the first album issued under his given name, was generated from improvised acoustic and electric guitar playing and then digitally processed using ring modulators, granular shuffling algorithms, delays and spectral effects. Veering from sheer drones to tribal drum rituals, the follow-up Antithesis collected four 'ensemble' works created from overdubbed instruments (guitar, Fender Rhodes piano, viola, percussion), while last year's often relentless Schöner Flußengel (German for 'beautiful river angel') pushed his music into more ominous territory.
If Irrevocably is the hell-raising teenage delinquent, Multiples is the mature and better-behaved graduate student. Recorded at Harvard University studios, the album collects eight diverse tracks with some material created using vintage synthesizers and electronics. Given that the album was recorded during a lecture posting at Harvard, I ask how the appointment came about. "Martin (Schmidt) and Drew (Daniels) from Matmos were invited to Harvard in the fall of 2002 for a week-long residency, during which they played a concert and held master classes on various matters," Whitman says. "They asked me to open for them at the show and help out with the workshops. The concert went very well and I gave a presentation on Max-MSP during one of the classes. We were given free reign of the HUSEAC (Harvard University Studio for Electro-Acoustic Composition), including the Serge and the Buchla systems. Martin and I, after poring through the manuals for arcane patch combinations, recorded around two hours of improvisations which ended up at the center of the Matmos album The Civil War (specifically, the tracks "Reconstruction" and "Y.T.T.E."). After the residency was over I pleaded with Ean White, the HUSEAC's overseer, about the possibility of using the studio over the following months to compose a long-form work. He agreed, the stipulation being that I would teach a class or two on Max-MSP to graduate music students in exchange. So, they set me up in a classroom and I prattled on for a few hours, showing some Max-MSP 'tricks' to the class."
All of the album's pieces share a similar title style, "Stereo Music for Farfisa Compact Duo Deluxe, Drum Kit" a case in point. He explains, "The 'Stereo Music' headers stem from the fact that these are all multi-channel pieces, and that the versions on the Mutliples CD are the stereo 'mixdowns.' The equipment-list-as-title is not a reflection of any sort of gear-lust; it's purely descriptive—a pre-emptive strike on the "What makes that sound?" questions that always arise when non-traditional instrumentation is used. My titling scheme is razor-thin anyways. During the day I read a book, fall asleep, wake up from a nap and write down the first phrase that pops into my head. I keep a long list of these, and, when I finish a piece of music, label it with the most applicable one from the list. Naming piece of music topically has always been a very hard thing for me to do."
Asked about his composing approach, he says, "Almost everything I do starts with a long improvisation session, either in a room with an instrument or on a computer running some sort of DAW (digital audio workstation) package. I stick to the adage that all composition is improvisation—certainly the case here. There is a tendency within these pieces to let the form unravel over long periods of time; most pieces started with a recording of a single motif that either remains static or develops slightly over time. You can hear evidence of this on the Disklavier piece. I recorded maybe five different 'takes' of the main five-chord line that runs throughout, ranging from six to forty-five minutes, each with varying degrees of build and breakdown. Similarly, the Buchla piece started out by stumbling across the sequence-pattern that runs throughout the second half. Once I locked it in and began modifying the sequence length and notes I knew something special was happening, so I began recording and improvising different changes and metric modulations until I had a 'piece.' Overall, I wanted to present a suite of pieces where the formic development was a gradual as possible without seeming entirely static; that's the bond that ties all five of these pieces together. The Hi-Hat piece, the second segment of the Serge Piece, the Disklavier piece, and the end of the Buchla piece are almost identical in form. The first and third parts of the Serge piece, the Farfisa piece, and the first half of the Buchla piece (incidentally, a 'cover' of the second half played by acoustic guitars) interject between the other pieces. I did the same thing on Playthroughs, placing the feedback and acoustic guitar pieces in between the three 'traditional' guitar/computer pieces."
One of the album's most distinctive features is the marvelous vintage synthesizer sound showcased in the three-part "Stereo Music for Serge Modular Prototype." "It's a fantastic one-of-a-kind instrument," he concurs, "I've experimented with the mass-produced Serge systems that are in production but somehow the original system has much more character. I have a background in synthesis from my days at Berklee, and I have a few synths here at the Reckankomplex, but none of them are modular in the true, patch-cord sense. While it was somewhat intuitive to get going on the Serge, I had to reference the manual constantly. Luckily Jessica Rylan (an amazing local musician, synth-builder, all-around genius-type) had penciled in a few pages of notes at the end, which I followed near-religiously; that got me on the right path. I approached those sessions at the HUSEAC linearly. The first day I started with four patch cords and experimented to see how many different sounds I could achieve with that limitation. By the end I was patching the Serge out into my Powerbook, through the Altiverb, back into the Serge, into the Buchla, and out into the Pro Tools Rig. I was scrounging under boxes looking for more patch cables!"
When I note Steve Reich's apparent influence in "Stereo Music for Yamaha Disklavier Prototype, Electric Guitar and Computer," Whitman says, "I do listen to Reich's music often, especially Music for Large Ensemble and the early tape pieces. I'm not all that fond of the majority of Reich's latter-day work as the concept always seems to outshine the actual writing. When I listen to Come Out or Piano Phase, it strikes me that those pieces are pure math, specific concepts such as phasing executed in the most musically appealing way. While there is a real 'art' to what Reich did early on, the 'process' is the most attractive element.
"I never make a conscious decision to 'ape' any one piece of music," he continues. "More often than not I'll hear a successful, unique piece of music and wonder why the ideas that make it so never turned into a 'movement' or 'school' per se. For example, I'm awestruck by a piece called Images of the Dream of Death by Akos Rozmann, an epic, ninety-plus-minute tape piece begun in the early '70s and still in progress (the recorded version I have is from the early '90s). When I began composing on the Serge, the overall feel and timing of this piece and Henk Badings' Kain en Abel were ringing clearly in my head. I knew I wanted to construct something along the lines of the form of the Rozmann piece (albeit, scaled down), dronier than the Badings (but still episodic)."
Reflecting on his experiences teaching at Harvard and conducting workshops, Whitman says, "I enjoy teaching and holding workshops! There is always a shroud of mystery over musicians' working methods which I have no qualms lifting. While I don't think I'd ever hold down a permanent position as a teacher, I enjoy putting forth the attitude that anything's possible. When I was in school there was a prevailing attitude that, in order to make the music or design the sounds I was hearing in my head, I would have to go the Master's route and spend four years developing a large vocabulary of techniques in order to be 'well rounded.' Well, to this day I still feel like some of the 'well rounded' musicians I come into contact with are the ones making the least informed choices regarding musical choices. The most important concept is defining an identity (or identities) and becoming as singular a musician as you possibly can. This is the message I'm always struggling to put across, that and becoming entirely familiar with as many niches in the history of music as humanly possible. It's not about the tools or the technique as much as approaching each tool or technique informed with a vocabulary of what's come before and what needs to be done..."
Selected Discography
21:30 for Acoustic Guitar (Apartment B)
Dartmouth Street Underpass (Locust)
Playthroughs (kranky)
Antithesis (kranky)
Schöner Flußengel (kranky)
Yearlong (with Greg Davis, Carpark)
Irrevocably Overdriven Break Freakout Megamix (Entschuldigen)
Multiples (kranky)
April 2005