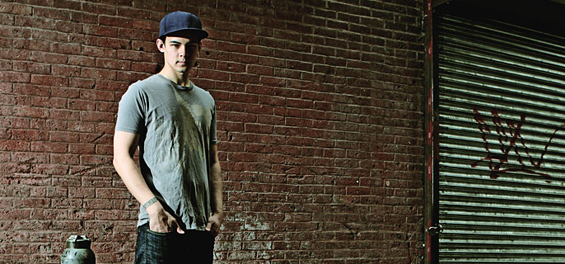 MICHNA'S TOP 10 INFLUENCES
If there's any justice, Brooklyn-based Adrian Michna will find himself on the receiving end of some pretty heady praise in the coming days, given the fresh sound on his deft debut outing Magic Monday. It's not the first time the NY resident's gained attention: URB cited him in a "Next 100" roundup for his DJing under the Egg Foo Young alias, and he's also done production work for Bonde do Role and Diplo. After moving to Miami in the mid-'90s, Michna co-founded the pioneering Secret Frequency Crew whose debut LP Forest of the Echo Downs caught the ear of Ghostly founder Sam Valenti IV and ended up as one of his top LP picks of 2004. Magic Monday stands to bring him much more attention, however, not only for its summery fusion of street-wise hip-hop and electro-funk but for the trombone playing that spices up a number of the album's tracks. Michna proves to not only have maverick skills on the musical end but is a pretty good raconteur too, as his revealing list of influences shows.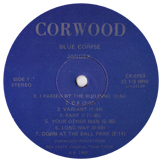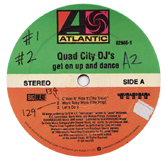 01. Jandek: Blue Corpse (Corwood)
Back in 2005 I had a roommate named Raphi move in. Out of all of his belongings there was one thing that stood out: a thirty-pack of assorted CDs that all said JANDEK on them. I immediately thought that: a) he was in a cult; b) they were self-help lectures or meditation or yoga or new age; or c) maybe Jandek was just a big Yanni side project. Long story short, over the next two years our apartment became a mini-Jandek shrine, with letters, articles, and our 100-disc CD changer filled with mysterious blue CDs. I bought a few of his pricey and hard-to-find vinyls, but it was well worth it because many of his early releases on CD don't sound that great (sounds like someone messed up in the vinyl-to-CD transfer). I tend to prefer his early years, when it sounds like he was drunk and having fun in a room with drums, guitar, and a reel-to-reel. I met a dude from Texas who worked at the Whole Foods in Houston, and he said Jandek would always come in and mysteriously buy Darjeeling tea, wine, and fish (Talapia I bet). Raphi and I also ended up remixing the song "Your Other Man" (with permission of course) and released it on 7-inch limited to 300 units.
02. Quad City DJ's: Get On Up And Dance (Big Beat)
I moved to Miami in 1996 and it was like a whole new tropical world to me. I had no idea the city was so big, humid, and totally fit the slogan "A sunny place for shady people." One of the first record stores I came across in Kendall was Backstreet Records. Of course a few years later it disappeared. If someone had told me back then that every good record store would eventually disappear, I would have (found a way) to buy so much more. The only way I can describe the impact of booty bass is to try to put you in the scene: it's 1996, you're eighteen years old, it's humid as hell, you go to a college house party, it's twice as hot inside, people are drinking, sweating, dancing, and yelling. Then this record comes on, and the place erupts. Now picture some of the dopest looking Latinas grinding each other and chanting: "We like to wiggle wiggle cause we like to shake... we like to bounce to the TR-808." Let's face it: Florida is shaped like a penis, and Miami is the tip.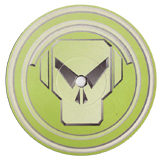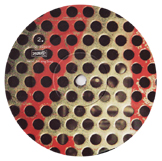 03. Wax Doctor: "Kid Caprice" (Metalheadz)
In the summer of 1995, I went to visit my cousins Katherine and Isabella in West London. Little did I know that I was about to be exposed to a whole new world. At that point I had a few key pieces of electronic music such as Orbital, The Prodigy, Sheep On Drugs, Josh Wink, Lords of Acid, Channel X, and Plastikman. But nothing geared me up for the whirlwind that was Metalheadz. When I arrived in London, Goldie was on the cover of Mixmag. I read his whole story and tried to imagine what his music could possibly sound like. I hit the HMV and bought Timeless on double cassette. I listened to it over and over. Then I went to my cousins' house and taped Fabio on the radio, then went to Blue Note and felt the music first hand. The bass and breaks were out of control. I had to have more, so I went to Black Market and copped Metalheadz's 12-inches. The power of that logo just made you pull it off the shelf and stare. Goldie's branding and push for a whole new sound proved to be influential to many.
04. Fugazi: Red Medicine (Dischord)
I got this when it came out and remember being so impressed with the experimentation. Noisy clarinets, feedback, touches of electronics, and totally unique guitar chords that a "trained ear" might say were out of tune. The ability to make weird riffs catchy, and not afraid to sandwich in a good dose of instrumental sections. The drums sound like there was just one mic on them, not to mention messing with new time signatures and slower tempos. When there were vocals they were always on point, especially because Of Ian's aggro complementing Guy's emo. Ying and Yang.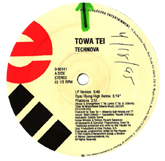 05. Beastie Boys: "So What'cha Want" (Check Your Head, Capitol)
In terms of influence, the Beasties' catalog weighs in heavy. Summer of 1992 I was at BMX camp for a week in Woodward, PA, and Check Your Head was on repeat that entire week. Kids were walking around going "Hey Professor, what's another word for pirate treasure?" Others were repeating "Finger Lickin" and others were singing the Bob Dylan line: "I'm goin' back to New York City I do believe I've had enough..." About a year later my boy Matt got the cassingle for "So What'cha want" and it was like an EP's worth of new Beastie stuff. I loved how hard the drums hit on the "Butt Naked Version" and how dope Biz Markie sounded with the band live. Years later I hit up eBay and bought the 12-inch.
06. Towa Tei: "Technova" (Future Listening!, Elektra)
I always loved the way Towa Tei's primary instrument was the SP-1200. He even made his own SP-1200 logos and put them in his liner notes, as if he was sponsored by a defunct '80s drum machine that had minor cult following. He also really nabbed it with his debut album title Future Listening!. You couldn't help but imagine he was on some next shit, taking a techno approach to retro samples and instruments. One of the few producers who really pulls off that "magic" sound.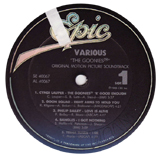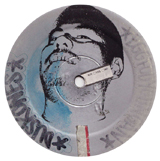 07. Various: The Goonies (Epic)
The melody Cyndi Lauper comes up with in "The Goonies R' Good Enough" is so incredible. Somehow this one song (and obviously the movie) captures the feeling of when I was young and went on adventures in the woods, or hung by railroad tracks, found "secret" tunnels under our high school, or sneaked into buildings and drank on rooftops.
08. The Wax Fondler: Sqratch Fetishes Of The Third Kind (Dirt Style Records)
Out of all my scratch records, there's something about this one that made it my go-to practice record. Maybe it's the fact that it had really fun scratch sentences and the vinyl pressing was perfect in weight with nice rounded edges. Or maybe it was the excellent homemade silver label. One of my favorite things was of course the more you scratched, the more the samples sounded like "Thhhhhh." The grimey, low-fi, DIY aesthetic of this pressing really captured the spirit of The Invisibl Skratch Piklz, and they pushed it even farther with VHS classics such as "Toiret For Godzirra."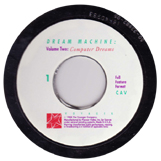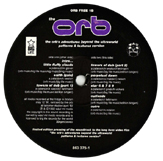 09. Dream Machine: Computer Dreams (CAV)
This is a laser disc that I bought in a San Francisco thrift store that was wedged in with some of my favorite vinyls. Holding this is like holding a really, really oversized CD. The cover looks like a cross between Max Headroom and Lawnmover Man, while the back cover has a whole lecture on how I will be dazzled by state-of-the-art computer imaging circa 1988 (which I was and still am).
10. The Orb: The Orb's Adventures Beyond The Ultraworld [Patterns and Textures] (Big Life)
I grew up on The Orb and always heard there was a rare video they put out called "Patterns and Textures." I eventually found the video on eBay, but what I didn't know was that there was a limited vinyl pressing of the soundtrack to the video. A few years later I ended up buying a deluxe edition 2-LP pressing of U.F. Orb, and it came packaged with this soundtrack vinyl. I am supposed to be doing an all-Orb-related mixtape with design legend Dust La Rock, so I plan to whip this out on him, but he probably already has it.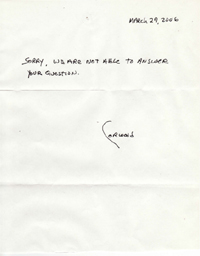 (Bonus: A letter from Corwood: I figured since you're asking me my top 10 influences I'd include a letter that I wrote to Jandek asking him what his top 10 influences are.)
October 2008