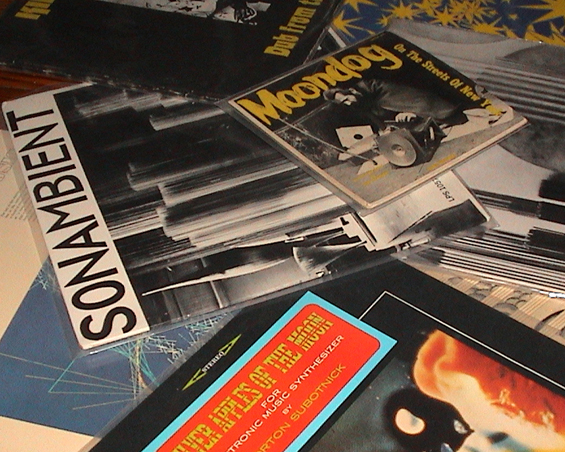 MICO NONET'S TOP 10 EARLY AMBIENT PIONEERS
Self-described "ambient chamber" quintet Mico Nonet produces an arresting sound by blending analog synthesizers with cello, viola, oboe, and French horn. The group members boast a mean set of credentials: viola player Carrie Dennis is a member of the Berlin Philharmonic; cellist Efe Baltacigil performs with the Philadelphia Orchestra; Paul Lafollette plays French horn in the Richmond Symphony; Katherine Needleman is principal oboist of the Baltimore Symphony; and producer Joshua Lee Kramer—a relative wild card by comparsion—wraps their natural sounds in subliminal synthesizer textures. Fans of Slow Six should do themselves a favour and check out Mico Nonet's debut album The Marmalade Balloon.
When asked to prepare a "Top 10" of his choosing, Kramer (with a little bit of help from Lafollette) opted for a list of ambient pioneers. In his own words, "These ten artists were chosen for their contribution to the development of ambient music, in the time period prior to Brian Eno's 1975 landmark recording Discreet Music. Presented in reverse chronological order, this list was derived through a process that ended with vinyl albums spread out across the floor in complete disarrary, and these albums emerged."
1. Osbourne Ruddock aka King Tubby: The Dubmaster, Dub From The Roots (1974): Mr. Ruddock's contribution to music history is to many sadly unknown, though his work may perhaps have influenced the development of modern electronic music more than any other on this list. His remixes of Jamaican music in the late '60s and early '70s using tape delay, reverb, and filtering effects, and dropping sounds in and out, created the dub sound that in turn influenced the development of ambient music, electronic music, and hip-hop. King Tubby built and modified his innovative equipment from salvaged scrap parts, and his legendary sound systems were used throughout Jamaica at the DJ street parties that would also later become the model for early hip-hop block parties in New York.
2. Cluster: Cluster '71 (1971), Cluster II (1972): The German duo of Hans-Joachim Roedelius and Dieter Moebius crafted ambient music that foreshadowed techno and influenced Eno, who later made several albums with them.
3. Morton Subotnick: Silver Apples Of The Moon (1967): Subotnick was an early user of the Buchla Electric Music Box, which was developed in the early '60s. To extend the capabilities of early synthesizers, he used tape machines playing back pre-recorded modulation and triggering signals, and in a way created a system for controlling synths that pre-dated MIDI by fifteen years.
4. Terry Riley: In C (1964): Riley invented a system in the early '60s using two tape machines with tape loops to make a delay system that would repeat phrases over and over. This lead him to the creation of In C, which doesn't use delay/loop effects, but is similarly constructed by live musicians playing repetitive minimalist patterns that slowly shift.
5. Harry Bertoia: Sonambient: Bellissima/Nova (1964): Designer of the Bertoia Diamond Chair for Knoll in 1952, Bertoia also made incredible sound-generating sculptures out of arrays of beryllium copper rods that when touched shimmered with ambient sound, which he named Sonambient. Eleven albums of recordings of Bertoia playing these sculptures were released; music he called ambient appeared more than ten years before Eno first used the term in the liner notes of his 1978 album Ambient 1: Music for Airports.
6. Raymond Scott: Soothing Sounds for Baby (1963): Scott was an inventor who built enormous electronic instruments that were many years ahead of his time, notably a sequencer and polyphonic synthesizer. Robert Moog designed some circuits for him in the 50s and 60s, and working with Scott surely influenced Moog's later creations.
7. / 8. Iannis Xenakis and Edgard Varèse: Poème Electronique (1958); Iannis Xenakis: Electro-Acoustic Music (1957-1962): The mathematician, architect, and composer Xenakis collaborated with the composer Varèse for the 1958 World Fair, in Brussels. For this multimedia installation piece called Poème Electronique, 400+ speakers were arranged throughout a pavilion, where light and images were projected in connection with the music, which was continuously streamed from a looped tape multi-track system.
9. Moondog: On The Streets of New York (1953): He was a blind street performer who built his own unique instruments, and dressed like a Viking in clothing that he also made himself. He was obviously from another more advanced planet, as it seems impossible that he was making this music in the early '50s. It's like Kraftwerk, but made with pots and pans.
10. Erik Satie: Trois Gymopedies (1890-1893); Claude Debussey: Prélude à l'après-midi d'un faune (1894), Nocturnes: Nuages (1899); Maurice Ravel: Prélude à la Nuit from Rapsodie Espagnole (1907), introduction to Daphnis et Chloé (1909-1912), Ma Mère l'Oye (1908-1912): No, they weren't in an ambient band together in 1890, but their works for piano are groundbreaking for their beautiful minimalist melodic sensibility. Satie, later a Dadaist, influenced Debussy; and Ravel found inspiration in both. Musicologists attach them to the French Impressionist movement, but they themselves refused this association. Ravel's thematic Ma Mère l'Oye immerses the listener in washes of sound, and established a new vocabulary of orchestral coloration. Check out the first movement of Debussy's orchestral piece Nocturnes; translated, its name, Nuages, means clouds.
Honourable mentions: John Cage, Karlheinz Stockhausen, Leon Theremin, Steve Reich, Pauline Oliveros, Pink Floyd, Can, Lee Perry, Count Ossie & MRR, Sun Ra, Charles Mingus, The Beatles, Robert Moog, Donald Buchla, Alan R. Pearlman.
March 2008