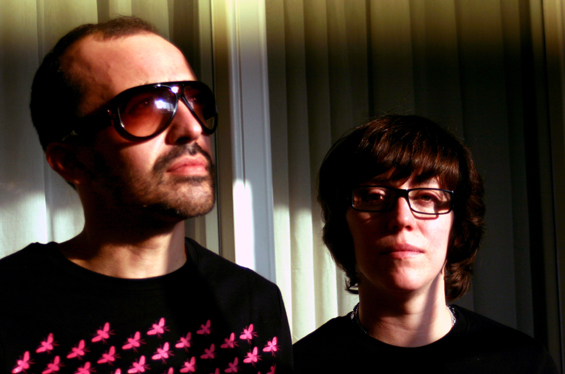 MLLE CARO & FRANCK GARCIA: TWO VOICES CREATE A THIRD
If Mlle Caro and Franck Garcia's Pain Disappears sounds like a remarkably assured debut collection, even more remarkable is that it came together somewhat by accident. To explain, a bit of background's needed: Caroline Laher and Garcia got to know one another years ago when they were both living in Perpignan, situated at the south of France on the Mediterranean Sea. According to Garcia, things developed easily and seamlessly from the outset: "One night at a club I heard Caro mixing, and after a few drinks we talked and decided to try and make music together." Discovering themselves to be simpatico collaborators—she calls Garcia her "musical soul-mate" while, for him, deciding to make music with her was "the best decision of my life"—the pair produced "Far Away" (issued on Crosstown Rebels in 2006) prior to Laher's relocation to Paris in order to help her gain a foothold in the city's musical circles (Mlle Caro currently DJs at the Rex Club and Pulp Paris while Garcia works as a DJ and producer in Toulouse).
Following the move, Laher continued collaborating with Garcia in Perpignan and, in the absence of label-imposed deadlines and stylistic direction, the two produced one track after another, with their styles—melancholic electro-pop, post-punk, New Wave, swooning balladry, and clubby dance cuts—influenced by the mood of the day. They soon found themselves in possession of a significant stockpile of songs, one of which, "Lost," they posted at their MySpace page. Ben Watt, familiar with the duo's Far Away EP and impressed by the new track, approached them about including it on the Buzzin' Fly Volume 4 mix, and then, hearing progressively more material, proposed that the collection be issued as the premiere Buzzin' Fly artist album. So—much to the surprise and obvious delight of Caro and Garcia—the songs they'd produced in Perpignan for themselves were now about to be issued as an album, which left sequencing the only detail to be resolved—and even that turned out to be easy, since Caro knew immediately that "Always You" would be the opener (a choice neatly framed by Ewan Pearson's rapturous, album-closing remix).
"Always You" spotlights two defining aspects of the duo's sound: the merging of buoyant dance rhythms with a deeply-felt melancholic strain in the melodies and lyrics. A skipping beat sweetly inaugurates the song but the carefree vibe darkens with the appearance of a wistful keyboard hook, silken strings, and the nakedly vulnerable words "I miss you every day / Tell me why you couldn't stay / Always you, always you." The duo's romantic bent likewise moves to the forefront in "Hold Me" ("Let me just slip here into your arms / And let me fall under your charms") whereas a downward emotional spiral occurs in "No One" when the snappy beat flow is offset by lyrics so despairing they verge on suicidal ("Loneliness is all around me / There is no one next to me"). When we met at a Paris café in the Bastille district on a warm May afternoon, Laher provided one explanation for the music's melancholic dimension: when they started composing the material, both she and Garcia were in romantic relationships that were in the process of ending, and consequently the songs became natural reflections of lived experience. (Elaborating further, she reveals that a re-ordering of the album's songs would produce a linear path tracing the evolution of the relationships in question.)
If the lyrics seem "simple," they are so by design as Caro and Garcia want the words, so bittersweet and suffused with ennui, to speak directly to the listener. She refers to Baudelaire's "spleen" concept as a stylistic reference for the song's lyrics, a reference one easily extends to the juxtaposition between their music's lighter (club rhythms) and darker (lyrics) sides (in The Flowers of Evil, Charles Baudelaire outlines two realms within the individual that perpetually struggle for domination: the darker "spleen," which accounts for death, despair, and solitude; and the "ideal," which aspires to transcend the ugly realities of "spleen" such that love, happiness, and ecstasy might triumph). Listening back to the album, Laher's perhaps most struck by how their voices blend ("two voices create a third," in her words), and the way one surreptitiously moves to the forefront on a given song; while their voices are equally prominent on the ballads "Hold Me" and "Mon Ange," for instance, Garcia's clearly dominates on the driving "Dead Souls."
That Pain Disappears is fundamentally about melodic songwriting as opposed to minimal club tracks is exemplified not only by the focus on melody but on arrangement too. The duo's talent for imaginative instrumental touches is clearly evident during the clockwork funk of "I Don't Want" when splashes of synth sputter and what sounds like a toy mallet instrument intermingle, and in the harp, strings, and triangle touches that elevate "Hold Me." Even the club cuts "Lost" and "No Name" aren't merely stark grooves but fully-developed songs that just happen to be instrumentals. One can reasonably expect future material to be just as rich, given that the violin lessons Laher's currently taking may result in an even more pronounced string dimension next time around.
That Laher and Garcia are both DJs might make it seem a bit curious that they produced a song-based collection instead of clubby DJ mix. But Laher explains that Garcia is a musician first and a DJ second ("I come from a musical school background," he says, "but was also a musician in a number of pop bands and, upon discovering dance music in the '90s, decided to start doing party mixes"), and that their listening histories have never fixated on dance music per se. Asked about influences and inspirations, Laher cites Joy Division, The Rolling Stones (Their Satanic Majesties Request her favourite), Bowie (the Berlin trilogy in particular), and Cardiff post-punk band Young Marble Giants rather than the techno and house artist names one might expect. She also mentions that the beat in "Reason to Stay" was influenced by the extended mix of "My Bag" by Lloyd Cole and the Commotions, and acknowledges that hints of '80s-styled New Wave can be heard in "Apologies."
The duo's original modus operandi still holds with Caro regularly returning to the sea-side to work with Garcia (who, ironically, lived in Paris for many years before packing up for Perpignan) since the city's less frenetic pace dovetails perfectly with their working methods. Largely eschewing long-distance file-sharing, Laher says, "It may sound, these days, like a curious way to work but we always compose and create songs together. There's no need to talk and no need to speak; it takes only one look for us to know what the other wants." The duo's immediate focus isn't on writing new material, however—that'll happen eventually—but in promoting the new album and in presenting the material live. In February at a UK showcase for the album's release, they performed as a band with Garcia and Laher augmented by guitarist Sam Delori and drummer Cyril Cannerie, and the quartet subsequently played at the Rex in April too. Listeners hoping to hear Pain Disappears live may soon get their chance, if the group's projected plan for a fall tour comes to fruition.
July 2008