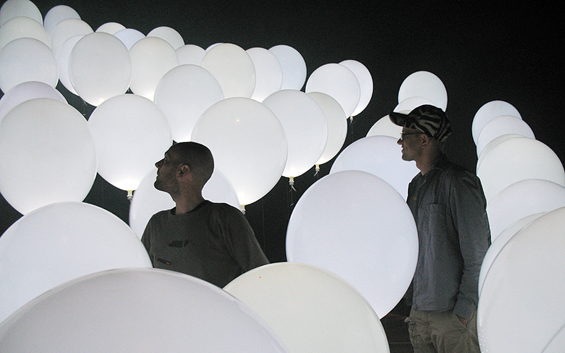 Robert Henke and Christopher Bauder, Atom performance at TESLA-Berlin September 19, 2007
ROBERT HENKE-MONOLAKE: AN APPRECIATION
Photo: Justine Lera
To describe Robert Henke's influence on contemporary electronic music as incalculable might seem hyperbolic but, in fact, it's hardly an exaggeration. While his Monolake recordings alone have exerted a huge impact upon experimental electronic music's evolution over the past decade, the impact of Ableton Live, the music production software created by Henke and one-time Monolake member (and now Ableton CEO) Gerhard Behles, has been profound; not only has it become the software of choice for digital music-makers everywhere, it's also, by Henke's own reckoning, the most successful commercial music software today.
Even so, any appreciation of Henke's contributions, whether it focuses on the body of work issued under his real name or Monolake, must contend with the encompassing scope of his output. Perhaps the best way to grapple with the largesse is to address separately Henke's still-growing discography and his multiple non-recording projects. The risk in doing so is that it misleadingly suggests that the two can be bifurcated when, in fact, the two strands continuously intertwine and, even more importantly, nourish each other: Henke's programming innovations and interactive installations naturally help catalyze the ever-evolving Monolake sound, while the group experiences bolster Henke's engagement with his non-recording endeavours (or, to use Henke's own words, "Technology fuels inspiration. Art inspires technological development"). Without question, Henke's involvement in the creation and design of Ableton Live has influenced dramatically Monolake's development. (It bears mentioning too that, while Henke is Monolake's guiding force, the group initially included Behles, and T++ [real name Torsten Pröfrock] contributed to both Cinemascope and Polygon Cities).
An immediate distinction can be drawn between the meticulously sculpted ambient works Henke releases under his given name and the fierce club tracks he issues as Monolake. In the former category, one finds the 2004 drone collection Signal To Noise and the recent Layering Buddha (taking its inspiration from the low-fi, loop-playing 'Buddha Machine' created by FM3 partners Christiaan Virant and Zhang Jian, the release garnered Henke an Honourable Mention in the Digital Musics category at the 2007 Prix Ars Electronica competition), while the latter includes Interstate, Gravity, and Cinemascope, among others. (The 1999 Gobi. The Desert EP is rather anomalous as it aligns itself more naturally to the meditative soundscaping style of the Henke releases despite having been issued under the group name.)
While the Monolake story doesn't necessarily begin with the group's 1997 debut full-length, Hong Kong, on Berlin's Chain Reaction (the hour-long sound installation piece, Piercing Music, for example, preceded it by three years), for many listeners the release was their gateway into Monolake's unique universe. It's a significant release on many counts, and not simply because it was one of the half-dozen housed in metal cases so beloved by fetishistic collectors and that lent the Chain Reaction catalogue a mystique that still lingers. Of course, ten years is an eternity in electronic music circles, so it's worth noting that, while a great many of 1997's pre-eminent figures no longer wield a significant creative influence, Henke has not only survived but prospered; if anything, his impact has grown with each passing year. When I asked Henke how he himself might account for such longevity, he replied, "I am a slow worker and each release is a huge effort. As a result, what I do still feels significant to me, and I am still learning and exploring new worlds. I never feel burnt out—I experience doubt about my work, yes, constantly, but never a feeling of wanting to give up. More the opposite: if I feel doubt, I want to do better the next time.
"Also, I've never been the center of any kind of hype," he continues, "and I've never experienced that sudden, massive media attention that completely changes not only how the world regards one's work, but also the image one has of oneself. Plus, I've never felt too much a part of any one scene, which has given me the freedom to change direction. If I'm bored by a specific genre, I can try something else and it'll still be Monolake or Robert Henke; no one would probably be too surprised, for instance, if the next Monolake album turned out to be dubstep or drum/bass or IDM of some sort. Actually, the most disappointing thing I could probably do is release a Monolake album that's too close to Polygon Cities or Momentum, or is just minimal techno."
Interestingly, the Monolake sound has, in certain ways, subtly evolved while, in others, radically. The core essence—sleekly propulsive mosaics of ultra-atmospheric and crystalline sonic textures—has persisted from one release to the next but has grown increasingly sophisticated and refined in tandem with the technological advances that Henke has brought to the production process. Certainly Hong Kong's beat structures sound basic when heard alongside Polygon Cities' pulsating helixes, yet Hong Kong still holds up today on account of its insistently percolating momentum and elaborate sound design. Even so, it's impossible not to hear a quantum leap from Hong Kong to 1999's Interstate, the first Monolake full-length issued on the group's Imbalance imprint (and a release Henke recently remastered and reissued). What before was rich is now, in tracks like "Abundance" and "Gecko," panoramic; the ambiance is deeply aquatic, the textures lush, the percussive patterns intricate and fluid, and the collective mass suggests an electronic rainforest teeming with life-forms both familiar and alien. Mesmerizing moments abound on Interstate (the ascent and descent of a metallic thrum during "Perpetuum," for example) and on the full-lengths that follow (the reptilian ice-funk of Gravity's "Mobile," the locomotive dub-skank of Cinemascope's "Bicom" and "Ionized") before the tone noticeably shifts on 2003's Momentum, a dark excursion into quasi-industrial techno-funk spearheaded by the hammering throwdowns "Cern" and "Linear." In many ways, Polygon Cities seems a consummation of all that's gone before, with Monolake now a precision-tooled dynamo that not only draws from its own legacy but that of Kraftwerk too, both implicitly ("Pipeline") and explicitly (the recurring "tic" voice motif in "Digitalis"). The epic mechano-funk of "Plumbicon" proved so potent, it inspired Plumbicon Versions which includes a steaming live take plus remixes by Deadbeat and Sleeparchive.
The solo works, though vastly different in character, are compelling in their own right. The glacial, artificially-created sonic sculptures on 2004's Signal to Noise unfurl in clusters of fluttering, cicada-like waves and, in "Studies For Thunder," prickly static and muffled rumbles convincingly simulate thunderstorms. Though most of the ten shimmering soundscapes on 2006's Layering Buddha are based on single source loops, Henke generates permutations by filtering, pitch-shifting, and layering the originals in order to create new, subtly morphing ones.
Henke's meticulously-constructed recordings might prompt one to imagine him to be a singularly cerebral and perhaps even intimidating individual. The reality is far different. My first exposure to Henke in person occurred in Montreal at MUTEK 2003 where he participated in a panel discussion and then later delivered a searing Monolake set of Cinemascope and Momentum material during the festival's closing night. Any impression of a chilly persona collapsed in the face of Henke's self-deprecating manner during the panel and the genuine warmth with which he conferred with fans and fellow artists. In the club set, Henke joined the crowd in rapturously surrendering to the hard-hitting dub, funk, and techno stoked throughout the enthralling performance. He clearly revels in communing with others, no matter the setting.
He also thoughtfully wrestles with issues relating to live performance, in particular the roles assumed by the laptop performer and audience in the concert space. In practice, Henke often challenges the conventional arrangement, which elevates a performer onstage and collectively orients the listening mass towards the artist, by positioning himself in the center of the performance setting and clustering seated listeners around him. Doing so not only breaks down the traditional barrier between artist and audience but strengthens the connection between performer and listener by granting the latter intimate proximity to the artist's creative process during the event. (Henke explores the topic in depth in an essay titled "Live Performance in the Age of Super Computing," the first part of which can be found at the Monolake site.)
His current calendar not only includes Monolake performances, but also Layering Buddha concerts, Ableton Live demonstrations, and installations like the interactive Cyclone, which points eight speakers towards a central monolith, and Atom, a sound-visual collaboration with Christopher Bauder where Henke's sounds synchronize with sixty-four illuminated gas balloons. (Given that these time-suspended works could theoretically go on 'forever,' they suggest parallels between Henke's work and La Monte Young's; Henke also shares with Young a passion for deeply immersive drones, as evidenced by Signal To Noise.) Add to this Henke's ongoing commitment to the Atlantic Waves project (which was premiered during MUTEK 2002 with Scott Monteith aka Deadbeat in Montreal and Henke in Berlin, and subsequently enacted in installation form at the Tate Modern gallery in London and the Centre Pompidou in Paris) and his Monodeck II, and you're in the company of an artist who legitimately invites the 'Renaissance figure' title. Henke's dedication to aesthetic and technological advancement has never wavered and the amount of energy and imagination he brings to such a diverse range of projects verges on incredible.
Henke, however, sees himself in less superhuman terms. "Well, my own perception is that I'm a very lazy and slow worker. I wish that I could dive more deeply into every single aspect of my work. What makes it possible for me to do so many projects is the fact that they're all dealing with the same ideas, and each new project not only makes use of older ideas, but also creates new perspectives for the other projects. Layering Buddha was possible because I had done drone music before. My bigger MAX patches benefit from the knowledge I get through my work with the developers at Ableton. Building and using the Monodeck forced me to rethink stage performance, and so on. The more projects I do, the more I find out what the essence of my work is, and where I want to continue. In retrospect, it will all make sense—I hope."
Clearly, Henke has amassed a remarkable body of work in a career that's even more remarkable, a fact that's especially apparent when one scrutinizes the multitude of projects in their fullest detail and considers their collective breadth. Were he to retire today, his place in the ongoing history of experimental electronic music would be secure but it's obvious that, for Henke, the work is far from finished. One can only begin to imagine what sonic riches and technological advances his next ten years will bring.
This article was written for MONOBOOK, a special edition produced by the Dis-patch Festival, presented in Belgrade, Serbia from October 18-22, 2007. Dis-patch honoured the accomplishments of Robert Henke by making FOCUS: MONOLAKE the central theme of this year's festival.
November 2007