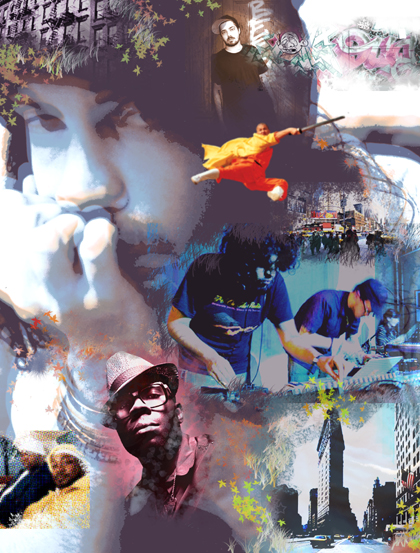 PRFUSE 73

Sitting in the living room of his Lower East Side apartment on a late January afternoon, Guillermo Scott Herren has ample reason to be grumpy. After all, he's traveled at considerable expense to New York for interviews (ostensibly to push the latest Prefuse 73 full-length Surrounded By Silence) to discover that only two are face-to-face with the rest by phone and therefore just as easy to manage from his adopted Barcelona home as from here. Furthermore, on the heels of a brutally cold Friday which sent even famously hardened New Yorkers scrambling for shelter, today is a sunny and almost balmy Saturday. So the last place one imagines Herren wants to be is holed up in his apartment being interrogated for an hour or two.
Yet if he's unhappy, it doesn't show. Instead, he's not only generous with his time but forthcoming, even loquacious, as he discusses the new album, hip-hop in general, life in Barcelona, political goings-on, and so forth. His slight physique and unassuming persona belie an elevated artistic status (a recent Pitchfork characterization—"perhaps the most singularly innovative force in electronic music today"—isn't far from the standard line) that finds him widely regarded as one of instrumental hip-hop's premiere iconoclasts.
Still, why shouldn't he be happy? Immersed in a staggering multitude of projects, Herren is enviably free to pursue artistic directions of his choice while labels clamor for his music, and he's fervently sought after as a collaborator and remixer. And maybe being holed up in his NY digs for a few days isn't such a bad thing, anyway. After all, with his infamous MPC, drums, keyboards, guitar, and recording equipment scattered about, the place is more a studio than living space, and the dim lighting and surrounding gallery (like the cover drawing from the recent Savath & Savalas Mañana EP) only deepens the incubatory vibe. In fact, with the exception of a few vocals, the entire album was recorded at the apartment during the summer and fall of 2004 before being delivered to Warp in mid-November.
Interestingly, in his last Grooves feature (issue 10, 2003), Herren said there would be a hiatus following his next album (what would become Apropa't). Yet, rather than kicking back, an incredible outpouring ensued—more Savath material, Piano Overlord tracks, the new Prefuse album, remixes (on Pedro's Fear & Resilience and Dublab's In the Loop 2, to cite two)—that has yet to stop. Still, of all the projects, the one most anticipated is undoubtedly Surrounded By Silence, especially in light of the rapturous reception accorded One Word Extinguisher. I asked if he was surprised by the response to it and whether he felt pressure, if any, in following it up.
"Yeah, I was pretty shocked by the attention because after I made it, I was much less proactive about it," he says. "The new album required me to be responsible for all these people and for making it happen, do all this moving around and all this talking. I've turned into one of those people: half the day dealing with administrative tasks, and then half the day on music. As far as pressure goes, this is such a different record that the pressure comes in a different way. I wonder if people will be able to take it all in, or will they just spit it back out and not even worry about it. Will they be like "Huh, there's just too much stuff, I can't handle it"?"
Surrounded By Silence
Though Herren now lives in Barcelona, the hip-hop polyglot of Surrounded By Silence definitely christens it a New York album, hip-hop influenced as much by the Wu-Tang Clan as it is Broadcast and The Books; as Herren himself puts it, "My music is hip-hop; there's no other way I've ever described it, except for the fact that you won't hear it on the radio." Despite their differences, One Word Extinguisher and Surrounded By Silence are structurally similar, each a travelogue of twenty-some connecting vocal and instrumental tracks interspersed with interludes and framed by an intro and outro. How do they compare to him? "I haven't heard One Word Extinguisher in a long time (I listen to Extinguished: Outtakes more)," he says, "but because it's more instrumentally-based I could do more things with time signatures and go off whenever I wanted, whereas with this one there wasn't always that freedom because you're working within another person's specialization." The key difference is that, while One Word Extinguisher features compadres like Dabrye and Daedelus, Surrounded By Silence is all collaborations with the likes of Aesop Rock, Masta Killa and GZA, Beans, Cafe Tacuba, and Tyondai Braxton, the wildly diverse ensemble's common denominator the panoramic vision of Herren himself.
To some listeners, the idea of Ghostface and Broadcast inhabiting the same record might seem almost inconceivable. Herren replies, "That's the whole point. I remember playing at Fuji Rock in Japan and then all of sudden waking up and having the idea "Yeah, the next one's going to have to be all collabs; no matter what it is, it's going to have to be collaborations." I wanted to make it non-ironic, not try to commodify off the fact that El-P and Ghostface are on a Prefuse track. I didn't want it to be silly, like "This is for the kids." I wanted it to be real, not sound authentic but be authentic."
For Herren, hip-hop's essence is collaboration and always has been, a view he supports by citing old-school examples like Afrika Bambatta's "Planet Rock" and Blondie's "Rapture." Twenty-some years on, Herren's collapsing similar types of barriers between communities and figures, an urge driven by a sincere affection for his collaborators' genres rather than cynical calculation. "I see it as a re-awakening of hip-hop, rather than an awakening; the essence of hip-hop that I was trying to articulate with One Word Extinguisher and Vocal Studies and Uprock Narratives was that ideas of collaboration were within hip-hop when hip-hop was born, the whole joining of forces from all these different sides without using each other for some superficial reason to sell out each other. It was a world-wide phenomenon when it started, it caught on everywhere with graffiti and breakdancing. It wasn't just NY, it caught on in different ways and styles everywhere. So all I'm trying to do is reconnect that essence with hip-hop and be like, yo, it's okay, you can be open to all this different shit and it's not going to entrap you or enslave you or invalidate you in the hip-hop world or whatever, you're not going to lose your credibility."
Our discussion shifts to the album itself, a mind-boggling trip that teems with highlights—the buttery coo of twins Claudia and Alejandra Deheza on "Pastel Assassins," the sweet Latin lope of "We Go Our Own Way," smooth jazz flow in "Expressing Views Is Obviously Illegal"; the collage-like "I've Said All I Need To Say About Them Intro" alone bursts with more ideas than occupy other artists' entire albums, even though it took Herren a mere day or two to create. While special moments emerge throughout, mention must be made of the folk, bluegrass, and hip-hop fusion "Pagina Dos" featuring The Books (says Herren, "I love the way it sounds: a little retarded, obnoxious in a way"), and the delicate, gamelan-flavoured "We Go Our Own Way" and "Hide Ya Face (Shaolin Reprise)." "There's definitely a gamelan influence. Gamelan is based around a pulse of some sort, and there's always going to be a pulse in hip-hop. How modern composers like Steve Reich and Terry Riley use pulse as building blocks for their music, I treat beats in the same way." Perhaps the wildest piece is the outro "And I'm Gone," billed as 'Prefuse versus Piano Overlord versus Broadcast versus Cafe Tacuba.'? "This was a track where I thought, "How are heads going to swallow this?" It's like free jazz." At the same time, the delicate coda to the Pedro collab "Gratis" shows Herren is equally capable of imbuing Prefuse music with nuance.
One can't overlook the massive Ghostface (Tony Starks) and El-P throwdown on "Hideyaface" either. Not only does it eschew Herren's trademark Prefuse beat hiccup for a straighter backing, it also pairs MCs one might not expect to hear together. Asked how it came about, Herren explains, "It was like a switch and exchange, an ongoing process. It took a long time because I had to get the two MCs in two different places, and the one I'm closer to (El-P) would come over and we'd talk about what we were gonna do conceptually. And with Ghostface who's a little more ominous, hard to get ahold of, that line of communication had to be done in an entirely different way. The initial theme was to be on some B-Boy shit, let's make this just like an anthem-style track. Nothing too "Gonna kill you" but some lyricism type shit, more the essence of what I wanted the clash to be about. For them to come and join together in a unified manner when stylistically they're two entirely different MCs was amazing."
And the album title itself? "Multiple meanings: on a literal level, it can mean yearning to want silence around you in the chaotic world we live in," he says. "I had an enlightening interviewer in Japan who asked "From what I read and what I hear, you seem like an outspoken person but don't you feel like, in the political climate today, you might be saying some of these things but nobody's listening so you just feel like you're surrounded by silence?" and I just thought "Yeah," you're absolutely right. So the title can be interpreted that way too."
In the spirit of Extinguished: Outtakes, Herren plans to release a companion disc to accommodate the hour of material (collabs with Madlib, Diplo, TV On The Radio's Tunde, Four Tet, Mia Doi Todd, et cetera) that didn't make it onto the album. Given that he had about forty tracks at his disposal, why didn't he release a double-disc set? "Obviously it would have taken more time. And then you've got the question of how long a person can take your music, especially music like this. For me this album is hard to swallow, it's a lot to take in, especially for a lot of people who aren't used to different kinds of people on it. If they're not into straight hip-hop, maybe they don't want to hear MCs on top of my shit, or if they're not into other types of music, maybe they don't want to hear that, you know?"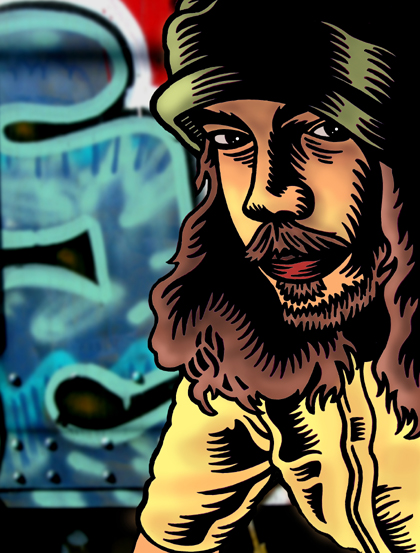 Other Projects

Herren, Miami-born but raised in Atlanta and New York City, moved to Spain four years ago, a move prompted not only by his feelings about the US but out of a desire to explore his identity and family history (his father is from Barcelona while his mother is Cubana/Irish), an immersion that has in turn deepened the Catalan dimension of his Savath & Savalas music; it doesn't surprise that his listening appetite extends from Madlib and Doom to Brazilian and Spanish Folk Music (Paco Ibañez, Juan Manuel Serrat). When asked how the move affected his music, he says, "Definitely not Prefuse, that's so far rooted down within my mind and my soul that location would never alter it, though I would always prefer to make it and produce it in NY. Sometimes I need chaos with Prefuse to incite something; I might hear something on the radio or see something that pisses me off, so I may want to counter-attack it somehow. It's a whole different thing making Savath & Savalas in Barcelona, much more reflective and quiet. The music usually is more tranquil so you reflect on what you're making in a whole different way. You're working within the elements of the earth rather than the elements of what we see and hear in sub-cultures and sub-genres of everything."

As Apropa't and Mañana heralded the end of Herren's collaborative relationship with Eva Puynelo Muns, I ask whether Savath & Savalas is still alive. "It is. There were personal and internal issues with me and Eva. We somehow had an odd and quick falling out. She was going through some times in her life, maybe I wasn't understanding what she was going through, and I was going through the same thing but I was busy working on this, maybe things were misconstrued and it just went haywire, but it definitely doesn't involve her any more. So it's back to square one where it's just me, and whatever the next Savath & Savalas project will be is in my hands, though probably stylistically it'll pick up where it left off."

There's also his more restrained Piano Overlord project, with a Tease EP (featuring two tracks from Herren created with pianos and drums plus remixes from Diplo and Express Rising) issued late last year in a limited pressing by Turntable Lab Money Studies. Scheduled to come out on Chocolate Industries, a Piano Overlord album has yet to appear even though it was supposed to come out a year ago. "It's basically about the whole plight of the island immigrant coming to the US and finding an even more depressing place, not to mention the laws placed upon them by the US when they had no right to place them there."

An EP of remixes, Prefuse 73 Reads The Books is also ready, plus there's an upcoming EP with Sa Ra Creative Partners, remixes for Beck, Mars Volta, Bus Driver, Daedelus, and Gabor Szabo, and the production partnership he's formed with Nobody (Elvin Estela) under the name La Correcion. And following upon his soundtrack collab with Hefty's John Hughes for Asia Argento's Scarlet Diva (2002), Herren's doing the soundtrack for Roger Gual and Javier Calvo's Remake. Herren's Eastern Developments label is also readying new releases. "We have things dropping soon: Osso Bucco is one, and there's a thing by the Exposures we're putting out; it's all really—I hate putting categories on things, like downtempo—but it's really, really slow, murky hip-hop; I love it." And did we mention the upcoming tour that'll feature a four-piece Prefuse band visiting Japan, Spain, Europe, and North America?

In closing

While Herren recorded Surrounded By Silence in New York to be closer to his collaborators, he also couldn't wait to, as he put it, board a plane back to Spain and "get the fuck out of this crumbling country." Asked to elaborate, he says, "I love NY, I love my friends here, I love the people, but I feel like there's been so much damage done by this country to other countries and so many laws set upon other countries, it's just intolerable, especially when you see people become so politically active during the election time and once Kerry loses, all of a sudden they're gone, they're not saying anything anymore. If it's gonna be four more years of this shit, it's up to us to speak and say something to whatever capacity we can. If you make music, say something, do something, whatever it is you can do. All the benefits in royalties that I make from the island immigrant album version of Piano Overlord will go to relief funds. Something needs to be done by people, even if it seems as insignificant as that.

"Like Beta Bodega (Steve Castro's label whose politically-toned releases focus on Spanish speaking countries suffering political oppression at the hands of governments and corporations), they've been pushing at it all by themselves and focusing on Third World politics since they started without distribution, with distribution, without help, with help, and have been opening up peoples' ears that would have been closed; props to Castro for facelessly focusing on the issues and delivering them. I saw him last year at Sonar and he got up there and spoke on Third World politics for about 30-45 minutes in the middle of this huge music festival in Spain, basically just delivering it. It was really refreshing, it was like "Yeah, finally.""

On a less political front, Herren's not stingy when it comes to doling out love to his brethren, even those in the mainstream. "There's just as much dope mainstream hip-hop as there is underground. I can't hate on any form of music if it's sincere. I mean, I listen to Jadakiss's record and half the shit he's sayin' makes total sense; there's no bullshit there. Nas's record, it's super good." As is Surrounded by Silence, an album all about making connections, showing how seemingly irreconcilable forms can comfortably co-habit. The project reveals Herren to be a veritable hip-hop ambassador, deftly erecting bridges between normally sequestered factions.

May 2005