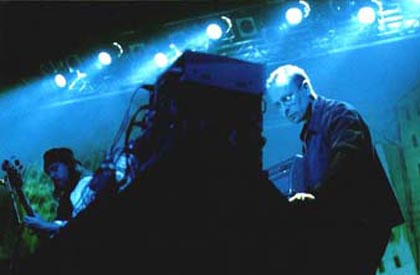 PAUL SCHÜTZE
Over the course of almost two decades, Paul Schütze has established himself as a potent force in multiple genres: ambient electronics, soundtrack composition, fusion, site pieces, and gallery works. He was born in 1958 in Melbourne, Australia and lived there intermittently until settling in London in 1992. His primary instruments are keyboards and percussion, but the performative role he adopts is less one of proficient soloist and more sound colourist, manipulator, or director. Apparently he is rather uncomfortable with the label 'musician,' believing that the term should be reserved for those who have attained a level of technical proficiency which he purports to lack. For Schütze, musical abilities are more importantly the means by which compositional and conceptual ends may be realized. Yet in spite of his self-proclaimed lack of virtuosity, his recordings demonstrate an exceptional range of creative and compositional ingenuity.
As a teenager, Schütze's listening taste leaned towards progressive groups like Can, Mahavishnu Orchestra, Weather Report, Fripp and Eno, and King Crimson. After high school, he played in a number of diverse musical settings and then, in 1979, traveled throughout Australia, India, North Africa, the Mediterranean, and the United Kingdom. He founded an avant-garde Australian group Laughing Hands and then segued into the creation of abstract cinematic soundscapes. The 1989 installation score Deus Ex Machina was first, followed in 1990 by The Annihilating Angel. Since 1986, he has scored over twenty films, including Isabelle Eberhardt: The Oblivion Seeker (1994), The Prisoner of St. Petersburg, and The Tale of Ruby Rose (included on Regard: Music by Film).
While Schütze has worked alone on numerous projects, often under pseudonyms like Seed (Vertical Memory, 1995) and the anagrammatical Uzect Plausch (More Beautiful Human Life, 1994), he has also worked in group settings, most notably Phantom City where collaborators have included bassist Bill Laswell, bass clarinetist Alex Buess, trumpeter Toshinori Kondo, drummer Dirk Wachtelaer, guitarist Raoul Björkenheim, trombonist Julian Priester, and soprano saxophonist Lol Coxhill. Other partners include trumpeter Ben Neill on Abysmal Evenings (1996) and Andrew Hulme (O Yuki Conjugate) on Fell (1996).
To label Schütze's work 'ambient' is convenient and not wholly inaccurate (the second disk of Apart (1995) would comfortably fall into this category), the label could erroneously lead one into regarding his music as a kind of innocuous aural wallpaper. A casual listen to The Surgery of Touch (1994) might suggest a superficial kinship with the ambient genre, but closer listening reveals an incredible array of unsettling sonic detail that unfolds throughout its many phases. In fact, Schütze rejects the 'ambient' label to some degree as he doesn't believe that it accurately applies to his music. Instead, he argues that, to the extent that there are ambient qualities to his works, they are more of a dream-like nature, such that his music approximates the unconscious nature of the dream state and our vain attempt to recapture its contents through conscious memory. His choice of titles on Apart ("Sleep I," "Sleep II," "Sleep III") lends credence to this idea. If anything, he welcomes the fact that his music resists easy categorization, as it suggests that it possesses a fundamentally mercurial quality that frustrates those who wish to definitively capture it.
One of the things that make Schütze's work so distinctive is its stylistic range. Deus Ex Machina, for example, is a continuous, one-hour mutating collage that incorporates speech samples and abstract sounds as well as more conventional keyboard melodies and rhythms. Nine Songs From the Garden of Welcome Lies (1997), on the other hand, is a set of austere improvised meditations constructed using wood pipe organ and percussion only. Even when conceptual connections are bestowed upon recordings like New Maps of Hell (1992), The Rapture of Metals (1993, reissued in 1996 as New Maps of Hell II: The Rapture of Metals), and Site Anubis (1996), the individual works exemplify unique qualities. The first in the trilogy calls to mind Miles Davis's apocalyptic Agharta-Pangaea funk-fusion (as does 1990's The Annihilating Angel to a less explicit degree), the second is a more constrained, gamelan-influenced set, and the third is a powerful experiment in collaborative strategizing with other musicians. Site Anubis was followed by Shiva Recoil (LiveUnlive), an amazing recording of the Phantom City band captured live at the Tampere Jazz Festival in Finland. The level of telepathic interplay is stunning, given that there were no rehearsals prior to the performance. (The 'Unlive' element stems from the fact that, although the concert is essentially live, Schütze did do some minor post-production work on it.)
Recent years have seen Schütze exploring more esoteric site-specific as well as gallery pieces. Second Site, for instance, is an exotic, enigmatic work made up of 102 one-minute sections, almost all of which feature Päivi Björkenheim's spoken recitations against a backdrop of Schütze's percussion and Clive Bell's pi saw flute and miniature khen. The site literally concerns itself with an 18th-century observatory in Jaipiur but conceptually deals with the manner by which memory and ideas spatially inhabit the mind. Third Site again uses text and sound materials to focus on architect Peter Zumthor's Thermal Baths in the Swiss alpine village of Vals, this time the text spoken by Thomas Köner. Schütze's Third Site was included in 2000's Sonic Boom: The Art of Sound, curated by David Toop and presented at London's Hayward Gallery. Recently, Schütze created four images titled The Museum of Absence exhibited at the Alan Cristea Galleries, London between November, 2002 and January, 2003. Future releases for this incredibly prolific and creative artist include Tokyo Osaka, a Japan concert performance by Simon Hopkins and Schütze, and Fourth Site, the next installment in the series based on the Royal Museum of The Congo in Terveuren, Belgium.
May 2003