The Guitar Player (detail) (Jan Vermeer, c. 1672)
SIX-STRING ALCHEMISTS: AREA C / ERDEM HELVACIOGLU / CRAIG MCELHINNEY / PILLOWDIVER / SLEEPING ME / TALVIHORROS
That textura loves guitarists should come as no surprise to anyone; textura's premiere release, for example, features the work of no less than four different guitarists (orchestramaxfieldparrish, Alexander Turnquist, The Retail Sectors, and Ryan Francesconi), each of whom brings his unique interpretative skills to bear upon Coleridge's Kubla Khan. Having also in recent times received a number of newly-issued recordings by other experimental guitarists, we thought it was high time we devoted extra coverage beyond an album review to these deserving six-string innovators. While their approaches clearly differ, all six share a similar fearless and pioneering spirit in their respective attempts to re-write the ways in which the instrument is used in contemporary electronic-based music-making contexts.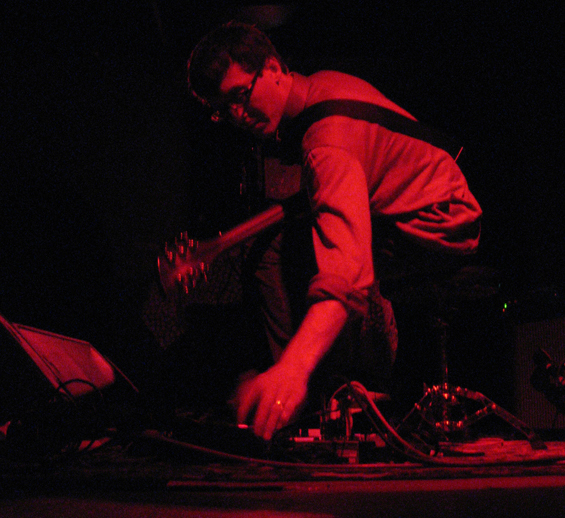 photo: Raphael Lyon
AREA C
Birth Name: Erik Carlson
Currently Located: Providence, Rhode Island USA
Background: Originally from Youngstown, Ohio, I have been based in Providence, Rhode Island for the last fifteen years, where I work as a musician, media artist, and architect. In 2002 I began using the name AREA C, and this has become my primary vehicle for recordings and performances since then. AREA C marked the beginning of a transition away from more structured compositional techniques and toward my present practice, which relies strongly on elements of unpredictability and perpetual variation, and the real-time transformation of both musical and extra-musical elements.
Personal Style, Philosophy, or Approach: My work has always been concerned with the cyclical and malleable relationships of rhythm, pitch, and timbre. I feel that an essential factor in all of my work is a quality of continual recall, where changeable elements realign and pull things into focus, where your mind clicks and finds itself somewhere generally familiar but, in detail, utterly strange. Improvisation and real-time processing play an important part in my compositions and live performances, which build on explorations of minimal clusters of tone, rhythm, and melody and follow the transformation of pure sound as it passes back and forth between analog and digital mediums, seeing what happens as elements transform and decay. I find that the guitar, besides being the instrument that I am most comfortable with, can make an incredible variety in the sounds, both musical and non-musical.
My work is intimately concerned with the relationships between aural and physical space, an interest grown from fifteen years of parallel work in the fields of music and architecture. Also, having been raised in an economically depressed, post-industrial town in Ohio, the phenomenon of abandonment and forgotten detail has always fascinated me. I am influenced not only by an environment's naturally occurring sonic characteristics, but also by the ways that inserted sounds can alter our perception of a space and our presence in it.
I also draw heavily from other art forms that address issues of human presence in the man-made and natural environment. Notable influences include poetry, photography, and film. Chris Marker's film Sans Soleil has had a profound influence for its non-linear use of image, sound, and voice-over fragments as a means for reflecting on time, place, travel, and memory. Marker's film suggests formal techniques and perspectives that I now apply to my own work. These techniques have been instrumental as I examine sound as an evocative presence which often acts as a subconscious marker in the spaces we occupy.
Gear and Working Methods: I have been using the same Rickenbacker guitar for over twenty years. It's versatile and familiar and I rarely find myself wanting to use anything else. The Rickenbacker's semi-hollow body is very resonant and offers many alternate sound possibilities—tapping, scratching, etc. I frequently use it percussively or to generate microsounds. I occasionally use a stripped-down, modified Fender Telecaster, originally destroyed and re-made by a good friend of mine. In addition I use a Farfisa organ, a small Casio keyboard, a Hammond analog drum machine, and a Roland SP-202 sampler.
Older tube amplifiers are also an important element in my setup, and I use several Ampegs and Fenders. I love the quality of the vibrato effects on the Ampegs in particular, which often have a strange and intense quality to them, and I've found that every amp's vibrato is different. Tube amps are also great for the ancillary buzz and hiss they sometimes generate on their own.
I would say that the two most important effects in my setup are delays and volume pedals. I have quite a collection of delays, and each does something a little different. The volume pedals give me much more control over the types of sounds I can make. I also use some digital and spring reverbs, several tremolo pedals, a Fulltone distortion, and an old four-track recorder, and several cassette Dictaphones.
Though I have a fair amount of equipment, it's been collected slowly over the years and I add to it rarely. More often, I take tools that I already have and try them in new ways. I have consciously stayed away from incorporating a computer in my setup for any guitar processing, though I often find myself trying to replicate or explore sounds that others have made via digital means.
I do use a computer for recording and editing and some additional processing, but almost all of the sounds are essentially a guitar through an amplifier. The computer comes in handy more as a compositional tool, for editing and re-ordering pre-recorded elements.
Most compositions come out of extended improvisations. Some things are played and left "as is," a first take, while on others I consciously and meticulously edit, re-working them over and over. I feel that both approaches are necessary and lead to different but equally important results.
Influenced By: Ryoji Ikeda; Anthology of American Folk Music; the poetry of William Carlos Williams; films by Chris Marker and Andrei Tarkovsky among others; the photography of William Christenberry, Terry Evans, William Eggleston.
Favourite Guitarist(s):
1. Maybelle Carter (of the Carter family)
2. Mick Turner (solo work in particular, and with the Dirty Three); I am fascinated by the way he plays seemingly everywhere but on the beat, yet the overall effect is one of rhythm, structure, and melody by accretion. Realizing this ended up changing the way that I play.
3. Alan Sparhawk (Low)
4. George Harrison
Desert Island albums:
(in no particular order)
1. Musik Von Harmonia by Harmonia. The first song alone?
2. Highway 61 Revisited by Bob Dylan. Great songs, and something strange beneath the surface of the arrangements and instrumentation. It took me awhile to warm up to this record but now I wouldn't want to be without it.
3. Vespertine by Bjork. This album connected with me in a way, combining several elements I love in a way I had not heard before, and there are certain times when this is exactly the album I want to hear.
4. Pop by Gas.
5. Anthology of American Folk Music Vol. 3 (if I had to choose just one). "The Coo Coo Bird " by Clarence Ashley and "East Virginia " by Buell Kazee are two of my favourite songs ever.
6. Secret Name by Low. I've always loved Low, and with this album I think they expanded their work into a new realm, lyrically and musically.
7. Switched On by Stereolab. Perfect combination of driving, repetitive music and beautiful pop vocals, while remaining rough around the edges.
8. Avec Laudenum by Stars of the Lid
9. Pink Moon by Nick Drake
10. Loveless by My Bloody Valentine
11. Sgt. Pepper's Lonely Hearts Club Band by the Beatles. I can always find something new to pay attention to in this album.
12. The Unforgettable Fire by U2. An early influence (see live shows below).
Dream Collaborator: There are many people I'd be honoured to collaborate with, since I really love and
appreciate working with others, but I can't pick just one. Let's just say I'm open to invitations.
Life-Changing Concert Experience:
1. Sonic Boom at 'Sideshows by the Seashore,' Coney Island in 1992. After a brief (and fine) opening set by Galaxie 500's Dean Wareham, Sonic Boom proceeded to play one piece for over an hour, slowly and carefully setting up pulsing drones with an organ and two guitars feeding back. Was it an hour? Two? Was I even there?
2. Buddy McMaster in Cape Breton in a barn in September of 2004. We found out he was playing that night and backtracked over an hour to get there, speeding, getting lost, arguing, and ultimately making it just in time. He was phenomenal. Just him, his fiddle, his foot stomping, and a raucous piano accompaniment. He was 80 years old and he completely blew me away.
3. My Bloody Valentine in 1991. Loveless had just come out and I was enthralled.
4. U2's Unforgettable Fire tour in Cleveland, Ohio when I was in high school. One of my first 'big' theater shows, and the first emotionally and musically powerful concert I had ever seen until that point. They sounded amazing.
Proudest Accomplishment: Living (and working) within my means
Take on Experimental Music in its Current Form: The intermixing of experimental, pop, electronic, rock, improv, noise, etc. of late has been very inspiring. I am constantly finding new music (and old music that is new to me) that is exciting, challenging, and inspirational.
Currently Promoting / Latest release:
1. The Planetarium Project, a double-CD release on Sedimental in September 2009, consisting of collaborative compositions and performances at a planetarium in Providence, RI (AREA C with Mudboy, Black Forest/Black Sea, and Eyes Like Saucers)
2. Charmed Birds vs. Sorcery on Students of Decay
3. Ebbs to a Steady Burn, a three-inch CD-EP on handmd (the first in a monthly series of 3-inch releases that will last through 2009)
Currently Working On: I'm working on a composition based on the geological formation of the moon for the NASA RI Space Grant Consortium, which will be premiered this October. I will also be composing for a new collaborative live performance series at an observatory in Providence, RI this fall, where we will be exploring the building itself as a sonic source.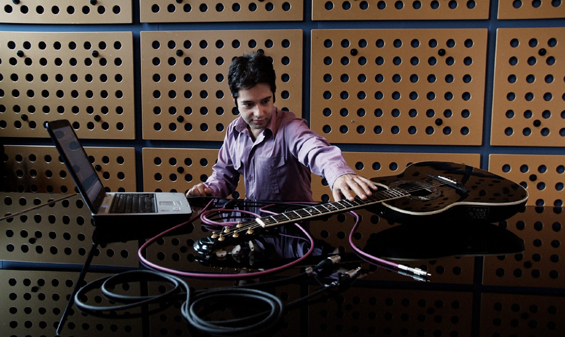 ERDEM HELVACIOGLU
Currently Located: Istanbul, Turkey

Background: I am a composer, guitarist, sound engineer, and producer. I have received numerous international awards for my electroacoustic compositions. My music has been performed at prestigious festivals and broadcast all around the world. I have collaborated with Mick Karn, Kevin Moore, Kazuya Ishigami, Luo Chao-yun, Ros Bandt, Craig Green, Jacob Young, Elliott Sharp, Bill Walker, Nathan Larson, Pete Lockett, Neil Leonard, and Saadet Türköz. I have received commissions from artists and organizations such as the 2006 World Soccer Championship, 2009 Novelum Festival, 2010 Istanbul International Classical Music Festival, 2010 Bregenz Contemporary Music Festival, Bang on a Can All-Stars, Todd Reynolds, Kinan Azmeh, Margaret Lancaster, Cem Duruöz, and Mesut Ozgen. I am also actively involved in composing for films, multimedia productions, contemporary dance, and theatre. My sound installations have been included at such galleries as Los Angeles Track 16, Indonesia Soemardja, Köln Museum für Angewandte Kunst, London Menier, and the 10th International Istanbul Biennial. My film music has been heard at Cannes, Sarajevo, Locarno, Seoul, Sao Paulo, and Sydney film festivals, and I received the "Best Original Soundtrack" award at the 2006 Mostramundo Film Festival. My solo album Altered Realities was included in the "Best 20 albums of 2007" list in All About Jazz, Textura, and Cyclic Defrost magazines. My latest solo album Wounded Breath has been released by the US record label Aucourant Records. The album has been called outstanding and totally original by various international music magazines.

Personal Style, Philosophy, or Approach: I have two different styles: one is for the acoustic guitar and live electronics setup, and the other one is for the electric guitar and live electronics setup.

For the acoustic guitar and live electronics sound, I like to combine simplicity and beauty with very sophisticated live electronics sound design methods. I aim to create a futuristic path that combines the first timbre that humankind heard from a string instrument and the sophisticated live electronics setup with its endless possibilities. I always envision a shaman who would play for a limited number of people, those who'd survived after a major catastrophe. I wish to be that 'shaman"'creating beautiful sounds that would soothe people's sorrows.

For the electric guitar setup, I strive for eternal beauty, not with the addition of sophisticated tools but rather with much more simplistic ones. I like to create a sound world where the electric guitar becomes the drone, the bass, the melody, the rhythm, the harmony, and the melody of it.

Gear and Working Methods: For my acoustic guitar and live electronics setup I use the Ovation custom legend 1869 acoustic guitar, Sansamp acoustic di, Carl Martin compressor, Boss fv-50 volume pedal, TC Eletronic Fireworx multieffect processor, Behringer FCB1010 midi foot controller, and the software Audiomulch. My clean acoustic guitar signal is routed both to the Fireworx and Audiomulch. These two machines are responsible for the live processing element. With the midi foot controller, I change the parameters within both the TC and Audiomuch. This change may involve a simple volume swell or a hundred parameters evolving very slowly in real time.

For my electric guitar setup, I use Gibson Les Paul and Fender Stratocaster electric guitars and an Epiphone guitar whose strings have been lifted to create the sound of a lapsteel. On this setup, I use various analog pedals along with Marshall JMP-1 preamp, Eventide Eclipse multieffect processor, TC Electronic Fireworx, and Lexicon MPX100. I do not use a laptop for this setup.

Influenced By: I have been influenced by Michael Hedges, definitely. Although I do not sound like him, his melodic, harmonic ideas, and the beauty of his tone have been very influential.

Favourite Guitarists: For acoustic guitar my favorite guitarist is Michael Hedges. He was the one who got me interested in trying different things with tunings. I also enjoy Adrian Legg as an acoustic guitar player. For the electric guitar David Torn is very important for me. He is the one who opened my ears and my mind to creating different timbres on the electric guitar. Stevie Ray Vaughan and Jeff Beck are also very important players for me as they showed me how to play melodically and emotionally. Elliott Sharp is also one of my favorite guitarists. The way he attacks the instrument and his avant-garde blues sound is very exceptional. Bill Walker is one of the greatest lapsteel players I have heard. He is a relatively unknown player from Santa Cruz. For me, he has got the hands of God. His playing is that sensitive.

Desert Island album: Somei Satoh's Toward the Night is my desert island album. I think he is one of greatest composers alive. I have never heard such a sensitive ear for timbre, silence, and melody. He sounds heavenly.

Dream Collaborators: David Torn and Brian Eno

Life-Changing Concert Experience: I have been to many great concerts, but for me the life-changing concert experience was my concert at the Looping Festival in Santa Cruz in 2007. Let me explain why. I had prepared my setup for the travel, but when I landed in Santa Cruz, I noticed that my laptop was not working at all. Since my sound depends on the use of Audiomulch, I did not know what to to. For two days before the concert, I practiced some looping devices that people gave to me. I had not used any of those machines, so I had to learn how to use at least their basic functions. I was very worried of course. But on the day of the concert, something miraculous happened. I suddenly became calm and peaceful and decided to let things flow. Without my main setup, I played one of my most subtle, beautiful sets ever. This experience changed my life. From that moment on, I learned that I need to relax much more and let my instincts guide me rather than my mind.

Proudest Accomplishment: It is hard to pinpoint just one. But the moment that my commissioned piece was performed at the Merkin Hall by the Bang on a Can All Stars was incredible for me. Like Kronos Quartet, they have been my favourite group within the contemporary music scene. I had always dreamed how great it would be if they were to perform one of my pieces. And it is pretty weird that the reality got beyond my dreams! They have actually commissioned a piece from me for their People's Commissioning Fund, and I was the first European composer within the ten-year history of this project.

Take on Experimental Music in its Current Form: I am not an expert on this, but I can say that there is a lot of music there that is good, but unfortunately much of it sounds very similar. Although some people say that the boundaries of music have waned, I do not think that it is true. Even within experimental music (which by definition should mean that it may include what is adventurous and meaningful for the composer/performers) I see more strict divisions. Noise musicians do not want to hear any subtle, smooth textures, the electroacoustic composers do not want to hear any melodies, etc. I do not believe in any of these divisions and categories because for me there are no wrong notes.

Currently Promoting / Latest release: My solo album Wounded Breath on Aucourant Records is my latest release. The album includes five of my prize-winning electroacoustic works and has been called "outstanding, totally unique" by many music magazines. Also a new acoustic guitar-live electronics piece of mine has been released on the compilation album Spectra: Guitar in the 21st Century by Quiet Design Records.

Currently Working On: I am currently working on many projects at the same time. I am about to finish mixing the duo albums that I recorded with Elliott Sharp, British percussionist Pete Lockett, American accordionist Michael Ward Bergeman, American saxophonist Neil Leonard, and American guitarists Bill Walker and Craig Green. My new duo record with Luo Chao-yun will be released in Taiwan in October. Also an ambient album with Robert Scott Thompson will be released hopefully before the end of the year. I am also recording new material for duo albums with Per Boysen and Leo Abrahams. Besides all these album projects, I am also composing for my new guitar-live electronics records and for new commissions, including a new musical theatre/opera commissioned by the Bregenz Contemporary Festival which will be premiered in 2010 and a new electroacoustic piece commissioned by the Novelum Festival which will be premiered in November. I have also recently started to compose for two feature movies.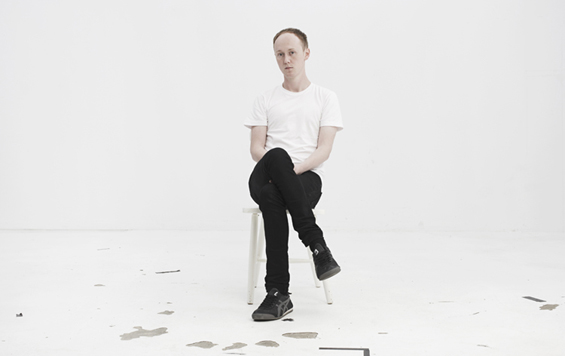 CRAIG MCELHINNEY
Currently located: Perth, Western Australia
Background: I first remember getting into punk rock through my friend's big brother's skate videos. Then I started going to hardcore punk shows and found the volume and power mesmerising. I tried my hand at playing bass in a band for a few years but eventually came to the realization that I was on completely different wavelengths to the rest of the guys and most of the people in that circle of friends. I started to smoke more and care less about proficiency, rehearsing, and numbers and looked only to feel, relax, and trip...hard. After trying to keep a safe distance from playing live and getting caught up in the evergrowing vortex of jerks, leeches, and working men's pubs, I finally met a handful of good, sensible people doing positive and interesting things in Perth and ever since everything has been growing beautifully as it was supposed to.
Personal style, philosophy, approach: Bruce Lee once said, "When one has reached maturity in the art, one will have a formless form. It is like ice dissolving in water. When one has no form, one can be all forms; when one has no style, he can fit in with any style." I became fascinated by Lee's philosophy of the application of emotional content and how difficult it is for someone to truly express themselves artistically but also how imperative it is that they try to learn. Being able to lose yourself in your own music is something I have always found difficult to do in front of an audience but when it does happen and you are 'in the zone,' your mind transcends the performance and floats in a place where you can synchronize your movements exactly with the emotions that your body is trying to express. The ideal is natural unnaturalness or unnatural naturalness.
Gear or working methods: I try not to stick to the same methods or gear for too long or I tend to get burnt out or stuck in a comfort zone that doesn't allow me to be enchanted by the millions of other ways we can make noise, but...in saying that, I have been enjoying playing with loops, fuzz, and samplers. I wouldn't call myself an equiptment geek but I do enjoy being able to get as many different strange and varied sounds through lots of different toys and techniques. As far as guitars go, I'm happy to play on anything. There is no real set way I like to do things since I'm constantly in a open-minded learning experience.
Influenced by: Bruce Lee, Ian Williams, Dylan Carlson, David Attenborough, Arthur Russell, Emil Amos
Favourite guitarist: One of the main reasons I decided to start playing guitar was when I first heard Ian Williams' guitar sound. There have been so many wonderful and unusual guitarists to have crossed my ears over the years but when I first heard the noise his guitar made, I turned into a five-year-old kid at a magic show. Not only his unique distortion or clean sounds but the techniques he displayed that seemed to be strangely both razor sharp and loose as a wet noodle at the same time. Playing on the 'twang' whilst using all fingers on both hands at the same time to tap away on the fretboard to create these beautifully abstract and pensive combinations of loops, bends, juts, and plenty of other sounds that haunt and mystify me.
Desert island album: Well, if it was a desert island—and not a tropical island—then I'd have to go with Grails' Black Tar Prophecies 1, 2 & 3. The strong songwriting sense mixed with their expansive sound experimentation is perfectly mixed and the druggy, dark, Arabic, occult imagery that is associated with their sound makes it a truly deep listen, not to mention that they are all seasoned players.
Dream collaborator: I would love nothing more than to plug into a wall of Marshall stacks and play with Dylan Carlson as loud as it could go.
Life-changing concert experience: I took a whole ecstasy pill once and went to a music festival. I have never done either of those things since.
Proudest accomplishment: Changing my strings by myself for the first time
Take on experimental in its current form: I find it mystifying that people can still find so many different new ways to express themselves through sound. I think more young people are learning how to soak up music from all walks of life and use it in ways that they can implement it into their own expression without being insincere to themselves or the artists they are so influenced by.
Currently promoting: You and Me Are Young and Brutal out on Meupe
Currently working on: Learning oud, recording as much as possible, having more fun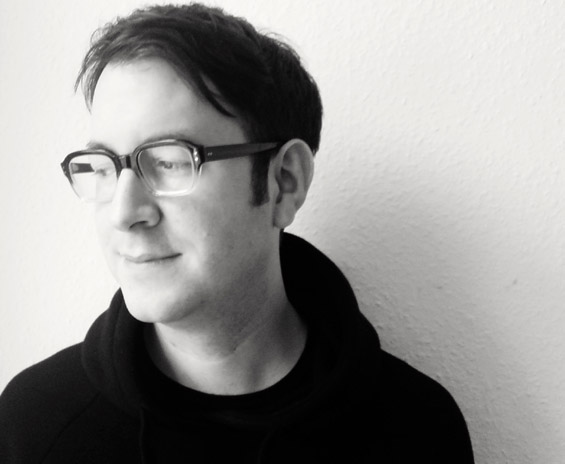 PILLOWDIVER
Birth Name: René E. Margraff

Currently Located: Berlin (Neukölln)

Background: Born in 1975, currently living and working in Berlin

Personal Style, Philosophy, or Approach: I am not sure how to answer the question about my personal style. I guess you can call it drone, experimental guitar music, or whatever. The main sound source of my music is the guitar. This allows me the biggest variety of sounds. I also love the directness of the guitar, as opposed to pressing a key on a midi-controller or even a synth. The light touch of a string or the wonderful world of noises picked up/created by the guitar keep me fascinated. It is definitely the easiest tool with which to express myself although virtuosity never rang my door. Pillowdiver started with the idea to focus on the guitar in my music, but not in a restrictive way. However I am not interested in overloading my tracks and always try to find the essence in simple motifs. If a note does not add anything, don't play it. Or to cite one of my heroes, Mark Hollis: "Before you play two notes, learn how to play one note—and don't play one note unless you've got a reason to play it."

Gear and Working Methods: a Fender Jazzmaster (62 RW, made in Japan), some hardware loopers (EHX 2880, Line 6 DL4), some effect pedals, fed into an old Line 6 Pod and/or a small Fender Tube Amp. Sometimes recorded directly into Ableton Live, processed further with delay, reverb, and distortion plug-ins or recorded onto some old Fostex cassette 4-track. There is no rule and no fixed work flow.

Influenced By: I am not so sure if I am influenced by other guitarists. I would rather get stopped by my non-virtuosity.

Favourite Guitarists: Lee Renaldo, Michael Karoli, Ash Bowie, some amazing Marks: Mark Hollis, Mark Clifford, Mark Nelson, Charles Bullen, Ian Crause, Kevin Shields…

Desert Island albums:
1. Seefeel's Quique, because it combines lots of things I love and does not show its age at
all...
2. Ben Frost's Theory of Machines, because of its great balance of noise and
melancholy/darkness
3. Belong's October Language, because it still sends shivers down my spine and creates a
fuzzy wall of sound
4. Dinosaur Jr.'s You're living all over me, because of the energy and the angst; J. Mascis
is the only guy who I can stand playing a Wah-Wah pedal
5. Sonic Youth's Evol, because it is their best record, a more stripped-down sound and
beautiful harmonies
6. Hood's silent 88, because I grew up on this.
7. Autechre's LP5, because they know how to impress me with complexity...
8. New Order's Ceremony seven-inch, my favourite song ever...

Dream Collaborator: Lee Renaldo!

Life-Changing Concert Experience: Polvo in 1993, because of the amazing tunings and energy on stage; Long Fin Killie, sometime in 1996, because of their tightness; Ben Frost in 2008 as he knows how to translate his music into a live gig.

Proudest Accomplishment: Regarding my life as a recording artist the answer is clear: releasing on 12k

Take on Experimental Music in its Current Form: I listen to lots of current releases; however, it is usually not more than five records a year that become long-time favourites. I cannot say if experimental music has become better or worse...

Currently Promoting / Latest release:
Sleeping Pills on 12k
Tony on a bike on Under the Spire (later this year)

Currently Working On: Currently I am breaking my head over a good approach how to present my music on stage and still keep the gear necessary rather small. I've also started recording new tracks.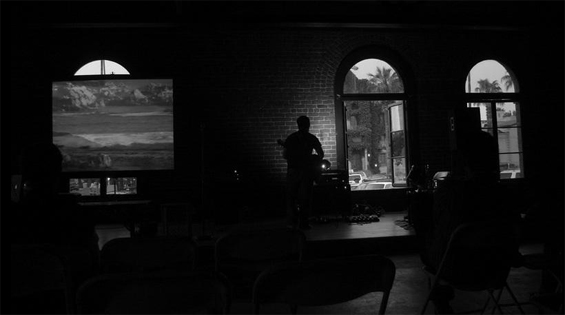 SLEEPING ME
Birth Name: Clayton McEvoy
Currently Located: Riverside, California USA
Background: I started playing music when I was twelve years old. I originally liked punk music like The Misfits and The Dead Kennedys. Around the time I was eighteen or nineteen, I discovered Shoegaze and more ambient-styled music. After becoming associated with more and more diverse and experimental music, I then became heavily interested in drone, then minimalist compositions. My instrument of choice was always the guitar and various effects, mostly reverb and delay. I also play the piano, though I'm not very skilled, and I am playing around with violins and various other string instruments.
Personal Style, Philosophy, or Approach: My favourite music has always been very simplistic and subtle, yet dynamic. I try to bring those attributes to the table. I like the idea of a slow, crushing feeling, or a disappointment as opposed to something outright heart-wrenching or overwhelming from the start of the composition. I try to portray a feeling of apathy and juxtapose different feelings over it. I don't tend to like music that is incredibly obvious and over-the-top, though there are exceptions. I hope that people can get an intended impression, and relate it to their own specific experiences.
Gear and Working Methods: I primarily use Hollowbody guitars and a Melotron. I also use Line6 delays and a couple of Lexicon rack reverbs and VST's. Most of my guitar sounds come out of the Guitar Rig VST, though I have recently switched over to a Mac, and have been using Amplitude and experimenting with some new sounds for the future. I basically loop using an Electro Harmonix 2880 and Ableton Live whilst playing live.
Influenced By: My biggest influences are Slowdive, Stars of the Lid, Flying Saucer Attack, and Erik Satie. To a lesser extent, James Horner, Max Richter, Tape, Clear Horizon, Bedhead, Carissa's Weird. and Rachel's have been very inspirational to me.
Favourite Guitarists: My favourite guitarists have to be the pair of Brian McBride and Adam Wiltzie. I am also a big fan of Robert Fripp, and the guitarists of Beadhead, who I believe are the Kadane brothers.
Desert Island albums:
1. Erik Satie's Gymnopedies and Gnossiennes: The epitome of very simple yet incredibly emotional and dynamic music from the godfather of minimalism. I try to listen to Satie regularly in order to clear my mind.
2. Stars of the Lid's And Their Refinement of the Decline: If you don't feel anything during the closing moments of "Articulate Silences pt. 2," then chances are you don't have any feelings at all. Incredibly poignant and elegant. A true masterpiece in our time.
3. Clear Horizon's Clear Horizon: This album transports you into a sea of static. Desolate and intimate. A piece of work that is only benefited by its lack of modern recording technology and its lo-fi sound. A journey through the haze.
4. Rachel's' Systems, Layers: Part found sound, part compositional masterpiece. Rachel's have an incredible grasp of both atmosphere and melody... something that I feel most musicians lack nowadays. This album is both experimental and musical in the best way possible.
5. Slowdive's Pygmalion: My personal introduction to ambient music. After hearing Souvlaki, I went in fully expecting a very structured rock album, and was simply blown away by the atmosphere and poise with which the album was executed. Most everyone I know came away disappointed. I came away with a new perspective on music and sound.
Dream Collaborator: I would love to collaborate with Brian McBride, Rachel Grimes, or Christopher Bisonette. Chaz Knapp would be an exciting prospect as well.
Life-Changing Concert Experience: I would say that seeing Stars of the Lid live in Los Angeles was a life-changing concert experience in an odd way. I was extremely excited to see them, but their performance was lackluster. After the show, I was able to talk to Brian McBride and offer my opinions on the show. I think he was initially unhappy to hear that I wasn't extremely impressed, but talked with me for a while about it before thanking me for my honesty, as opposed to just lying to his face. I made it clear that he had all my respect, and we exchanged e-mail addresses. After such profound musical efforts, I think certain musicians can be intimidating... but their performance showed me that even the best musicians have flaws, have bad nights, and have things that they aren't particularly good at. It made an inspiration seem more human than angelic, and it made me feel that I could offer something equivelant given time and effort. Even with their flaws, Stars of the Lid are still my favourite... so hopefully people will enjoy what I have to offer, despite my flaws.
Proudest Accomplishment: Releasing a CD with Hidden Shoal. The opportunity to have my music heard by more people is something that I will always cherish. I initially had doubts as to whether or not anyone would think highly of my work, as I think I am one of many musicians that can be extremely self concious at times. When I was offered a spot on their label, it made me feel that I was right where I was supposed to be, and making music was what I was supposed to do.
Take on Experimental Music in its Current Form: Experimental music is a bit of a puzzle to me today. Here in the greater Los Angeles area, experimental music is popping up everywhere. I have to say that a majority of it is just kids messing around and wanting to get up on stage so they can feel like they are doing something worthwhile. Many times its very apparent that little to no effort was put into their experiments. I guess when you enjoy such an obscure artform, you get the feeling sometimes that many people "Just dont get it. " I often feel that way. There are many many young noise bands in Los Angeles right now, and I don't particularly find much worth in a continuous wall of static... but someone like Tim Hecker can use static as a tool with which to sculpt his sonic landscape, and therein lies the difference for me. It's not the tools, but how you use them. You have to look very very hard to find the true gems in experimental music nowadays, because many people are swayed by the popular opinion that anyone can pick up a looper and some effects pedals and make art... and since art is subjective, we also need to be mindful that it is all art at the end of the day, and criticize very carefully.
I find myself pidgeon-holed often by people who assume that Sleeping Me is an attempt to make shoegaze or post rock music because of the tools that I use... and it leads to criticism that is unfounded. I am attempting to make minimalist compositions with guitars, using similiar textures as the aforementioned genres. People often tell me that the music "doesn't go far enough " or is "too subtle " ...when the fact is that all these things are intended, based on the genre that I am trying to represent. Experimental music is infinite based on the number of variables we have today, and we have to have an open mind when listening. It can become very tedious to walk into a show and hear musician after musician banging on a single drum and playing childrens' toys for unique sounds, but you never know who is going to get up on stage next and what they have to offer. It is a wonderful experience when you hear someone, and you "just get it " ... and I think that is the wonderful thing about experimental music. It is not a competition, it is a connection between people... and the basis for that connection is often intangible and incommunicable. It's not about being louder, faster, more technical, or more popular. It's just about saying what you have to say.
Currently Promoting / Latest release: I just released my album Cradlesongs with Hidden Shoal Recordings on June 26th, which is a collection of compositions that are fairly bittersweet and cover the spectrum from soft and subtle to more plodding and epic.
The UK label Phantom channel is also releasing an EP that I made entitled Lamenter which consists of more soundscapes and experimental loop-based songs than does Cradlesongs. Phantom Channel is releasing Lamenter as a free download, and I am very excited to see how people react to it. I think that both CDs have very different offerings.
Currently Working On: Not working on much right now, other than trying to figure out how to play a violin I just purchased. I have an emotional basis for new work, and I am going to let it mature as slowly as it needs to. Right now I am giving myself ample time to expand upon my current strengths as well as explore new territories.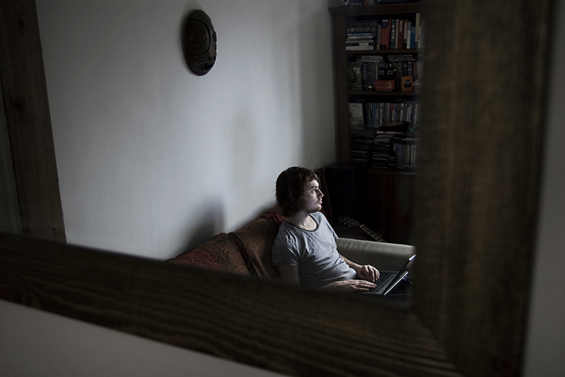 TALVIHORROS
Birth Name: Ben Chatwin
Currently Located: London, UK
Background: Talvihorros is the studio project of London-based Ben Chatwin who explores the electronic manipulation of acoustic instruments. Primarily a guitarist with a background in live performance, his solo work now involves integrating acoustic, electric, and prepared guitars with organ, piano, banjo, analog synthesizer, and an array of percussion instruments to create a unique voice in modern electronic music.
Personal Style, Philosophy, or Approach: I try to make music that exists and interacts with the real world. I enjoy playing instruments and composing at a guitar or piano; it's important to me that my tracks are composed away from a computer and with real instruments. Saying that, for some reason when I decide to 'make music' the first thing I often do is sit down in my studio and turn on my computer and stare at it waiting for something to happen (it never does)!
I favour old analog equipment and recording medium such as tape as it clearly sounds so much warmer and more organic compared to the digital counterparts. What really interests me though is introducing a modern digital element to contrast with the organic. What I find to be the most exciting area in modern music—the lines where the organic and electronic blur—is where I choose to work. I like to hear real instruments sounding very electronic and electronic production that sounds as organic as it can—the blurring of the lines between analog and digital, man and machine, etc.
Gear and Working Methods: Guitars: Fender Toronado, Modified Squier Jagmaster, Washburn Acoustic, Banjo; Amps: Peavey Delta Blues, Old 1980s Guyatone Valve Amp; Synths: Roland Juno 6, Yamaha SK10 Organ, Korg DW8000, Yamaha SY-22 Home built PC and tons of effects units.
I make most tracks over a period of time, and slowly write the basic composition (chords and structure) on either guitar or piano/organ/synth. When I feel it's ready the composition is recorded into the computer initially. I then add more instrumentation, usually recorded in a more improvisational manner. I heavily process everything using mostly old digital and analog echo/delay units to create thick textures of sound. I enjoy using overloaded analog equipment which creates a warm distortion, and also taking advantage of tape for this effect and others such as for natural phasing and compression. Radio transmissions/static or field recordings are often employed for a random or more human element and to create mood. Percussion instruments are also used for subtle rhythmical interest. I try to stay away from using the computer to do anything other than basic recording and mixing although on some tracks I will use the computer for heavy processing or manipulation. Analog equipment and real instruments are however always preferred over digital or computer plug-ins.
Influenced By: It's hard to single out composers or musicians that have specifically influenced my musicas I listen to so much different music from around the world and I'm sure it all has some sort of an effect on the music I make, and I'm certain the equipment I use and the space I live and record in has far more of an impact on my overall 'sound.'
Certain albums have had a profound impact on me over the years: Steve Reich's Music for 18 Musicians, Erik Satie as performed by Reinbert De Leeuw, Mogwai's Come on Die Young, and Swans' Soundtracks for the Blind come to mind but probably the biggest influence is film. In the making of Some Ambulance I watched a lot of Werner Herzog films, most notably Encounters at the End of World and Wild Blue Yonder; some of the imagery in these films has stayed with me for a long time and directly influenced the direction I've taken in certain compositions.
Favourite Guitarists: When I first picked up a guitar as a teenager it was guitarists like Jonny Greenwood, who made the guitar sound more like an electronic synthesizer than a guitar, who inspired me to pick up a guitar. Nowadays this ethos has been taken to the extreme with people like Fennesz, Tim Hecker, and Oren Ambarchi who really do use their guitars to make music that is so far removed from the capabilties of traditional guitars. I'm not really interested in technically proficient guitar playing; using the guitar as a sound source to create beautiful textures is far more exciting to me. Keijo Haino is another interesting guitarist I've been listening to a lot of lately.
Desert Island albums: Hmmm, tough one this; I think these records all stand out as being complete artistic statements, strikingly original yet emotively powerful too:
1. Oval's 94 Diskont
2. Oren Ambarchi's Grapes from the Estate
3. Tim Hecker's Radio Amour
4. Labradford's Mi Media Naranja
5. Keith Fullerton Whitman's Multiples
6. Deathprod's Morals and Dogma
Dream Collaborator: It would have to be vocalists. I'm going to be working with a singer called Woodpecker Wooliams in the future which I'm excited about. To work with vocalists like Julee Cruise, Alison Shaw of Cranes, or Liz Frazer from Cocteau twins would be a dream!
Life-Changing Concert Experience: I saw Radiohead tour OK Computer when I was fifteen and that was one of those moments that moved me enough to realize that music is what I want to do with my life. The power of a group of talented musicians playing live together is amazing; they seemed to have this powerful energy coming through the music they played that night.
I find solo performance usually lacks the dynamics of a larger ensemble, although last year I saw Joanna Newsom who blew me away; her harp playing, her singing, and her songs are all remarkable— probably the most impressive solo performance I have ever seen. It made me understand Ys so much more seeing her play it live.
I recently saw Philip Jeck perform Sinking of the Titanic with the Gavin Bryars Ensemble, which again was an incredible, dreamy experience. The music really transported me out of the concert hall and to a whole other place entirely. Jeck integrated himself perfectly into the ensemble, almost leading them at times.
Proudest Accomplishment: In my very short career so far it would have to be completing Some Ambulance. I think after many years playing music in various forms I have finally made something that represents me as a musician and composer. I'm looking forward to moving on to the next album and taking that one out on the road with the band I'm in the process of forming.
Take on Experimental Music in its Current Form: Music is in a great place at the moment, although there are no important youth movements like there perhaps used to be; it seems that everything is a big melting pot of styles—genres blur and experimental music and popular music cross over more than ever. Bandslike Deerhunter and Animal Collective flirt between very experimental releases followed by pop masterpieces.
It has never been easier to record great quality music in one's own home on budget equipment and the avenues for self-releasing are looking more and more lucrative. It's almost tiring and frightening to think about how much great music is out there waiting to be found. Only very recently I discovered the world of Natural Snow Buildings and all the related side projects. I was shocked by the sheer quality and quantity of the music these guys are putting out. Likewise Fabio Orsi from Italy is building a really great body of work released mostly in limited editions on various small labels from around the world.
Currently Promoting / Latest release: Some Ambulance on Benbecula
Currently Working On: I'm re-recording "Etude II" from Its Already on Fire into around a ten-minute version for a short film. I'm really looking forward to seeing the end result as it's looking good already. This new version will appear on my next album which is well under way; it will be a collection of Etudes (around ten in total: the first two are on It's Already on Fire, the third and fourth are on Some Ambulance) and will be called Studies for Acoustic Guitar and Electronics. All pieces were written and composed on acoustic guitar before being taken into the digital domain with electronic elements added.
September 2009