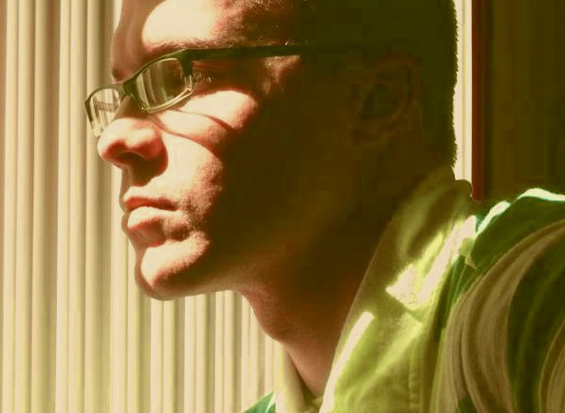 SLOW DANCING SOCIETY: TOP 10 ALBUMS THAT CHANGED MY LIFE
Listeners familiar with Drew Sullivan's languorous Slow Dancing Society style may be surprised to discover how few electronic releases inhabit his selection of life-changing albums. Furthermore, anyone who's basked in the immersive splendor of 2006's The Sound of Lights When Dim, last year's The Slow and Steady Winter, and the just-released Priest Lake Circa '88 may be surprised to hear Sullivan express such affection for Marilyn Manson, Def Leppard, and Queensryche. But ultimately the beauty of lists is their tendency to flout expectations and reconfigure our impressions of a particular artist. Certainly every one of us, if asked to do the same, would devise an equally personalized list that would take aback even those convinced they know our tastes back to front. Furthermore, the fact that the Washington-based producer looks back with such nostalgic fondness to his formative listening years dovetails naturally with his Slow Dancing Society material in its wistful reflection upon personal paradises lost, the very title Priest Lake Circa '88 and its preoccupation with the fading memories of summer days obvious cases in point.
(in chronological order)
1. Def Leppard: Hysteria (1987)
This album has been a huge influence on me for years in all that I've done musically and I can't say enough about it. I remember buying the cassette when I was seven years old back in 1987 and wearing it out by the end of the summer. When you take into consideration that this album had seven top ten hits, you can see that it's more than just some "one hit wonder" '80s hair band. In fact they weren't really a hair band at all. Sure, like most rock music that came out of that era, the lyrics were about partying, chicks, and rocking out, but the music is so richly layered and sonically beautiful it doesn't even matter what the words are. Mutt Lange's production on this album is so ahead of its time and now so overly abused by modern pop and rock music it's a shame that he and the group don't get more credit for it. Although I've always been fond of the over-the-top arena rock of the '80s by bands like Poison, Warrant, Cinderella, Winger, etc., they just don't measure up to Hysteria. This album is so timeless and not really cheesy at all; it's just guilty by association of its peers.
2. Danny Elfman: Edward Scissorhands (1990)
I remember seeing this movie for the first time and being blown away. Not only is the film amazing, but Danny Elfman did exactly what's intended of a score: make it work with the film. Too many times movie scores are just plain old boring pieces of symphonic work that never really seem to match the emotion of what the film is saying; it's as if they're saying, "Let's just throw in a violin here to make it feel emotional." Elfman, however, incorporates choirs, chimes, orchestras, and the whole nine yards and somehow finds a way to weave a gothic-like fairytale beauty that has probably been one of the biggest influences on me in terms of how I approach melody and ambiance.
3. The Cure: Wish (1991)
I've loved everything that The Cure has done so this was really a close call between Disintegration and Wish but the latter's just so well put together and captures so well the overall sound of who The Cure is as a band until this point. Most of the earlier work was too much based in one particular style, whereas Wish is the perfect combo of gloom, glee, and beauty. I don't feel that The Cure and this album in particular get enough credit for their splendor as too many people focus on the earlier work. It's almost as if most people don't want to give credit to an album if it's too commercial and not indie enough.
4. Prince: Diamonds & Pearls (1991)
Far too often Prince is credited for his success with Purple Rain, which is an amazing album and one of my faves, but Diamonds & Pearls is really his masterpiece. There are so many facets to Prince's repertoire, and for that reason alone he has a huge fan base that can be triangulated, depending on a particular album but Diamonds & Pearls captures the Dirty Mind -edness of his early work, the rock-soul-synth fusion of 1999, the feel-good party vibes of Purple Rain, the deepness of Sign O The Times, and the plain sexiness of Lovesexy. I'd also argue that Diamonds & Pearls is his most layered and well-produced album too.
5. Queensryche: Empire (1991)
Queensryche is another band that is too often deemed guilty by association with the era of which they were a part. Nonetheless, in my opinion, Empire is the most accessible of all of the band's output. The early stuff is too mystical, the later stuff like Operation Mindcrime (although amazing as well) is deeper than most people want to go in the political sense of a concept album. Empire, however, is great progressive rock. I've always thought of this album as what would come out of a studio if Rush and Pink Floyd made an album together. You've got the cerebral vibes of Pink Floyd with tracks like "Silent Lucidity" and the sonically progressive aesthetics of Rush with "Jet City Woman" and "Best I Can." I saw Queensryche live on this album tour in '91 with my father and I remember being amazed at how great they sounded compared to the album. Most live acts suck in relation to their studio work, but these guys were fantastic.
This album is similar in sound to Def Leppard's Hysteria with its nicely polished and glossy sound. I always shake my head at those who say that a glossy sound is too commercial and something of a sell-out. No way! When did gritty drums and vocals and lo-fi recordings become artistic? We all know very well that lo-fi spawned from not having proper gear. Okay, so let's just make a shitty sounding record and say we're artistic for doing it? Haha. C'mon! Look at Metallica's stuff. Great sounding albums all the way through and then, when they decide to be artistic and do a crappy recorded record with St. Anger, the album flops.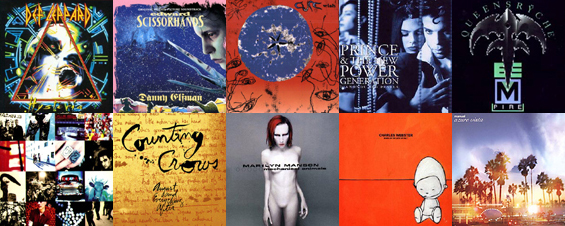 6. U2: Achtung Baby (1991)
Another commercial success here and realistically not as deep and artistic as The Joshua Tree (which doesn't need to make a Top 10 list cuz that would be a moot point— The Joshua Tree is the list!), but Achtung Baby was U2's most ambitious album until this stage in their career. The Edge definitely took on a lot more guitar styles here than his typical delay sound and the production by Eno and Lanois is their finest with the band. "One" just kills your heart! Much more experimentation with sound and effects here than before and it's all done with perfect balance.
7. The Counting Crows: August & Everything After (1993)
It was fifteen years ago and I was in the record store on a Saturday night and I had to decide between this album and the new one from The Crash Test Dummies! Am I glad I chose this one. I've always thought that there are moments that if you hadn't bought that album at that particular time on that particular day in that particular mood, then regardless if you bought it a day, a week, or even a year later, it wouldn't have had the same effect on you that it did when you bought it. At any rate, I always come back to this album for its simplicity. It's really just great folk music. Beautiful melodies, simple song structures, and wonderfully emotive lyrics that always touch me.
8. Marilyn Manson: Mechanical Animals (1997)
I was in my freshman year of college at Washington State University when I bought this album on a break between Chemistry and English classes. At this point, most of the world knew Manson for his shock rock and anti-Christian antics, but what came out of this album was quite surprising. Gone was the gritty/gloss production of Trent Reznor and the played out metal/industrial sound of the '90s. Now we had Manson ripping off Ziggy Stardust in the best way possible: Glam Metal with a bit of goth pop darkened by the lyrical subject matter of alienation. The theme of this album was a two-sided story where the future Alien (alpha) becomes, well, alienated and turns into the drugged-out rock star (omega). Long story short, it's an amazing concept album about alienation that scored my college life so well and did what music is supposed to do: make you feel that you're not alone and that someone else out there feels the way you do. I've always wanted to meet Mr. Brian Warner one day to tell him how amazing this album is and how influential it's been on me. One day!
9. Charles Webster: Born On The 24th Of July (2002)
It still blows me away how amazing this album sounds, especially considering the year it came out. Sure, 2002 wasn't that long ago, but any electronic music enthusiast knows how far the genre has come with its production even in the last six years. Webster's music is clearly digital but has such a rich warmth to it, and there's more soul in this album that in most modern Soul albums coming out today. The album also does what so few do and that's progress. It builds and builds from deep electroacoustic folk into smoky down-tempo and then finally into some of the moodiest house music out there.
10. Manual: Azure Vista (2005)
I'd have to say this album rejuvenated my love for shoegaze and the '80s again. Jonas Munk (aka Manual) has an amazing knack for melody and this album is so emotive it's sick! I think he's not out there enough in the public eye when it comes to great artists. I think partly because his approach to music (at least as far as I can tell) is so "not trying to be hip" and just about making music that he loves. At any rate, this album is the blueprint for modern shoegaze and '80s fused sounds!
September 2008