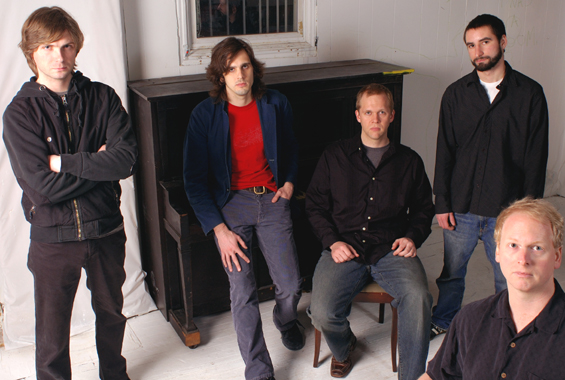 (left to right) Stephen Griesgraber (guitar), Christopher Tignor (musical direction, violin, software), Ben Lively (violin), Theo Metz (drums), Rob Collins (Fender Rhodes, piano) (photo: Katya Pronin)
SLOW SIX
How many artists can boast that their group's debut was selected as a Top 10 classical recording (Time Out New York, 2004) and that they prepared dinners and picked up laundry for La Monte Young? Christopher Tignor must be alone in that regard but the Slow Six leader is a singular talent in other respects too. For starters, his Brooklyn-based "classical" ensemble occupies a unique place in today's musical landscape: largely eschewing the systems-based style associated with Glass and Reich, Slow Six might best be described as an electroacoustic chamber group whose exquisite sound is realized through the interaction of strings, guitars, Fender Rhodes, piano, and digital processing and whose emotive pieces merge the elegance of classical music with innovative production methods.
Tignor's "instrument" is the computer, and its real-time contribution to the music requires some clarification. "I build software programs you play like musical instruments and whose sound comes from processing the other musicians' sounds," he explains. "Using a keyboard or other midi controllers, I take in and transform their material in various ways. For example, I might use a midi keyboard to capture samples from a guitar pattern with my left hand and then play them back in different rhythmic combinations with the other, while simultaneously filtering the sound with a pedal.
"One reason why the computer often feels so subliminal," he continues, "is because its sound is made directly from the sounds around it; even abstracted it can blend in well. The software instrument I used for "Evening Without Atonement" was called Chameleon for that reason. The Rhodes patterns in that piece blend in polyrhythmically with the computer sequences which are themselves made of Rhodes notes sampled earlier in the work (and one violin harmonic). Another reason the computer parts have a quiet presence has to do with my own reaction against what I felt was going on with "Computer Music" at the time. It seemed to me that the music became all about what the computer was doing and the process of how the music was being made, as if to justify what often felt like otherwise arbitrary musical results."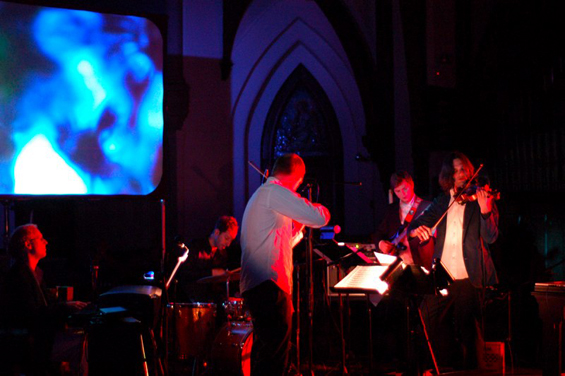 Tignor also has an explanation for why Slow Six eludes easy label capture. "The varying genre-labels signify the music industry's clunky way of recognizing that we're into something unprecedented," he says. "There are many rock bands that use classical instruments and no shortage of composers that tout their popular influences but our music is uniquely color-blind to that whole thing. When we started doing this, bringing our music stands, video projectors, string instruments, and desktop computer into NYC clubs, people had never seen anything like it."
The group's imaginative conception extends to its live presentation. "Two fantastic video artists Lee Whittier and Shimpei Takeda have created pieces to accompany many of our live shows," says Tignor. "We've also done some fantastic collaborations with our friends Anemone Dance Theater, a modern dance troupe influenced by the post-war Japanese Butoh movement. These kinds of projects are some of the most gratifying for us, as they allow the music to live in a context beyond the club or concert music setting we're so accustomed to."
First issued on Tignor's own imprint If.Then.Else in 2004, Private Times In Public Places was recently re-issued on Western Vinyl following the release of Nor'easter on New Albion. The two recordings are dramatically different: the debut's three pieces sustain serenading moods for twenty- to thirty-minute durations, with violinist Maxim Moston weaving sinuous lines across slowly shifting terrain; on the ambitious follow-up, the lyrical dimension is augmented by agitated, uptempo passages; in addition, the string writing is more layered and intricate, and the guitar more prominent.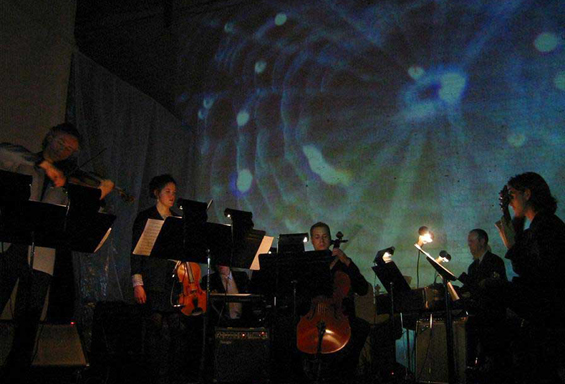 Asked to account for the debut's elegiac tone, Tignor says, "At the time, there was the internet boom, everybody had too much money, Moby was on all the billboards, and the whole thing couldn't have seemed more isolating and insincere to me. So I decided I wouldn't pull any punches when I felt depressed or ecstatic, and just go all the way with the aesthetic, and that included the titles which have a personal meaning I felt spoke to the music. At the time, one of my jobs was making La Monte Young and Marian Zazeela's dinners and picking up their laundry and other servile tasks and I discovered he had these fantastic and ridiculously long titles about the dreams of step-down power transformers and other things." (Slow Six perpetuates the tradition with titles like "The Lines We Walked When We Walked Once Together" and "The Pulse Of This Skyline With Lightning Like Nerves.") And what might we expect from the group's next recording? "We're most of the way through creating the music for the third record and hopefully will record it sometime this summer. Think improbable, odd-time polyrhythms, heart-breaking melodies, broken breakbeats, and even the return of AM radio banter."
Tignor deliberately composes the group's music so that musicians can enter and create, choose phrasing, interpret dynamics, and, in his words, "do everything else needed to instill those black dots with human warmth. My goal in creating scores is to provide a map for players to find their own character in a landscape I've imagined. David Lang and I were talking and he said something like, "As a composer, sometimes you want the world to look directly at you and sometimes more obliquely." My style has always been the latter, for the composer to be as absent as possible once the music's living on-stage and to get out of the way to allow that magic ritual between performer and audience to happen."
February 2008