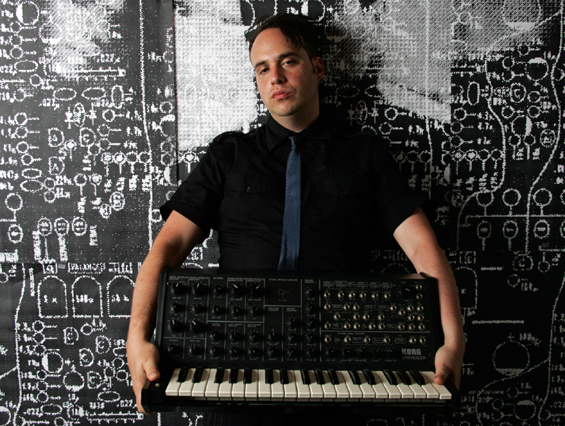 SOLVENT'S TOP 10 NEW WAVE / ELECTRO-POP RECORDS
Jason Amm has been showered with deserved praise for his superb Solvent material, and for neophytes especially there's no better time to become acquainted with Amm's talents than his latest Solvent collection, Demonstration Tape (1997-2007), a 27-track set that includes out-of-print classics, signature songs (e.g., "My Radio"), and three previously unreleased songs. Robot music producer and vocoder fetishist Amm, who also operates as one-half of synth-pop outfit Black Turtleneck, generously made time to contribute the following list to textura's Top 10 series.
1. Yazoo: Upstairs at Eric's: This is, in my opinion, THE crowning achievement in the synth pop genre. Hands-down, my all time favourite record. Every sound and melody is so bold, imaginative and perfect—everything in its right place. Perfect headphone listening for synth geeks like me, but with songs that are accessible enough to be played in mainstream bars and pub jukeboxes all over the world.

2. V/A: Mute Audio Documents «1978 - 1984» : I've had so many of the tracks on this 10-CD box set memorized since I was sixteen, and I'm still awestruck. Best Music Ever. Highlights include all of the early Fad Gadget 7-inches, and the single that set the blueprint for cold electro-wave, and still has yet to be bettered, The Normal's "Warm Leatherette/TVOD."

3. Soft Cell: Bedsit Tapes/Demo Non Stop: These 2 CDs were recently released by Some Bizzare, and comprise Soft Cell's early demo recordings. I recently read that Factory Records expressed interest in signing Soft Cell after hearing some of these tracks, and it's no wonder; the songs, most of which were never re-recorded, are definitely some of Soft Cell's best and most clever.

4./5. Depeche Mode: Speak and Spell/Violator: Depeche Mode's first album is definitely my favourite, and includes some of their most perfect and unpretentious pop songs; more important is the pronounced involvement of my favorite synthesizer pop scientists, Vince Clarke and Daniel Miller. Then it all went slowly downhill from there IMO, until nine years later, when they briefly re-discovered the power of analog synthesizers and made another masterpiece with Violator.

6. Skinny Puppy: Back and Forth Vol.1+2: This is their early demo tape stuff, recorded on porta-studio cassette in the early '80s. This is dark and funky synthesizer dance music that still sounds absolutely fresh and inventive today. The rawness is addictive!

7. Gary Numan: The Pleasure Principle: I don't like to use the word "rocks" as a verb meaning "good," but when I hear songs like "Metal" and "Film," I find myself wishing I was in a stadium pumping my fist with 30,000 other Gary Numan fans. I guess this probably rocks then, doesn't it?

8. Human League: The Golden Hour of the Future: Early demos and previously unreleased tracks from the Human League, which just came out for the first time a few years ago on Richard X's label Black Melody. I love the whole vibe of early Human League. Kraftwerk are most often revered as THE synth-pop originators, but for my tastes, Human League's contributions in the late '70s are even more exciting. This record perfectly illustrates my point of view. A lot of it is like Tangerine Dream, only with all of the hippy/crap elements replaced by the sharp British wit of Dr. Who.

9. Japan: Tin Drum: When it comes to Japan, I throw in the towel; I have no idea how they programmed some of those sounds or wrote such seemingly awkward, yet gorgeous, music. The synth and fretless bass work is just so rich and exotic, and combined with Sylvian's quintessential new wave croon, this album just oozes class.

10. Front 242: Geography: So perfectly cold and Belgian, like a Stella Artois! The sequencing, synthesis, and production on this proto-EBM masterpiece is strikingly advanced.
March 2008