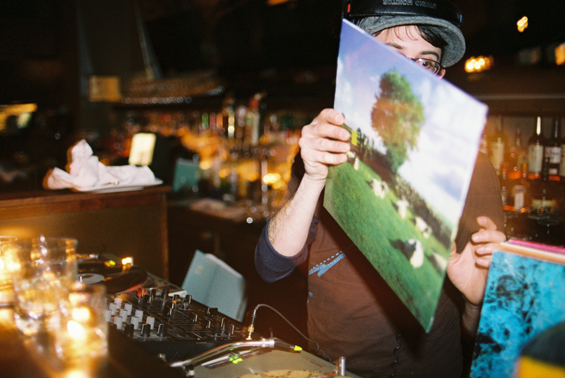 STRATEGY'S TOP 10 TINY LABELS
Having just released the Strategy "ambient" collection Music for Lamping, co-curated the Ambient Not Not Ambient compilation (both Audio Dregs releases), and the Electric Soup 12-inch (Low Point), Paul Dickow sets his sights on a slew of Community Library projects, including DJ C & Zulu's Darling 12-inch, a Units reissue, and new full-length from The Evolutionary Jass Band. As if that's not enough, Dickow's got more material in the pipeline, specifically remixes and new Strategy tracks, plus he's playing with the bands Smoke & Mirrors and One Human Minute. And—oh yes—the Portland-based MVP even found time to contribute a Top 10 list to textura. Without further ado…

Paul Dickow: I realized that I'm trolling the internet these days for ordering music direct, with music distributors avoiding certain labels, going out of business, or not stocking back catalogue. And, of course, many labels are wisely not choosing traditional distribution routes at all, subsisting almost entirely on word-of-mouth and Web networks of support, micro mail-order houses, etc. While I'll never abandon Portland's amazing record stores, the mail-order life reminds me to some extent of when I lived in a rural area as a teenager, writing to labels and mail-ordering music that wasn't available locally. Here are some labels that I check in on and whose releases I have really enjoyed recently. Numeric order does not indicate preference so much as the order in which I'm thinking of them. Unfortunately, ten labels just scratches the surface!

1. Low Point
Full Disclosure: Nottingham, UK's Low Point just released a 12-inch EP by me; however, I still primarily come to them as a fan and guest. They released two things by my dear friend Chris Herbert, a limited CDR and split 7-inch, respectively, that are brilliant. Low Point represents the perfect balance between local and international, small edition and high class presentation, the kinds of flexibility, balance, and sense of cherishing the final product that I hope to find in any good label.

2. Hoss Records
I don't know much about their wheres, whys, or hows, but I learned of them through their vinyl releases of WZT Hearts releases. Turns out they've done a number of split 12-inches featuring oddballs from the Brooklyn/Baltimore/Atlanta axis of East Coast awesomeness. (I owe them some ComLib discs on a mail swap—whooops!) The vinyls are all top-notch so far, experimental and uncompromising but also fun, inclusive, and well-made.

3. Tr/d W/d
A bunch of old roommates left Portland years ago and this label, run by chief troublemaker Andy (aka Doggerella Decided Upon), is a sort of collective affair, mainly tapes but also some vinyl, top-notch noise and fun from this crew of which Reanimator (on my own ComLib) is a part. Impractical Cockpit, Common Visions, Pink Fever, and Flak Mask are some of my favourites but I get excited for any of them. This is DIY noise improv punk at its most potent and I can't wait to complete my collection. No web site, no e-mail, and I can't tell whether they're located in Maine, New Orleans, or what, so you'll have to get this stuff at the next Impractical Cockpit show in your town.

4. Phaserprone
I've yet to explore their entire catalogue of ridiculously limited vinyl cassettes and CDRs but I picked up the UW Owl LP and it's an astonishing gesture of gothic, non-dance drum machine electronic music. Hints of the noise scene are present and nods towards drone, early Mute- and Cabaret Voltaire-type stuff, and so on, but mostly what we have is pure originality and vision. Killer packaging; I'm told these guys are in school for craft printing.

5. Entr'acte
Been following this label as much as I can since I heard the CD by Birmingham concrete/experimental computer musician Helena Gough, and have since picked up their stuff stateside but it's difficult. Worth it however: amazing vinyl and CD production and packaging, this is deeply engaging experimental music at its most detailed and listenable, lovingly curated with a wide scope ranging from computer shenanigans to more handmade electroacoustic stuff.

6. Tapemountain
Jake Anderson will kill me for posting about him up here, but Tapemountain is my top favourite super, super handmade indie label so I can't not list it. I first met him in the days before the world wide web, swapping reviews of preset/sideman rhythm boxes like the Maestro Rhythm Jester and tapes via mail. Years later, he ended up in Portland, doing CDRs by his prolific Spirit Duplicator project as well as Taken Girls and others. Jake is a genius with outdated thrift-store replication techniques, so a mimeographed (dittos!) aesthetic and IBM selectric typewriter fonts tie his catalogue together. Musically, he's been on the cutting edge of the lowbrow-yet-not-lowbrow lo-fi songrwriter scene. This is no early Mountain Goats/New Zealand imitation; however, sonic experimentation and truly bizarre instrumentation abounds, with gestures to everything from minimal wave to Talking Heads to harsh noise.

7. Audi Sensa
I am coming onto Sandro Perri's 'dance' (?) label late in the game as many of these titles came out a few years ago; however, they're still available from his web site. As someone with hands in (superficially) unrelated genres, I look to Sandro as a kind of long-lost peer/cousin/comrade and these recently purchased Audi Sensa 12-inches hit the spot. Cog, Polmo Polpo, and Dot Wiggin play super muted, encrusted dub techno, deep bass, and engaging psychic metronome work here; file under Amazing Unknown North American Dub Techno and play at every stoner techno party. Truly handmade electronic music presented in screened chipboard sleeves with no info. Perfect.

8. Sonic Lozenge
A relatively new label in Portland I don't know well, but they've done a couple of super strong local releases with almost no means or distribution. Their Gulls (aka Jesse Johnson, trumpet player for Evolutionary Jass Band) CD and recent 12-inch are totally perfect examples of Portland's NO GENRES ethos. I expect to hear great music from this label, centered around electronic musician Michael Bruce, and other pals related to the Trade Up gear shop gang.

9. Mississippi Records
As long as I'm talking about tiny labels with no web sites (I think?), Mississippi Records also of Portland are keeping it totally real. A label based out of one of Portland's most welcoming shops, Mississippi is easily keeping abreast of Honest Jon's, Soul Jazz, and others in the reissue universe, releasing the occasional current/local album as well. Their selection of long-lost 78rpm music in the gospel/blues/country/strange zone is beautifully curated and albums from Tara Jane O'Neill and Evolutionary Jass Band (vinyl only) have become landmark local titles.

10. Little Enjoyer
One of the few labels in my lineup that does have a (bare bones) web site, Little Enjoyer was started by some college friends who moved out to New York. I have been on the edge of my seat for all of their titles—all limited edition pieces by sound artists at the top of their game. All of the releases are standouts, not off-the-cuff Noise Scene CDR gestures but totally considered and curated pieces thematically tied together. A strange "animal sounds" thread seems to carry on throughout. My next trip to visit them in New York will surely introduce me to even more tiny labels I will need to start collecting from!
May 2008