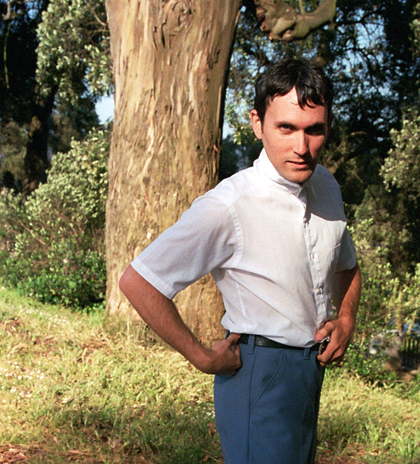 SUTEKH
Though it might seem as if Seth Horvitz has been keeping an inordinately low profile since his Sutekh full-lengths Incest Live (Force Inc.) and Fell (Orthlorng Musork) dropped three years ago, a few 12-inch discs have materialized in the interim as well as a tidal wave of remixes, many of which appear on the masterful glitch-funk collection Born Again. Don't think the albums' twenty-three tracks (grouped into a '2004-2005' disc and a slightly clubbier '1999-2002' set) were churned out like so much assembly-line product either, as Horvitz wields his digital scalpel with an artfulness too seldom heard in the genre trade. Even better, he imposes his own indelible fingerprint without ever entirely losing an original's character. The set's considerable stylistic range extends from sparkling wonderlands (Hanne Hukkelberg "Ease (In C mix)") to ridiculously deep glitch-soul-techno fusions (Ben Nevile's "Vancouver and Fairfield remix") and infectious stutter-funk throwdowns (Ammoncontact's "Baila con los Niño(s) (Trabajadores mix)"). The dramatis personae associated with the second disc's play list—Alva Noto, Portable, Geoff White, Swayzak, Safety Scissors, Stewart Walker, and Auch (Ekkehard Ehlers)—reads like a veritable Grooves index.
Contacted while on a European tour (his current laptop set featuring bits and pieces from old albums and singles, remixes, and unreleased material), the San Francisco resident clarified his remix philosophy. "I think Born Again shows how much the idea of a 'remix' has changed over the years, with the line between 'remix' and 'collaboration' now much finer. Although I never work on remixes in the company of the original artist, I often pick and choose sounds from several tracks, and in some cases, the artist will provide additional material that's not even included in the original composition. My method of approaching a remix is often similar," he continues. "First, I try to analyze the song to determine its strongest and most memorable elements. Then, I scavenge the track for interesting sonic material to sample, some of which will remain intact, while others may be processed in various ways. The first stage of assembly is usually the rhythm, and the remix works its way upward and outward from there. I usually add some of my own melodic elements and a new bass line while incorporating some recognizable elements from the original. With some of the recent remixes that incorporate vocals (specifically, the Hanne Hukkelberg song and the Lawrence Weiner/Ned Sublette piece "Big Bang/New Flora (Death Row mix)"), I've departed from this technique and opted for a more conceptual approach based on the content of the originals. For the Weiner/Sublette mix, I found dozens of renditions of "Row, Row, Row Your Boat," everything from cell-phone ring tones to children's rock to New Age piano, and collaged them together with elements of the original track, which is itself a re-interpretation of the traditional song."
Born in Los Angeles, California in 1973, Horvitz survived a teen fixation with Prince, subsequent obsessions with Depeche Mode, Joy Division, and the Cure, and university studies in California and India before making his electronic recording debut in 1997 on the Belief Systems comp Swivel. Having adopted the alias Sutekh (an Egyptian variant of his name), Horvitz proceeded to issue everything from minimal house and techno to noise collages on Cytrax, Force Inc., Mille Plateaux, Source, and Background Records, as well as his own Context (established in 1999). Which brings us to Unravelled Mix, a 70-minute set released in January 2006 that features 30 tracks spanning all 16 releases in the Context catalog. "It's mixed in the old-fashioned way, with turntables and a DJ mixer," Horvitz says. "Much of the Context catalog is available as vinyl only, so the mix is a chance to showcase the material on CD for the first time." Not surprisingly, the Context Free Media label head has other irons in the fire too, including music and sound design for a 35-minute film titled The Death of Doctor Island and Pathogen, a feature-length movie by independent filmmaker Sharif Nakhleh, plus a fourth Sutekh full-length he's prepping for a 2006 release. Asked for some hint of what we might hear, he replies, "There'll be some vocals (one song features Ana Machado of the band Pepito who records for Static Discos, the label run by the Tijuana collective that includes Fernando Corona aka Murcof), melodies inspired by everything from baroque to blues to gypsy music, and more song structures than ever before. Some disco and funk influences will inevitably work their way in as well. I'm also working on quite a bit of non-beat-oriented material, from textural noise to organ waltzes to church-like chorales that may become a second album."

Such diversity won't surprise listeners familiar with Two Rhapsodies, the recent 12-inch whose material ("Rhapsody on a Theme by Paganini, Variation 17" and "Rhapsody Pathetique in D minor") obviously finds him heavily indulging a classical jones. Lest one think Horvitz is growing too serious, he explains, "The titles are mostly meant to be ironic, although the "Rhapsody Pathetique" is in fact in D minor! The two tracks were released as a 12-inch mainly because I didn't see them fitting on a full-length album." The release signifies a major shift in Horvitz's listening regimen and development, however. "Up until two years ago, I was a completely self-taught musician, but I came to the realization that I needed to understand the traditional foundations of music in order to move forward. I started taking private piano lessons and studying classical and jazz theory (in fact, practicing daily in his San Francisco basement on a baby grand owned by Horvitz's neighbours, Matmos partners Drew Daniels and Martin Schmidt). I often have thoughts of returning to school to study composition and theory, but I will probably hold out until I'm ready to jump directly into a Master's program (since my undergraduate studies in Cognitive Science at the University of California, Berkeley had nothing to do with music). I'm listening to a lot more jazz and classical (from baroque up to modern) than electronic music these days—in general, listening to less music, but listening a lot more closely."
When asked to comment on the 'clicks & cuts' movement that briefly reigned a few years back (Sutekh tracks appear on the first two Mille Plateaux comps), Horvitz minces no words in his reply. "As soon as it became a 'movement,' it was destined to die an early death," he states. "There are already loads of presets in both software and hardware that make instant 'clicks & cuts' sounds which completely defeats the purpose. The whole point is to explore sound in such a way that you are open to accidents and to make new discoveries by actively juxtaposing and cutting sonic material, but many people used the technique to imitate a certain 'sound' rather than create something new. 'Clicks & cuts' is not a novel concept, either; the 'cut-up method' goes back to William Burroughs and Brion Gysin, but they always focused on content, on making new meanings by cutting and juxtaposing existing information. In much of the music that intentionally tries to be 'clicks & cuts,' the content is actually removed. To some, that might be interesting; to me, it's just boring.
"On the one hand, technology and the relaxing of musical rules and structures have the ability to make people lazy and uncreative. Conversely, for the first time in history (perhaps beginning with punk in the 70s), music-making is not a profession limited and controlled by major record labels. The internet is a major factor as it has allowed musicians to spread their music around the world instantly. This phenomenon has resulted in so many micro-genres, it's almost impossible to keep track, which can be exciting and frustrating at the same time."
Such views clearly evidence Horvitz's current ambivalence about electronic music-making. "I've grown tired of music that achieves its meaning through technology and software (and some of my music certainly falls into this category)," he continues, "but I realize that technology will probably always play a role in my music. The trick is to make the composition itself be the most important part of the music, independent of the technology used. I'm going through a phase of rebellion against technology at the moment, which is strange, because it's often the other way around: the musician rebelling against classical training and finding salvation and freedom in technology."
February 2006