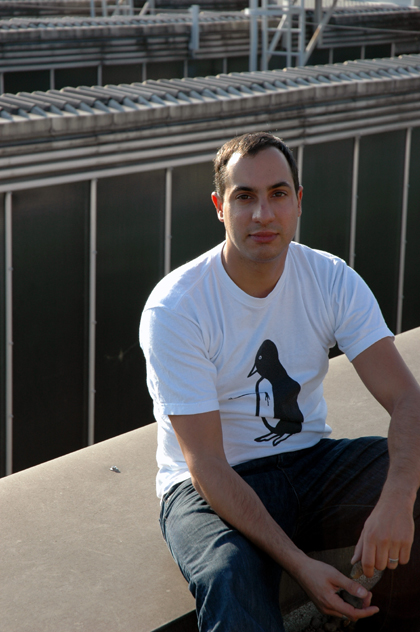 (photo: Robin Roy)
Andy Vaz
An exciting convergence of events looms in the life of Andy Vaz: the arrival of Background Records' 50th release—a celebratory compilation titled Background 50 featuring artists like Antiguo Automata Mexicano, Pascal Schäfer, dB, Rhythm_Maker, Frivolous, and Terrence Dixon—plus his own Live in Detroit CD and full-length album debut Repetitive Moments Last Forever.
The Düsseldorf resident's initial exposure to techno came via early hip-hop and inspired him to host events featuring American artists such as Todd Sines and Ectomorph in places like Cologne. While Vaz's developing vision of techno was future-oriented, his interest in techno's roots was strong too, so much so that he made numerous trips to Detroit in the mid-'90s to meet the music's founders. Having established key connections and witnessing the demise of US labels that had been home to these Detroit artists, Vaz decided to found Background Records as a vehicle for maintaining the life-force of minimal techno. "It seemed like a logical idea to create a steady home for the music since it was indeed needed at that time," Vaz explains, "In 1998, a strict minimal techno label was rare, unlike today where you can find one in any corner."
While the label therefore found its initial inspiration in Detroit's ultra-minimal strain (Futuristic Experiments Chapter 1, for example, features work by Terence Dixon, Ectomorph, and Sines), Background Records has also encompassed the German sounds of Submania & Ekmoah and Rhythm Maker, the California laptop sound of Kit Clayton and Sutekh, Canadian minimalism (Akufen, Jeff Milligan, Frivolous), glitch, and clickhouse. More recently, the label has witnessed even greater stylistic breadth via Mitchells Raccolta , Australian Dave Miller's broken-beat/ experimental jazz hybrid, the soulful experimentalism of Vienna's db, Portable's futuristic Afrohouse, and Antiguo Autómata Mexicano's multi-textured Microhate. In addition, the Background Records sub-label A Touch of Class recently issued The Original Dimensions, The Repeat Orchestra's updated re-interpretation of Larry Heard (a.k.a. Mr. Fingers) and the early Chicago house sound. Vaz also has established the nameless [---] label for his Soundvariation material—a 12-inch series in 10 installments, eight issued as of this writing, each of which created from a circumscribed and recycled pool of sounds.
Though he's proud of Background Records and its progeny, Vaz is equally excited about Live in Detroit, a crystal-clear, 68-minute streaming mix recorded at the Motor City's Club Oslo. "Live in Detroit doesn't strictly follow the Soundvariation concept," says Vaz, "but is more diverse, opening with a glitchy mellow mood and then turning towards deeper house-influenced tunes and more driving minimal techno. I wanted to keep the set flowing and grooving, to make people dance without betraying my own sound."
Meticulously assembled and arranged, Live in Detroit is both a stylistic overview of Vaz's catalog and a significant departure from it. The music's wide-ranging trajectory makes for compelling listening—clacking house pulses in the aquatic sixth section gradually escalate into a broiling mass and then climax in part 11 with rapid-fire, bubbly bass lines powering a minimal groove. But the album's most distinctive (and, for Vaz, unusual) feature is the incarceration theme developed through vocal samples. In the opening section, a hallucinatory "we" repeats at different pitches, drifting through granular haze, as a prelude to a male voice's weary intonation, "We outside aren't supposed to feel connected to the people inside." The theme is taken up even more intensely in part four, the set's epic centerpiece, where "To those on death row" joins the first phrase, the two interweaving over a hypnotic, clanking base.
"The repetitive voices act as a teaser for 'People Inside/Outside,' which has always marked the peak of my set," says Vaz. "As you say, the track is rather untypical for me; it's totally loop-based with lots of elements fading in and out. In fact, I discovered the voice samples in a leftwing bookshop in Detroit close to the house where I stay during my regular trips to the city. One day, I purchased books on the city's history and Afro-American culture, stuff like WEB Du Bois' The Souls of Black Folk, Dan Georgakas' Detroit: I Do Mind Dying, H. Rap Brown's Die Nigger, Die!, and a biography of Mumia Amu Jamal. The Mumia book included a CD that had interviews with him when he was on death row and included the phrase, 'We outside aren't supposed to feel connected to the people inside'—a line I felt basically summarized the book's theme."
As to why he chose to issue the album, as well as the 2004 First Aid Course EP, on the Italian Persistencebit label rather than on his own Düsseldorf-based imprint, Vaz offers a characteristically detailed explanation. "Sure, I could have released it on Background Records, as its less-experimental and more-linear dance sound was totally removed from the Soundvariation concept," he says. "But, first of all, I don't think that Background Records would have gained more attention from my own release, and, secondly, the idea of establishing new relationships with new partners is appealing."
Vaz admits that issuing music on labels like Telegraph (2004's Shrinking Cities EP) and Persistencebit has other advantages, too: "It's nice not having to press the material myself and handle everything from manufacturing to distribution and accounting, etc., which also leaves me more time to run Background Records, produce Soundvariation, tour, and actually create music and get it released." Music like the kind dominating his latest release Repetitive Moments Last Forever, for instance. Shifting gears from his other work, the latest album downplays minimal clickhouse and the free jazz-influenced experiments of the Soundvariation series for a fresh house style that favours soulfulness and strong, almost old-school grooves over technical perfection. The album's eight pieces of shape-shifting future-techno reveal traces of hip-hop, broken beat, house, acid, and electro and also pay tribute to the electronic sounds of Vaz's past.
While Vaz sometimes enjoys being freed from physically producing records, he's ambivalent about music's digital revolution. "I've always believed that vinyl is the best format and should be saved and protected," he says. "I never download MP3s; I need to have a physical product in my hands that can be touched and felt, where you can see the groove and put the needle in it. Of course, I'm thankful for every purchase and legal download of the Background Records repertoire as it keeps the label alive. As far as DJing is concerned, I think that the argument for using [DJ software] FinalScratch in place of carrying heavy record boxes is weak. If you are a DJ, that's what comes along with it; it's a unique art form which shaped the face of the entire techno/house genre. If you believe you can't carry your records (which is the thing it's all about in this music), you're doing it for the wrong reason. Maybe you should start thinking about playing a flute. That's an instrument that's easy to carry around."
February 2006