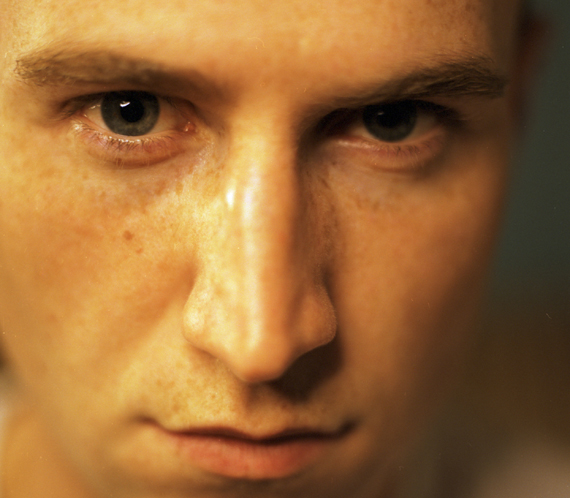 GEOFF WHITE
Aeroc, Geoff White's choice of moniker for his recent Ghostly full-length, might suggest he's some sort of prankster and his music, by extension, full of in-jokes. "Of course, the name is a bit of a joke," he says. "Pronounced "eye rock," it kind of makes fun of that whole "I rock!" mentality. And the fact that Viscous Solid is so free of "rock" qualities only makes the joke funnier, I think." Don't, however, be fooled. While White's as affable and unpretentious a man as one might hope to meet (as I discovered when I spoke with him in Montreal last June), he's ultra-serious about music quality as the superior craft of Viscous Solid demonstrates in spades. He graciously agreed to discuss his background and latest releases, in spite of the fact that a pressing sound-check demanded his attention.
White's a recent addition to the Ghostly International roster, so we begin by delving into his experiences with different labels. After all, he's released work on Force Inc., Traum, Proptronix, Background Records, Morris Audio, Cytrax, and his own Edit Audio imprint. The 2001 Force Inc. release Questions and Comments raised his profile significantly and was followed two years later by Discord, a collaboration with Stewart Walker. Obviously the demise of Mille Plateaux disappoints him for artistic and professional reasons, as he was on contract for another album with the label, but the association with Ghostly has proved satisfying, even if it came about in circuitous manner. "I had heard some material by my friends Glen Jenning and Nathan Ober that was all over the place but had some really incredible moments. So after a couple of years suggesting that they refine their music and release it, they said that I could work with the source material if I had ideas. After I remixed and re-arranged it, I sent it to Sam (Valenti) at Ghostly. Ultimately, the project was deemed inappropriate for the label, but it was the beginning of my relationship with Ghostly." (Incidentally, the Jenning-Ober album will be released under the name Populution in the future.)
I ask how the move into electronic music came about. "Years ago, the first time I heard the Studio 1 stuff was like an epiphany as far as changing the kind of music I was interested in listening to," he recalls. "In addition, I had been recording guitar tracks at a friend's studio for awhile until one night we decided to try creating something without guitar and were surprised and encouraged by the results. From then on, I started reading manuals and just kept learning more and more as time went on. My music started getting heard and eventually I signed with Force Inc. The release of Questions and Comments was a huge step as far as visibility and profile are concerned, and then things really started rolling for me."
Viscous Solid represents another radical move, as it's a largely genre-defying work whose lush guitar compositions and ambient drones deviate stylistically from his techno releases. He offers a provocative and elegant explanation for the album's title. "A viscous solid has the properties of a liquid and solid. This phenomenon can be likened to a body of water. The ocean, from certain perspectives, appears to be a solid mass; other points of view reveal its fluid nature. Similarly, old church windows reveal sloped sides with a thicker base and thinner top instead of parallel lines. This is because the glass appears to be solid in our perspective of time, but in geological time the substance exhibits liquid properties." The music definitely conveys fluidity, and there's a natural ebb and flow, not only between tracks with contrasting styles, but within tracks where there's rising and falling development. And, remarkably, White created this interconnected suite of compositions using only guitars and manipulations, though only a small number of its fifteen tracks feature guitar as an identifiable instrument. The delicate opener, "My Love, The Wave Break," features see-sawing layers of strummed acoustic guitars that swell and recede, while the album's arguable peak, "Please Go Wrong," boasts a soulful swaying rhythm that gradually builds in tension as a faintly implied wisp of melody nudges softly upwards and then calmly achieves resolution with a repeating upper note—a marvelously subtle moment that speaks volumes about the sensitivity and nuance White demonstrates throughout the recording.
I ask him to elaborate upon the album's production process. "In some cases, I developed pieces in such a way that I knew how one would segue into the next and composed them with that idea in mind. It was recorded at home using acoustic, electric, and bass guitars only; all sounds were generated from these three instruments. As far as software is concerned, I used Line 6 delay, filter, and modulation modelers, and Electro-Harmonix products. Even though I radically transformed some source sounds, I didn't want the album to sound overly processed but instead clean and clear." When asked about the album's exclusive guitar focus, he says, "Guitar has always been present in my recordings, albeit to varying degrees, but I wasn't really influenced or inspired by any particular guitarists to speak of. I'm self-taught. I found a classical guitar in a closet at home when I was about nine or ten and it seemed a shame for it to be sitting there unused so I started fooling around with it and over time developed some proficiency."
Like a lot of artists, White prefers creating the music to describing it in words. Nevertheless, I ask him to choose a Viscous track and describe the stages of its creation. "It's really difficult to say," he begins. "I generally approach tracks differently each time, and lose myself in the work and switch to auto-pilot. After a couple of weeks or so when I finally have a finished track, I honestly can't remember how it came to be. A lot of times I wish I could re-produce a certain technique but I can't figure out how I did it in the first place. It's really discouraging at first, but it's also a blessing. I'm always finding new ways of doing things and it's best to keep moving forward instead of re-doing what I'm comfortable with."
White's no one trick pony, though. His MUTEK performance wisely eschewed the understated elegance of Viscous Solid for a harder-edged funk, the emphasis much more on clipped beats with the guitars quietly melded into the overall fabric of sound but pushed farther down in the mix. Joining him was fellow guitarist Ben Kamen, co-founder of the label Shinkoyo and graduate student in composition at Goldsmiths College , University of London. Scheduled for fall release on Ghostly's sub-label Spectral Sound are two dance-oriented 12-inch releases featuring three tracks apiece. The first of the two, Ince, includes three superb examples of smooth, minimal tech-house with guitar, if it's present at all, virtually inaudible, the emphasis squarely on the propulsive bottom end. Given the stylistic breadth of his music, one should expect even more surprises when White's upcoming releases appear, specifically another Ghostly album, an album on Cytrax, and more from his Edit Audio label.
October 2004