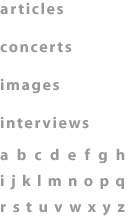 VA: Birth Certificate
I, Absentee
Does the world need another electronic music compilation? Not really, to be honest, though one could do a whole lot worse than I, Absentee's Birth Certificate—so long as one has an appetite for '80s synth-pop in addition to more current styles. Many of these largely uptempo, bright, and bubbly tracks look back and forward but the compilation is most successful when it focuses on material with a post-2000 feel, tracks such as Mall Security's "Playing Pretend," an animated mix of sparkling melodies and stick percussion patterns, and Baloo's "Wanna Be Muscley," a fresh collage-styled amalgam of voice samples and slinky beat flow.
The collection starts off strongly with 21 Jumpsuit's "Who Lives Next Door," a slightly dubby, post-rock setting assailed by mid-section splatter, and Neon Tetra's "Drowning," which deftly merges a lurching pulse with an atmospheric wonderland of synth melodies and echoing guitar textures. The Red Falcon Projects' pretty "The Snowfields" gives drum'n'bass a sparkling white-wash, while Dorosoto's "Fungi Picking Gnome" mix of Black Moth Super Rainbow's "Lost, Picking Flowers in the Woods" impresses too (not surprisingly given the involvement of U-cover's Forrest aka Dorosoto) when its atmospheric textural flow sounds so current, as does the woozy hip-hop flow of Milieu's laconic "Autumn Fog Lifts (Yearbook Version)."
The comp's inclusion of 80s synth-pop may, however, prove divisive: listeners enamoured of Yaz and early Depeche Mode, for example, will cotton to Slap [Unmodified]'s (Thomas Sinclair, one-half of Black Turtleneck) "Harm Reduction" but those less enamoured will likely not. Similarly, D.D. NewMole's otherwise stately keyboard piece "Anniverse" uses old-fashioned synth sounds that may strike some as dated. In addition, "Dual Drool," a grimey slab of writhing sputter by Power Pill Fist, and "Toads and Warts," a brief setting of bleepy synths and jittery rhythms by Boozhownd Doggonit, could've been omitted at no great loss. If Birth Certificate occasionally disappoints, there's still enough good material scattered amongst its seventy-one minutes and seventeen tracks to warrant a recommendation.
June 2008