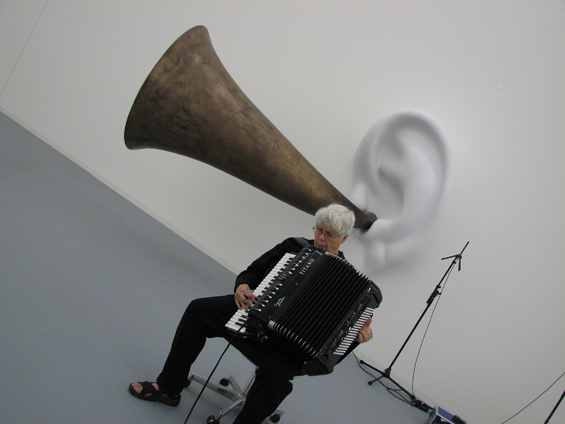 BACKTRACKING WITH THE LAST SENSE TO LEAVE US – A TRIBUTE TO PAULINE OLIVEROS
If ever an artistic figure deserved to be honoured with a tribute compilation, it's Pauline Oliveros, an electronic music pioneer and American composer of uncompromising integrity whose work inspired and continues to inspire legions of fellow creators. The "Deep Listening" advocate and accordionist, who died last November at the age of eighty-four, worked with synthesizer prototypes at the San Francisco Tape Music Center in the 1960s and addressed issues of gender equality long before they became parts of the regular conversation. Though Oliveros's influence extends widely, her work and ideas arguably have had the biggest impact on artists associated with electronic music, including those featured on Rural Colours' tribute collection, The Last Sense To Leave Us (reviewed here). To help celebrate the release, textura asked a representative sampling of contributors, among them the album's producers Keiron Phelan and Oliver Cherer, to say a few words about the tracks they produced for the compilation and about Oliveros herself.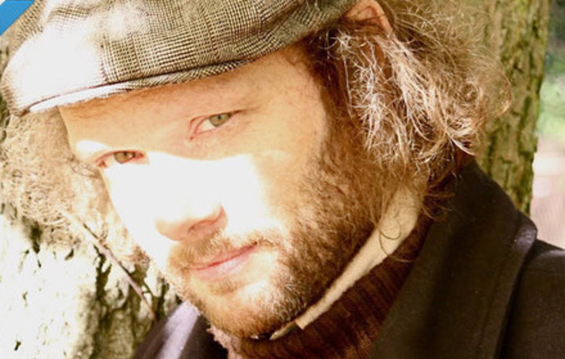 Oliver Cherer and Keiron Phelan: "PO4c"
Cherer, whose music ranges between ambient experimentalism and pastoral folk, has appeared on Static Caravan, Second Language, Polytechnic Youth, and others. A founding member of State River Widening, Phelan currently pilots Smile Down Upon Us and is one-third of littlebow.
(Cherer) Our piece was made in a typically long-distance fashion. I made the bed of tape loop trumpets, and Kieron reacted to them at a friend's studio using his flute. I then edited the piece to make it fit the compilation. There is nothing but flute and trumpet on there.
We were moved to curate this collection when Pauline died so soon after seeing her and being part of one of her last Tuning Meditations. These meditations have been a constant personal reference since I first read about them many years ago and have taught me how to improvise freely and without fear. With a band of similarly free improvisers, Non-Blank, I'm now performing live improvised soundtracks to silent movie classics such as The Cabinet of Dr Caligari and The Great White as a direct result of reading about Pauline. I've enjoyed her music too, but it's the ideas that have worked on me. Reading about "Deep Listening" helped to define ideas about the sound of the world that were probably already in there but that I found hard to articulate. I think that once you start to listen to the world more attentively, you start to appreciate all sound as music. This in turn melts barriers between all forms of music; they become unimportant or even meaningless. Many people have had an influence over what I do, but Pauline has, quite probably, had the most fundamental effect on the way I think.
I should also add that the Tuning Meditation that we were a part of took place at the Deep Listening Festival at St John's, Smith Square last year and was quite extraordinary. Pauline "facilitated" it, and it ran for seven or eight minutes, becoming more beautiful with every minute and then stopped, apparently spontaneously, causing the entire audience to hold their breath in disbelief until, perhaps some ten or fifteen seconds later, there was a euphoric and long applause. Really quite special. She suggested that this had been one of the most successful Tuning Meditations she had taken part in. I think we all felt changed as we filed out into the sun.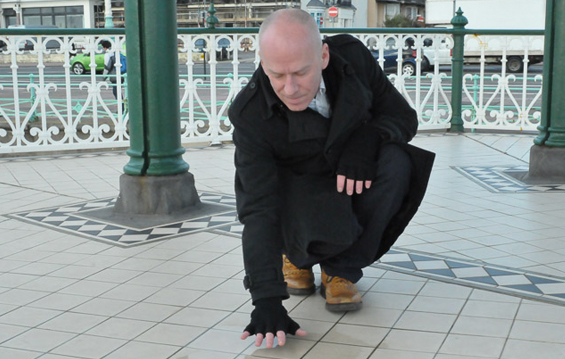 (Phelan) I'm now at the age whereby my 'parent' generation is either gone or going. Sometime before Pauline's death I lost an aunt, a woman of great intellectual curiosity and, of all my family, probably the most similar to me in character. Like Pauline, she was mentally acute to the end. In a sense I have conflated the two deaths and, in part, the loss of my relative spurred me to the commemoration of Pauline. It is, of course, all a natural process, but it's good to register the passing.
Coincidentally, my flute parts on the piece were recorded on the shortest day of the year, so the feeling of a fading light seemed appropriate. Ollie had already created a gelid texture through his delayed trumpet lines, so I simply added the twilight.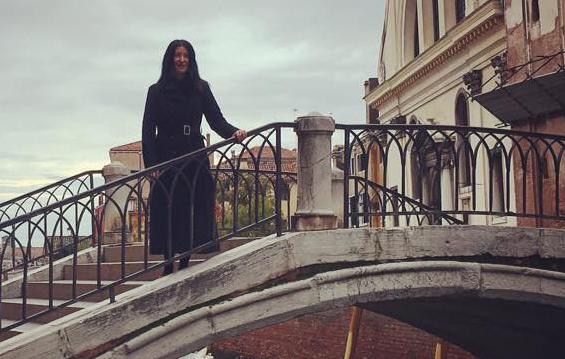 Alison Cotton: "The Last Sense To Leave Us"
For the past decade, Cotton has been a vocalist and violist in the psych-folk duo The Left Outsides and more recently has collaborated with Michael Tanner (Plinth/United Bible Studies).
The title of my piece came from reading an interview with Pauline where she talked about hearing as being the first sense to develop in the fetus and then the last sense to leave us when we die. It was something that had never occurred to me before but, after reading it, I thought about it a lot when playing or listening to music and sounds.
The day that I wrote my piece at home, I could hear a lawnmower in a distant garden. When focussing on listening to that sound, I used the notes which resonated from it to recreate the drone played on the viola and recorders, and the rest of the piece was built around that sound.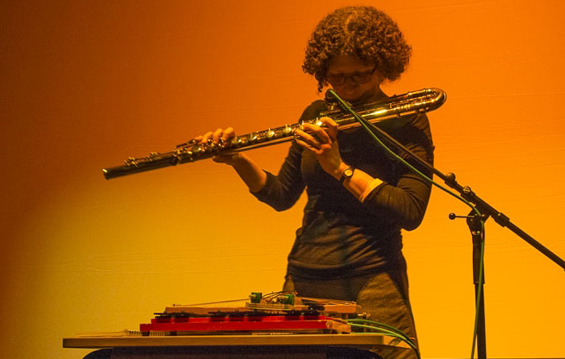 Isnaj Dui: "The Homebody"
Using concert and bass flutes, home-made dulcimers, and electronics, Katie English issues music under the Isnaj Dui name, is a member of littlebow, and oversees Rural Colours' operations.
When thinking of a piece to pay tribute to Pauline I decided to do a little homage to "The Wanderer." I love the way it starts out as a drifty, peaceful tune before developing into a clattering mayhem. I called my version "The Homebody" as it's not quite as worldly as Oliveros's original!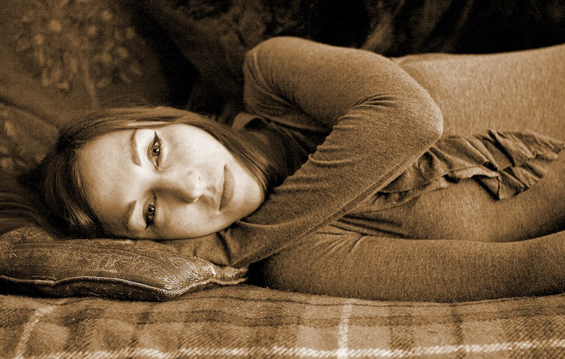 Anne Garner: "Brink"
A singer, pianist, and flutist, Garner has released spellbinding music on Slowcraft and Unperceived (2015's Be Life, 2016's Be Life Relvived) and is currently working on a new album.
Up to now I've been more focused on composing songs than instrumental music. When I was asked to write a piece in tribute to Pauline Oliveros I gave myself permission to take a slightly different approach. I ensured I was really listening to myself and my environment before committing to any sound. Once the drone was established I allowed the piano to lead and the high flute part was less about melody and more how it made my body feel. I took my time and approached the whole piece in a very unselfconscious way without too much concern for the outcome. The piece is precious to me as much for the process as anything else.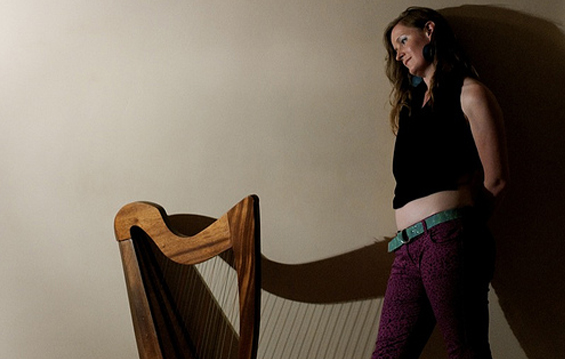 Brona McVittie: "You Are My Sister"
The lead singer and harpist for the Irish band The London Lasses and a littlebow member, McVittie is currently working on her solo debut album and collaborating on a new release with Orla Wren.
My piece was created with filtered harp, idiopan (a kind of steel tongue drum) and voice; my cat Bingo also features on the track (it's a bit like that game, "Where's Wally?"). When Gil Scott Heron said, "The first revolution is when you change your mind about how you look at things, and see there might be another way to look at it that you have not been shown...," he puts me in mind of Pauline's work, who was tireless until her final year, always finding new collaborators and ways to approach her music.
It has been refreshing for me to use the harp in a non harp-like way as she did with her accordion, and my involvement in The Last Sense To Leave Us has helped me find new ways to play and opened up new musical collaborations.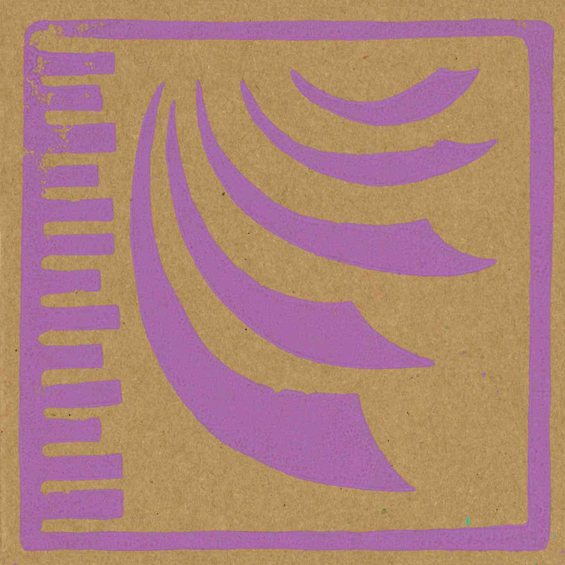 June 2017