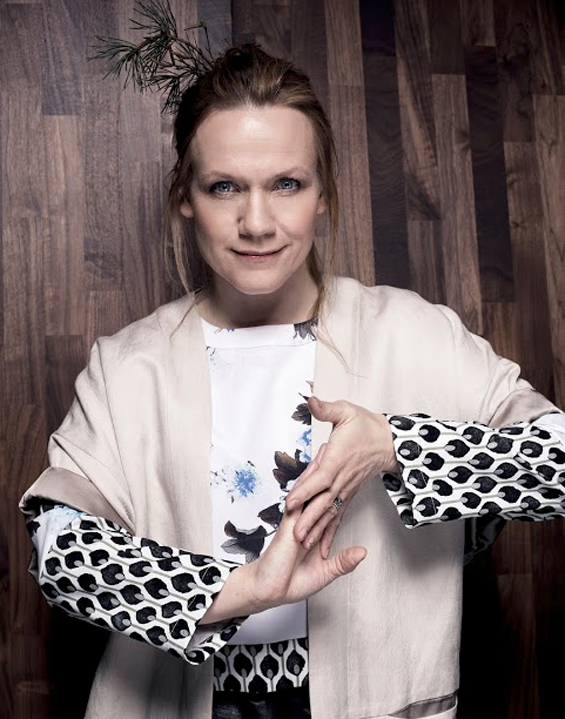 FIVE QUESTIONS WITH ANNELI DRECKER II
Two years ago, we had the great pleasure of interviewing Norwegian singer Anneli Drecker, long known and admired for her work with Bel Canto, A-ha, and Röyksopp as well as her solo output. That interview dovetailed with the release of Rocks & Straws, an exceptional example of modern-day songcraft that drew for inspiration lyrically from Arvid Hanssen's poetry and featured world-class musicians such as guitarist Eivind Aarset, bassist Ole Vegard Skauge, and drummer Rune Arnesen. Recently she kindly agreed to a follow-up interview on the occasion of the release of Revelation For Personal Use (reviewed here), itself a sequel of sorts to the 2015 album. With songs again rooted in Hanssen's writings and with many of the same musical collaborators involved, the new album impresses as an excellent companion to the earlier one, so much so that one could hear them as a single, two-volume work were one so inclined. Yet as complementary as they are, there are clear differences between them, and, as Drecker herself reveals, Revelation For Personal Use also came into being during a period of great personal loss. We thank Ms. Drecker for once more making time to speak with us about the new release and the many other projects with which she's involved.
1. Revelation For Personal Use has been pitched as a follow-up to Rocks & Straws, and it not only sounds like a natural complement and extension to the 2015 release it also like its predecessor bases its songs on lyrics by Arvid Hanssen. There are obvious similarities between the two recordings, but what in your opinion are the key differences?
Well, I did not intend to do a follow-up to Rocks & Straws, but by coincidence one of Hanssen's poetry books, which he signed and gave me back in the '80s, popped up in our home during the summer of 2015, so I took that as a sign. You might say that this time the author himself found me and not the opposite, as was the case with Rocks & Straws.
The main difference this time lies in the choice of poems. While the ones I used for Rocks & Straws are mainly about man and nature, man in nature, and homages to my hometown in the very arctic parts of Norway, most of the poems on Revelation For Personal Use focus on inner human journeys, with the various objects taking on a stronger symbolic form. Some of them I chose myself, or should I say, they chose me, whereas others were suggested to me by Roy-Frode Løvland, who translated all the poems from Norwegian to English.
I guess in a way this album happened because I needed comfort. My mother passed away just a month before the release of Rocks & Straws and then my father got terminally ill last winter, and I hadn't really allowed myself to grief over the past or prepare for what was to come; he passed away during the mixing of this album. So, when I found Hanssen's poems summer two years ago, they helped me process and put into words the state of mind I was in. To me, some of the poems, such as "On A Road," "Waiting Time," and the title track, describe what we all must face one day, the inevitable farewell, as seen from both sides.
But the fisherman is still present on the new album as he was on Rocks & Straws, though now in a song called "Blue Evening"! And so too are raindrops and snowflakes—the small wonders of nature—as odes to life on this planet.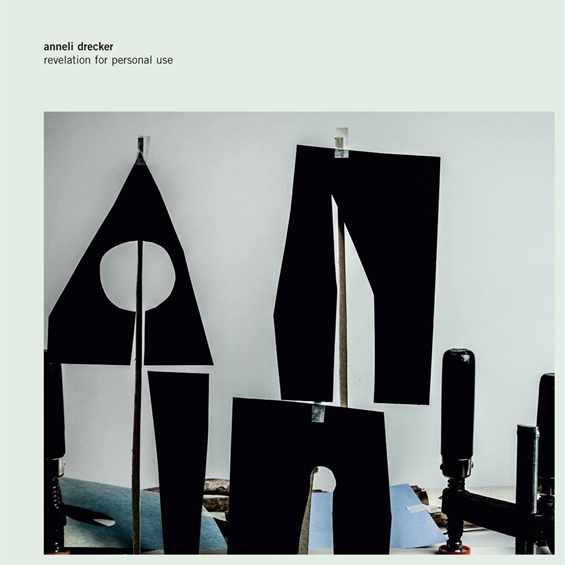 2. As wonderful as your voice is on Rocks & Straws, the singing on the new album strikes me as in places even more adventurous and bold. Were you pushing yourself vocally on Revelation For Personal Use to places you'd not been before or was it simply that the song in question demanded a particular vocal approach?
Thank you for noticing this change in my voice. The last three years I've been an artistic researcher at the Arctic University of Tromsø in Norway, investigating and exploring ancient singing styles; I've mainly been exploring the Sami yoik style and different variations of throat singing. It's been a very long and winding road, but I guess I can do things with my voice I could not do three years ago.
Actually, I did not intend to put these vocal 'effects' on this album, but it happened because I seem to carry these 'new voices' in my body and they've naturally become a part of me. I must mention that on this recording I'm joined by a special guest and friend of mine, the Tuvan artist Radik Tyulyush, who brought much inspiration to my performance, especially on the vocal side.
3. The new album also seems in total to be a bit louder and more aggressive than Rocks & Straws. Was this a difference you consciously set out to achieve before the recording process began or is it something that naturally developed as the recording progressed?
Yes, you are right; this is something that naturally developed as the recording progressed. The extremely talented musicians played together live and basically improvised on top of the already recorded strings and demos of my vocals and piano playing. I didn't want to interfere too much by putting my ideas in their heads before they had at least done a few recordings.
Some of the loud songs on this album were also composed for a joint concert-and-dance performance a year ago in Bergen with a Norwegian contemporary dance ensemble called Carte Blanche. There was a quartet featuring me, guitarist Eivind Aarset, drummer Wetle Holte, and cellist Frida Fredrikke Waaler Wærvågen plus twelve dancers on stage who improvised to the music. The songs were arranged so that they would be airy and dynamic, to fit the dancers, with a long build-up. All of these ideas we took with us later on into the studio.
Though the approach was much like Rocks & Straws, the band and I felt more certain of where we were going and also about the sound. The energy in the studio was joyous and very creative and took a couple of days. We recorded one song live in one take, and I recorded some of the vocals live with the band too, instead of overdubbing it later. If we have fun playing in the studio, then we'll have fun playing it live.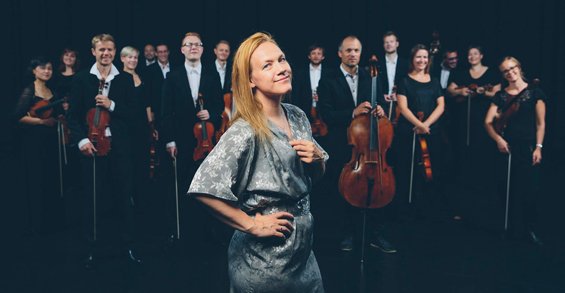 4. With Rocks & Straws having been so positively received critically and otherwise, did that make the songwriting process for the new album easier or more difficult? And how do songs come to you: do they arrive fully formed or do they develop and undergo changes over time? You always appear to be comfortable as a live performer whether you're singing with your own group, with A-ha or Bel Canto, in front of a full orchestra (as you did late last year with the Chamber Orchestra of NOSO), or with only piano and cello as accompanists (as happened recently at the University Aula where you performed with Edvard Munch's The Sun as the backdrop). Is there a performing situation with which you're most comfortable or are you equally comfortable in all of them?
Well, I won't deny that I felt some degree of pressure, but I also received a lot of good energy from the positive feedback to Rocks & Straws, and touring with the band and performing the songs live before an audience really inspired me to compose new songs in between playing live and touring.
All the songs come to me in different shapes and forms. It's never the same spirit that reveals itself, so to speak; it feels like a lump of clay that I have to carve out, and when the creature reveals itself, it's as if it's always been a part of my life, like a newborn baby whose soul has always been there; it really is about being able to put your ego aside and being as open and clear as possible. Some Native American tribes believe that music isn't 'composed' in the western European music sense, but exists already and is caught or 'untangled' by the musician. I agree with this philosophy!
I feel that I am a fortunate artist because I have done so many different things, fortunate in the sense that all of these different projects are unique and each one of them has changed and developed me as an artist. I have the same approach to music that an actor has to acting; sometimes you do commercials, sometimes you play the main role in a movie you're directing or you play in a children's play at the local theatre, or an Ibsen play the next month. At the end of the day you put all of your creativity and self-discipline into all of these different roles, because it is really not about you; it's about storytelling and channeling true and real energy. If you believe in the story, then the listener will believe in it, too.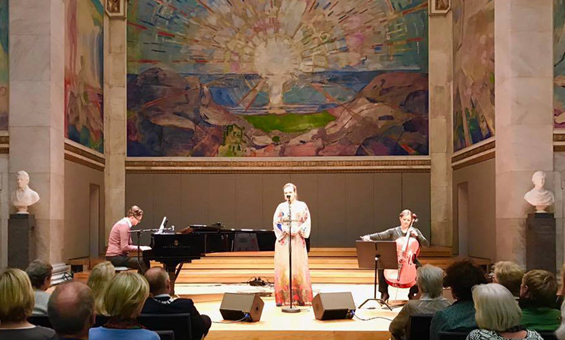 5. You seem to be involved in many different things besides your own album projects, whether it be singing on Justin Adams's Ribbons album or acting in live theatre, such as the Dickens production at the Hålogaland Teater last December. In a life that appears busier than most, how do you manage to keep all of these different activities straight? And apart from separate Oslo concert dates with your band and Bel Canto scheduled for August, what other projects are on your calendar for the future?
Well, I'm very hopeless about going to bed and in periods I go for the Dali sleeping trick of taking short naps. I guess I am in a sense a workaholic, and I've gotten used to working with different projects at the same time, which also includes the 'mum project,' which maybe is the most important of all. I am certainly not the lying-on-the beach-for-a-whole-day type.
I will be doing a few shows at some of the biggest festivals in Norway with my band this summer and then will aim for a larger tour in November. We're hoping to get a chance to do some concerts outside Norway, and of course all of this will be updated at my facebook site or personal web site.
Apart from that, I have to finish my artistic PhD and have lots of writing and documenting ahead of me, office work basically. I am also excited about the Ribbons album by my old friend Justin Adams on which I appear (six songs), and I cannot wait to see what the reactions will be, which so far seem to be all good. I'm also excited about the Bel Canto gig at the Øya festival in Oslo in August; we'll be preparing for it during the summer, and I'm so looking forward to sharing the stage again with Nils Johansen and go down memory lane with him. I also have other projects to be released but those are not official yet. But for sure, more is yet to come, and, I almost forgot, I have some unreleased songs in my drawer. I always have.
June 2017