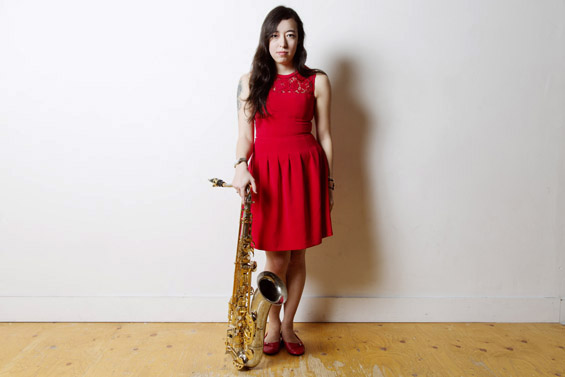 FIVE QUESTIONS WITH CHELSEA MCBRIDE
These are busy days indeed for Chelsea McBride, who at the age of twenty-four has already accomplished as much in her young career as someone ten years her elder. Though the Vancouver-born composer, conductor, arranger, and tenor saxist plays in a number of bands, she's currently concentrating on her Toronto-based, nineteen-member Socialist Night School outfit and promoting its just-released debut full-length, The Twilight Fall. In this superb big band, award-winning veterans, among them Colleen Allen and Brownman Ali, perform alongside young up-and-comers, some of whom were fellow students of McBride's in the Humber Bachelor of Music program from which she graduated in 2014, resulting in a fresh take on modern big band writing guaranteed to satisfy fans of Maria Schneider and Darcy James Argue. With so much happening in her life, we were fortunate to able to interview McBride recently and ask her about the new album, her rapid ascent, and some of the other projects occupying her time.
1. At only twenty-four, you've accomplished a great deal, but I'm guessing that for you it simply feels natural, given that you began playing piano and saxophone at a young age and during high school were performing in competitions at provincial and national levels. Even so, with the release of The Twilight Fall now a reality, does it feel like things are happening now for you at an even more accelerated pace?
Oh, definitely! This is my first release with a label (Browntasauras Records, with Brownman Ali and his team) and my first release working with a publicist (Orange Grove Publicity & Ernesto Cervini), but more importantly it's the first time in my career where this has felt like a possibility. And the results I'm getting from these connections are incredible: I'm charting on Earshot this week, I've had radio play and reviews come in from overseas, I did four or five interviews this month ... it's unreal. It's so much fun, and completely unexpected.
Certainly my journey into music as a career felt pretty natural, but being able to do what I'm doing now has been a lot of hard work. Not that it hasn't been fun along the way—you certainly don't run a big band because it's a lucrative career opportunity—but I think more importantly I feel a need to keep creating, need to be around music, doing music, creating art. And part of that does involve carving your own niche, which I've had to learn how to do, and which definitely hasn't been easy. I'd never booked a show before I moved to Toronto, I'd certainly not had a lot of experience running bands, I never studied business with any real effort. So learning how to be my own CEO, and marketer, and bandleader, and a musician and composer ... that's been the challenge. But it does feel like it's paying off!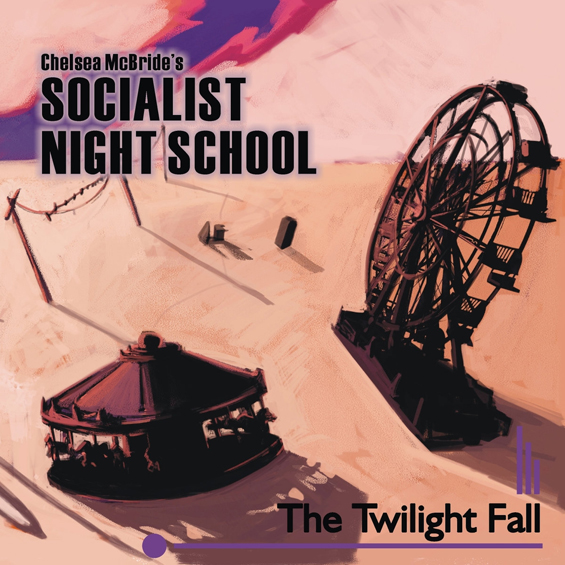 2. Rather than wading gradually into professional waters, you went from graduating from the Humber Bachelor of Music program in 2014 to leading the nineteen-member Socialist Night School and releasing the group's debut album, The Twilight Fall, that you wrote, arranged, conducted, and played on. How did you manage to effect such an ambitiously huge transition in such a short amount of time?
I actually can't take credit for all of that; I was surrounded by people who were hustling, booking their own shows, writing music. I was doing all of that but I didn't know how to get it in front of the right people, and I certainly didn't know you could just do it on your own. I started leading the Socialist Night School while I was at Humber because I'd run out of places to play my material. It started as just a bunch of my classmates, but by the time I finished at Humber it turned into a really interesting mix of people; William Carn had joined the band, and shortly after that so did Brownman and Colleen Allen. Most of the band finished school before I did, so there's a generation gap that you don't see in a lot of groups. And I've always written and conducted and played with the big band; I don't do a lot of arranging of other people's material. Most of what I do is original, whether it's songwriting or large ensemble composition. So it looks like a lot of work from the outside—and it is—but it's just part of the role I've chosen for myself. Plus, on top of this, once I finished school I made sure I was working; I taught until about six months ago, and I've always been playing and writing. So I've always managed to stay busy, and now I just play and compose and teach to make ends meet.
3. Among the large ensembles operating today are Maria Schneider's and Argue's. But unlike their outfits, your group includes a vocalist, a move not uncommon in earlier times (Duke Ellington's Orchestra during the early '40s comes to mind) but rare today. What led you to feature a vocalist on The Twilight Fall and in your group concept?
I guess it's because I started writing pop songs. I've always felt a strong attachment to words, to poetry and prose, to music with lyrics. And I talk a lot, so there's that! Our first EP didn't have a vocalist on it, because I was working on my instrumental orchestration chops, but it felt like this was the right time to return to my roots and bring a vocalist back in, and Alex does a wonderful job delivering the message behind the songs. On top of that, I'm drawn to melody, singable melodies, catchy ones, ones that stick in your head or make you feel something different. And while all of my music is melodically driven, I feel like having a vocalist emphasizes that point, and it gives me another way to tell the story—with words.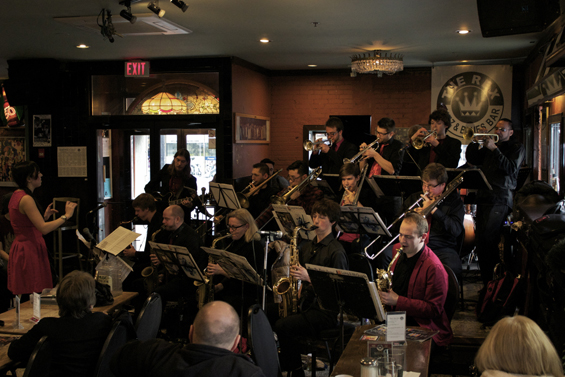 4. What prompted you to choose for the album a life-cycle theme that takes the listener on a journey from birth to death?
It actually didn't start that way! It started as "commuter dreams." I spend a lot of time on public transit going from place to place—gigs, rehearsals, teaching, via trains, planes, and streetcars and buses. I spent some time on those journeys working but a lot daydreaming and creating, and that's the beginnings of the whole concept: someone falling asleep on their journey and dreaming this whole story. But it evolved from there to the life-cycle, mostly from the chronology of the songs. I knew that "The Twilight Fall" would deal with your six-year-old self, I knew that you had to be old for "In Dreams"—or at least, that I pictured myself that way, to be sitting at the bedside of my best friend. And I knew that "Smooth" and "Spirits" had to deal with the searching that you do in your twenties, trying to find a partner, trying to find your way in life. I'd be lying if I said I wasn't living that now! But when I had those pieces fall into place, the rest of the album came together beautifully. And I love "Ambleside" as that sort of beautiful in-between place; that's really where the dreamland of the record lives, to me.
5. You're not only leading the Socialist Night School but involved in a number of other groups, among them a jazz trio (Chelsea McBride Group) and pop-fusion band (Chelsea and the Cityscape). How, first of all, are you managing to keep all of these projects straight, and do you have a master plan of some kind laid out for the future? Are there plans to take the Socialist Night School outside Toronto to present The Twilight Fall in other Canadian cities or is that something that's too logistically and financially difficult to tackle at the moment?
They're not the only projects! I also co-lead The Koopa Troop (five-piece video game band) and The Achromatics (Latin-soul nonet), and I play as a sideperson with a few other bands, too. Plus there's my production work and composing with Spectrum Music. And you wouldn't be the only person to ask me how I keep things straight! I definitely have systems—I've always had a paper planner, and I've just started bullet-journaling (which is super fun), and I have a digital system, too—Google Calendar, emails, etc. But, yeah, tip number one: stay organized, stay on top of things. And I'm not great with master plans; I like having a plan, but I do tend to kind of make it up as I go. But I know I want to see Socialist tour the country, and I'd like to see the band at the Junos, for sure! And with my other projects, I would like to tour, play festivals, travel the world. And I want to keep writing, and playing, and creating. Sometimes that looks like "I want to make a jazz concept album," and sometimes that looks like "I'm going to practice the saxophone today." It's not about how much, it's more just about continuing to move forward. And sometimes ideas happen in leaps and bounds: The Koopa Troop just booked a mini-tour of Toronto, Hamilton, and Waterloo, and that happened in as much of a flash as The Twilight Fall CD release did! So I don't have a specific master plan, yet, but I have ideas for next steps, and the rest kind of reveals itself along the way.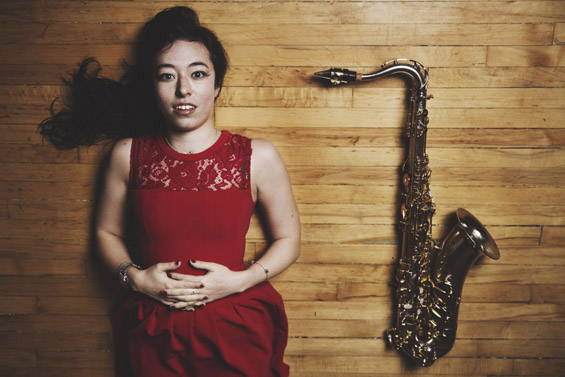 February 2017