SPOTLIGHT 13: YAIR ETZIONY / MICHAEL ROBINSON / SCOTT WORTHINGTON
textura is thrilled to feature the following artists in its thirteenth Spotlight: Yair Yetziony, Michael Robinson, and Scott Worthington, all of whom recently have released superb albums: Etziony's Baltia, Robinson's Lucknow Shimmer and Lahaina Lanterns, and Worthington's Even the Light Itself Falls. We sincerely thank and are indebted to the artists for contributing so generously to this month's article.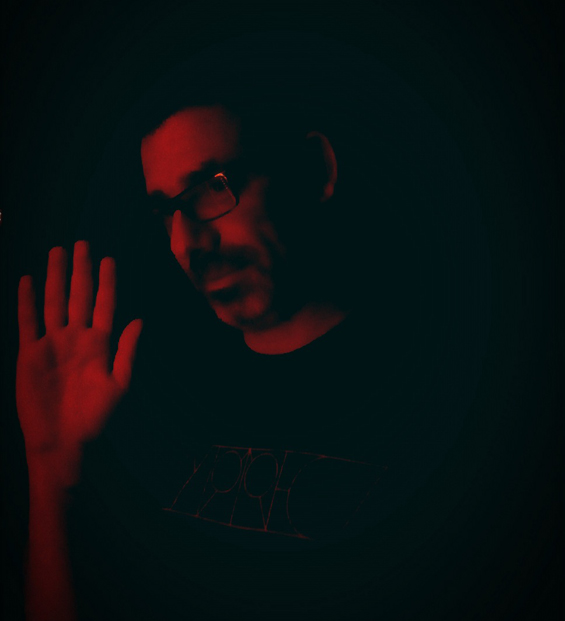 YAIR ETZIONY
Who: Yair Etziony, a thirty-eight-year-old musician from Tel Aviv Israel. I was born in Petach Tiqwa, which is a small city near Tel Aviv, but lived most of my teen years in a small village near Ashdod. I studied for an MA in Modern German History and hold a BA in History and Philosophy. I studied bass and theory with two esteemed bass players; Shmulik Aroch and Arie Volinez. In my day job, I work as a quality assurance engineer for a big software company. I'm also in charge of the electronic side of the band Farthest South.
What: For me it's hard to define my music, but I do know that I don't want my music to be an imitation of something else. I love sound and textures so my emphasis is always on that first and foremost. My music draws from the mid-'70s krautrock movement, but I don't want to make music that's an imitation of it. I took a lot of inspiration from the 'Clicks & Cuts' movement and for more than ten years I used the computer only as the tool for making my music. Nowadays I use analog synths, computer, electric bass, electric guitar, and do not limit myself as a musician in the name of any ideology and neither do I want to commit to one specific genre or scene.
Currently: I've been in search of my voice for many years and have lately found it with the release of Baltia on my label False Industries. It's sort of deep techno but not really. I see it as inhabiting a place where Jeff Mills and the pre-2005 German minimal school meet with John Carpenter's soundtracks (who is amazing in my book). The album is the first in a trilogy I've titled Mist in the Corners, all parts of which will be released in 2014. The trilogy deals with various aspects of my past, and each album completes the others while still sounding different.
Another project I love is the psychedelic improvisation band Farthest South, within which I'm privileged to play with Yair Yona and Barry Berko, two amazing human beings and musicians. We recently released the album Spheres & Constellations and later this year will release at least two more albums, Blind Spots and Dogmas and Neurim (aka Youth), which we recorded with the poet Ron Dahan. If you're into psychedelic music, you'll love it.
Musical philosophy: For me music is all about enjoyment. I don't see the point of bothering if I'm not enjoying the process of creation. I'm tired of this classic Western image of the suffering artist and don't believe one needs to suffer for one's art. On the one hand, music is for me something sacred, yet still it's just music, and I always remind myself of that. For me it's a way of expressing myself without words, and I think this expression is highly important to us as human beings. My music provides a way for me to connect with my inner self and offers a way for me to learn more about ancient and modern times.
Influential figures, works, and events: As far as figures are concerned, the first is my girlfriend Sivan, who with her big heart and great mind is a huge inspiration. My Farthest South co-musicians Barry Berko and Yair Yona are big inspirations from whom I've learned so much. There are friends who've influenced my music in different ways: Rani Golan, who taught me how to use a sequencer back in the day (we also did Faction); Noam Pines, for his advice; and Shlomi Avni and Tuvia Kudashevitz, with whom I DJed when we did the Exercise events.
Other figures are: Frank Brettschneider, Terry Riley, Conrad Schitzler, Jeff Mills, Phil Niblock, De La Soul, Autechre, Tribe called Quest, NEU!, CAN, Ashra Temple, Tangerine Dream, My Bloody Valentine, Alec Empire, Photek, Aphex Twin, Earth, Walter Benjamin, Boards of Canada, Seefeel, FSOL, Larry Heard, Stanislav Lem, Philip K. Dick, Dziga Vertov, Anti Rodchenko, Ernst Junger, Immanuel Kant, Yo La Tengo, ISAN, Pan American, Lau Dze, John Carpenter, Harold Faltermeyer, Jean Michel Jarre, Giorgio Moroder, Shane Carruth, and many more…
Works: My Bloody Valentine: Loveless, Neu!: 2, Harmonia: Deluxe, CAN: Future Days, Ashra Temple: Inventions of Electric Guitar, Tangerine Dream: Phaedra, King Crimson: Red, Eno & Fripp: No Pussyfooting, Klaus Schultze: Mirage, Frank Brettschneider: Gold, Thomas Koner: Permafrost, Om: Pilgrimage, Terry Riley: A Rainbow in Curved Air, Jan Jelinek: Loop Finding Jazz Records, Hawkwind: Space Ritual, John Carpenter: Assault On Precinct 13, Vangelis: Blade Runner Soundtrack, Gershon Kingsley: Music to Moog By, ISAN: Lucky Cat, La Dusseldorf: La Dusseldorf, Chapterhouse: Whirpool, FSOL: Lifeforms
Event: Meeting Barry Berko in a Hummus restaurant under my house in south Tel Aviv, a meeting that started Farthest South. He was the waiter-barman, and I was just buying Hummus in a new place that looked a bit fishy to me. From that day forward, the wheels were set in motion for another great adventure.
Web site: FALSE INDUSTRIES / FARTHEST SOUTH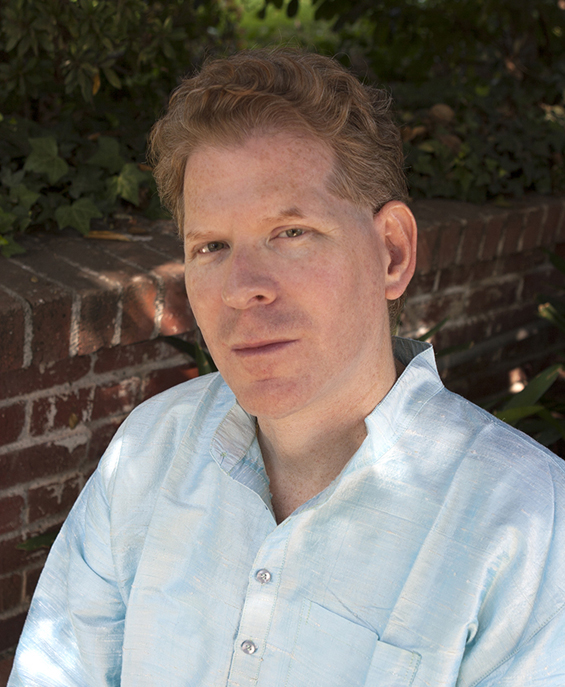 MICHAEL ROBINSON
Who: My full name is Michael Eric Robinson. My paternal grandparents changed the family name from Rabinovitz after arriving from Russia. Born in Manhattan, and raised nearby in Crown Heights, North Merrick, and Wantagh, I received a BM in Composition from the Crane School of Music and also studied at Stony Brook, CalArts, and Tanglewood. Following college, I lived in Long Island City, Manhattan, Kapalua, and Beverly Hills, and currently live in Los Angeles.
What: Musical terms for what's going on today outside of traditional genres are mostly suspect, and calling the music one does by your own actual name is probably best! I've never heard music that's remotely similar to what I do. WNYC FM and The Village Voice did compare some early compositions to Conlon Nancarrow, whose music was unknown to me at the time.
My music is performed in real time by a computer, which I program from a finished musical score, without any human interaction during performance. Spatialization is treated in a manner that renders it different for every performance. Sounds are mostly samples of acoustic instruments, along with synthesized tone colors. Even this technical description is lacking. For example, one listener told me that after her husband died, listening to Nagamani was the only thing that gave her comfort for weeks, and a healer in Los Angeles told me that listening to Snow Leopard Meadow was part of the protocol for a client who had a remarkable recovery. Frequently, I hear from people who think my music is played by live musicians, even though that is not my intention.
Currently: My music is represented by recordings and scores, and I also enjoy writing about music. Lucknow Shimmer and Lahaina Lanterns are my most recent releases. Lucknow Shimmer was inspired by Machaut, Hindustani music, and Michael Jackson. Several tabla rhythms learned from Swapan Chaudhuri are elaborated upon by intermingling melodic and rhythmic voices. Lahaina Lanterns includes my first use of a harmonic progression in years, presenting an elegiac rasa.
We are in the middle of a severe drought here, and I decided to perform Mian ki Malhar in my studio, a composition based upon a raga that is a prayer for rain. This musical "adventure" was documented in my most recent writing titled Music for Rain.
Currently, I am working on a new composition, and that is where much of my attention goes. Having my CDs and scores more available is paramount. Implementing installations involving my music for museums and other public spaces is another priority. My music may be perfect for someone in film searching for a different sound, but that is not something I actively pursue.
Musical philosophy: I agree with Charlie Parker that music is what you live: "Music is your own experience, your own thoughts, your wisdom. If you don't live it, it won't come out of your horn." I endeavor to instill physical, intellectual, and spiritual energies into my music, focusing on developing the unique rasa or "personality" of each composition, and, hopefully, it will take on a life of its own. Helen Vendler summed up creative invention best: "Form is content as deployed. Content is form as imagined."
Influential figures, works, and events: When I met Leonard Altman, a prominent musicologist, educator, and arts administrator, he told me I was "a very unusual person" and arranged for me to study at Tanglewood. Leonard gave me his business card, with the title of Music Program Director of the New York State Council on the Arts, and wrote his home phone number on the back, stating that I should feel free to call him at any time of day or night. It was clear I was undergoing a difficult transitional period, and he rightly felt some guidance would be beneficial.
Altman enthusiastically and decisively encouraged me to make composition my life's work at this critical crossroad, and asked Steve Reich to serve as a mentor. My personal choice was Karlheinz Stockhausen, but Leonard said he was the one composer who was out of his or anyone else's reach! Altman had a special interest in living composers, including corresponding with Shostakovich and Prokofiev after meeting them in Russia, the latter gifting him with an autograph score. Reich offered some practical and important suggestions, including convincing me, inadvertently, to move to NYC, which was absolutely life-transforming.
Pandit Jasraj, Shivkumar Sharma, and Zakir Hussain are three of the Indian classical musicians who have exerted an enormous influence on my musical development. It was revelatory to interview them individually, each time treating the interactions as music lessons where I prepared questions pertinent to technical, aesthetic, and spiritual issues that both fascinated and mystified me.
Web site: AZURE MILES RECORDS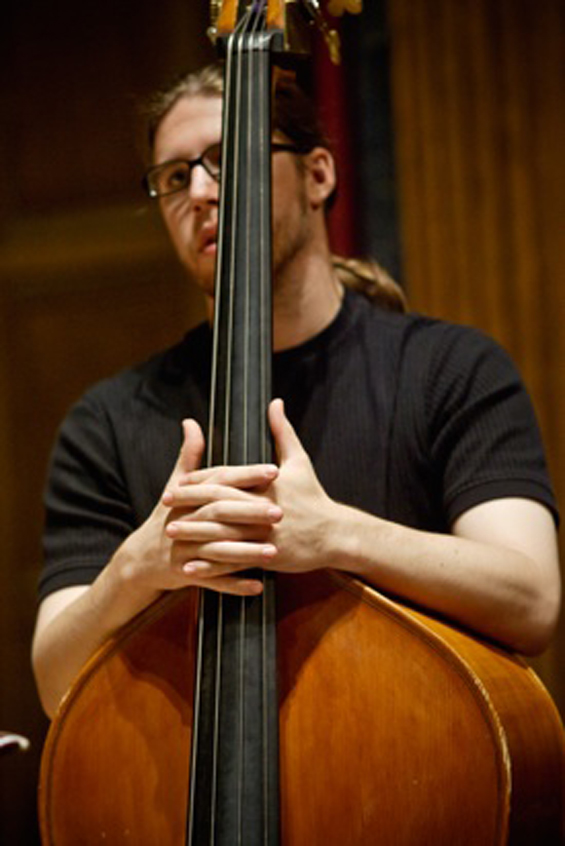 SCOTT WORTHINGTON
Who: I'm a double bass player and composer. At the beginning of my musical upbringing I was more interested in jazz and improvised music and got into Eastman for a Bachelor's to study jazz. There I quickly became very interested in twentieth- and twenty-first-century classical music and officially switched degrees after two years. After that, I went on to UC San Diego, a school that has a history of focusing on new and experimental music, and am now finishing up a doctorate in bass performance there while living in Los Angeles.
What: The music I write stems from early minimalism (La Monte Young and Terry Jennings are probably the biggest influences) and Morton Feldman, who created his own special kind of minimalism to me. I use drones and/or pedal-points a lot and generally very few pitches. While I don't try to represent specific feelings or emotions, I'm concerned with how melodies and harmonies make me feel (as a physical sensation). It's an extremely personal reaction to the sounds. When I write music I try to create those moments for myself and hope that they create similar kinds of reactions for listeners.
As a bassist, I perform a lot of music that doesn't sound anything like mine, for which I'm thankful. I play in a trio, ensemble et cetera, and we play new pieces written for us and some older, more open works where we have both freedom to create and specific structures to adhere to. I also play a lot of solo music and solos with electronics from other composers and that I write for myself.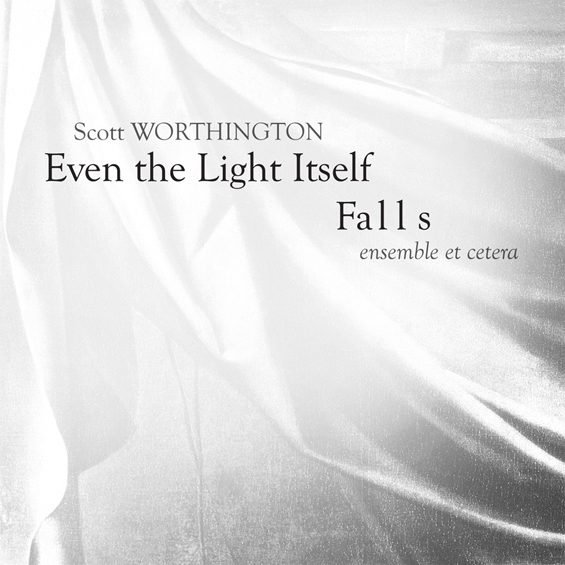 Currently: My current projects are my trio, ensemble et cetera, a concert series I just started with some friends, wasteLAnd, and various freelance work around Southern California.
et cetera is working on some new pieces from composers all around the globe which we'll premiere and record this year and the next. We're also playing my concert-length piece Even the Light Itself Falls in Los Angeles on the wasteLAnd series in June. We're hoping to get up to San Francisco, at least, to play it as well. A recording of that piece was released by Populist Records last September and soon after the release et cetera played it at the Carlsbad Music Festival. It's been exciting to see the piece continue to have a life, and I'm really thankful for Curt Miller and Dustin Donahue who are not only willing to play it, but do so incredibly beautifully.
Musical philosophy: I try to perform and compose as honestly as I can.
Influential figures, works, and events: This is really hard to boil down. I'm thankful for hundreds of conversations with friends and mentors about musical and non-musical things that have shaped how I think about the world, which in turn shapes how I think about music. I'd also like to mention three teachers I've studied with that have each offered their own kind of invaluable instruction: Joey Sellers, James VanDemark, and Mark Dresser.
Web site: SCOTT WORTHINGTON
March 2014