Articles
Andy Vaz Interview and Set
Mark O'Leary's Grønland
Albums
Acre
Arborea
Ólafur Arnalds
Kush Arora
Asura
bbcb
Steve Brand
Nick Chacona
Robert Curgenven
Cuushe
Daniell and McCombs
Delicate Noise
d'incise
Ecovillage
Danton Eeprom
Seren Ffordd
Paul Fiocco
El Fog
Koutaro Fukui
Corey Fuller
The Go Find
Ernest Gonzales
Koss
Francisco López
Ingram Marshall
Craig McElhinney
Minamo
My Majestic Star
Mystified
Nest
Nommo Ogo
Olive Oil
O'Leary - Passborg - Riis
Oy
[Post-foetus]
RPM Orchestra
Ryonkt
Richard Skelton
Slow Six
Sone Institute
Sousa & Correia
Stanislav Vdovin
Viridian Sun
Christian Zanési
Compilations / Mixes
Erased Tapes Collection II
Hammann & Janson
Leaves of Life
Music Grows On Trees
Phasen
Quit Having Fun
Scuba
Thesis Vol. 1
EPs
Aubrey
Be Maledetto Now!
DK7
Herzog
Hrdvsion
Mr Cloudy
Damon McU
Morning Factory
Neve
M. Ostermeier
R&J emp
Stanislav Vdovin
BACKTRACKING WITH MARK O'LEARY'S GRØNLAND
It would be hard to imagine someone with a more impressive array of playing credentials than Mark O'Leary. After the Cork City, Ireland-born guitarist graduated from the Musicians Institute in Los Angeles, California (where he had moved at the age of seventeen), he proceeded to tour Europe with pianist Paul Bley and perform with artists such as Jack DeJohnette, Bill Bruford, Han Bennink, Evan Parker, and Sunny Murray, among others. O'Leary has played Norwegian folk music with Nils Økland, jazz with Uri Caine, collaborated with Tortoise's John Herndon in the Underground Jazz Trio, and played with trumpeters Tomasz Stanko and Kenny Wheeler, pianist Matthew Shipp, drummer Peter Erskine, and double-bassist Palle Danielsson. His reputation as one of Ireland's most technically advanced and innovative players has been strengthened by many acclaimed releases that have appeared during the past half-decade, among them Levitation (with Tomasz Stanko and Billy Hart), Awakening (with Steve Swallow and Pierre Favre) and Waiting, a tribute to Irish Writer Samuel Beckett (with Cuong Vu and Tom Rainey).
Though O'Leary draws upon that wealth of experience in his Grønland collaboration with electronics musician Jakob Riis and percussionist Stefan Pasborg, the album itself has little in common with a traditional trio blowing session or free jazz improv. Instead, it's a bold soundscaping venture that finds the trio transcribing the oft-severe locale Grønland into aural settings of powerfully evocative character. O'Leary's playing is anything but conventional either, as the guitarist uses his instrument in conjunction with a laptop to generate painterly ambient strokes rather than melodic lines per se. O'Leary generously agreed to provide background context to the album's compositions such that the added detail might illuminate further the listener's experience of the recording. (The textura review ofGrønland can be read here.)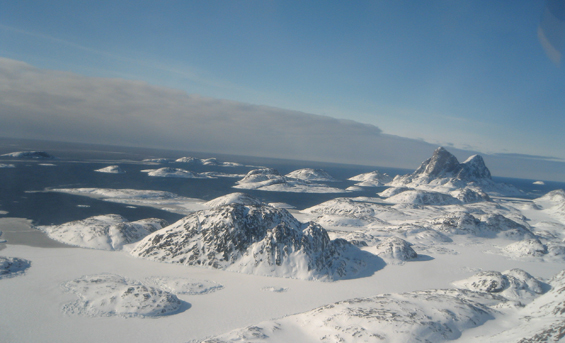 "Sirius Patrol": "Sirius Patrol" was conceptually influenced by the Royal Danish Naval Unit that fearlessly patrols North East Greenland. They patrol an enchanting part of the world, which is tempered by the fact that the environment, with its sub-zero temperatures, can become quite hostile as the unit negotiates the tundra on their sledges with their beloved canines. Two of my friends, Peter Schmidt-Mikkelsen and Peter Kier, are former members of Sirius, and Schmidt-Mikkelsen is shown on the album's front cover. They were very helpful during the production of Grønland and also on another project I'm currently working on. Music for me has a tendency to be visual and can conjure images of places that I have never been, thus creating something akin to Eno's Imaginary Landscapes.
Grønland in its embryonic form was conceived as a soundscape that could be perceived as an aural and cinematic representation of this unique land mass. It was the first project where I used ambient guitar in conjunction with a laptop, juxtaposing sound-generator audio in layers to create colour over Jakob Riis's MaxMSP textures and Stefan Pasborg's minimal, pulse-orientated colourations (the recording, in fact, documents our first performance as a group). My setup was very minimal: Moog Ringmodulator, DL4, Rat, bow, e-bow, volume pedal. The laptop was added later, although I've been using it in performances since, even solo. I've also been using the Eventide H8000 which is excellent for textural guitar playing.
"Inuit": "Inuit" is a reflection on the indigenous population inhabiting Grønland; they are one of the most resourceful peoples on the planet, and are at one with nature. In the track, one hears Pasborg's pulse, which symbolizes the shaman's hand drum, and ambient cries in the background reflecting their chants and rituals.
"Moving towards the Light": When one is walking across this vast tundra, isolation and darkness permeate the very essence of one's being and when suddenly beams of light start to illuminate the sky, one has a tendency to move towards the light, since light means life, warmth, safety, revitalization. So we tried to project this emotion. As we journey through the music, it evolves from stark minimalism at the outset; more colours gradually enter the sonic sphere, symbolizing a metamorphosis from dark to light and emulating motion, until the sounds culminate in a crescendo at the end that's highlighted by Pasborg's animated and jocular rhythm—we are home!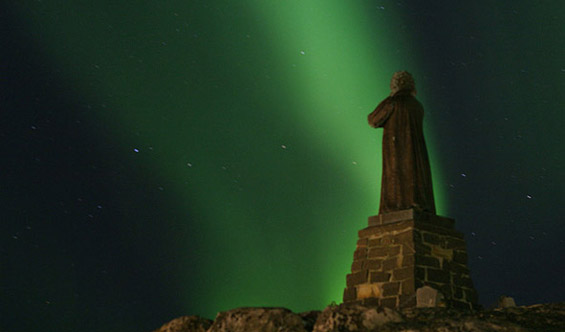 "After Dawn": What would be the closest a boy from this part of the world could get to dawn in Grønland? I guess it would be through the National Film Board of Canada. I remember when I was a kid seeing their documentaries about the Arctic on TV. The music was perfect, usually filled with lush Moog pads that created a magical, mystical synthesis of atmospheric drones and opaque, irresistible melodies. That's what we aimed for here: the captivating beauty of the Arctic dawn. It's like waking up and walking out and looking at this compelling panorama of ice and northern light, where shards of crooked ice mountains protrude from the surface to create a cathedral of jagged ice for the snow and sun to celebrate. The music evolves subtly in a way that evokes this cinematographic imagery.
"Aurora": Just before I started working on Grønland, I came across images of an aurora in Nuuk, and was struck by its uniqueness. It must be an inspiring moment when one encounters an aurora for the first time, and to be so charmed and hypnotized by the beauty of the aurora's tranquil textural colour. The sublime melody at the end is a kind of reflective, post-Radiohead commentary to end the proceedings.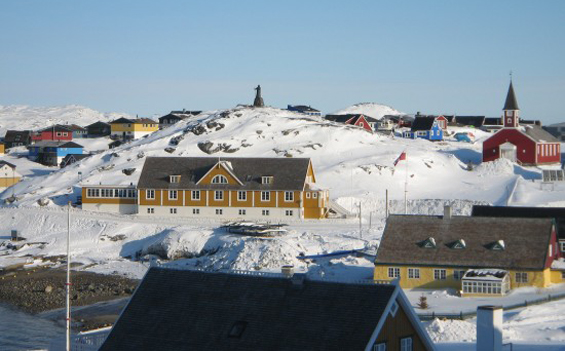 "Nuuk": Nuuk is one of the most enigmatic cities on the planet. Its kaleidoscope of architectural colour schemes, special urban contours, industrial landscapes, and its unique fusion of Greenlandic/Danish culture made it a compelling sonic subject matter for us. In the piece, I juxtaposed minimal melodies against Pasborg's subtle percussion colours and Riis's textures and enhanced it with some small details later.
February 2010